This One's For The Dog Moms Who Want the Best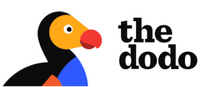 Keep your furry friend happy and hydrated, even while you're on the go, with our amazing new 4-in-1 Portable Dog Water Bottle, Feeder, Poop Bag Holder & Pooper Scooper.
4-in-1 combination
Portable and Convenient
Leak-proof Design
Safe and Durable
Regular price
$49
Sale price
$29
Unit price
per
Save $20 41% OFF
Sold out
This sale ends on Thursday, 09.28.2023
WHAT'S INCLUDED - you'll love it!

+

-

Order today, and you'll receive everything you need to help your dog feel happy, healthy, and comfortable - all at a price you can afford.

Original Pelsbarn 4-in-1 Portable Dog Water Bottle designed with your dog's comfort and happiness in mind
BONUS #1: A free Dog tooth brush to help keep your furry friend's teeth clean and healthy
BONUS #2: Our Exclusive ebook ''12 Signs Your Dog is Happy'', to help you better understand your dog's behavior and promote their overall health and wellbeing
BONUS #3: Our Informative Book ''How to Easily Learn Your Dog Everything'', filled with tips and advice for training your dog and building a stronger bond with your furry friend
BONUS #4: Free access to our 'Dog Mom Community', where you can ask all your questions and connect with like-minded dog moms!
FREE 2 YEAR WARRANTY - only from pelsbarn.org

+

-

Guaranteed Tail-Wagging Comfort: Our Pelsbarn 4-in-1 Portable Dog Water Bottle Comes with a 2 year warranty.

We're confident that your furry friend will LOVE the original Pelsbarn 4-in-1 Portable Dog Water Bottle. That's why we're offering a 2 (!) year money-back guarantee, so your dog can try it out and wag their tail in delight. If for any reason you or your furry friend aren't satisfied, we'll give you a full refund - no questions asked.
FREE SHIPPING AND RETURNS 🇺🇸

+

-

At Pelsbarn, we get it - when your dog needs a portable water bottle, they need it now! That's why we offer fast shipping with DHL, so your furry friend can enjoy a long hike with everything they need in no time. And when you spend over $50, we'll even cover the shipping within the US for free!

And if your dog's not completely satisfied, our easy returns will make it a walk in the park. Shop with confidence and give your furry friend the ultimate travel experience they deserve today!

* all sale, discounted, and promotional items are excluded.
View full details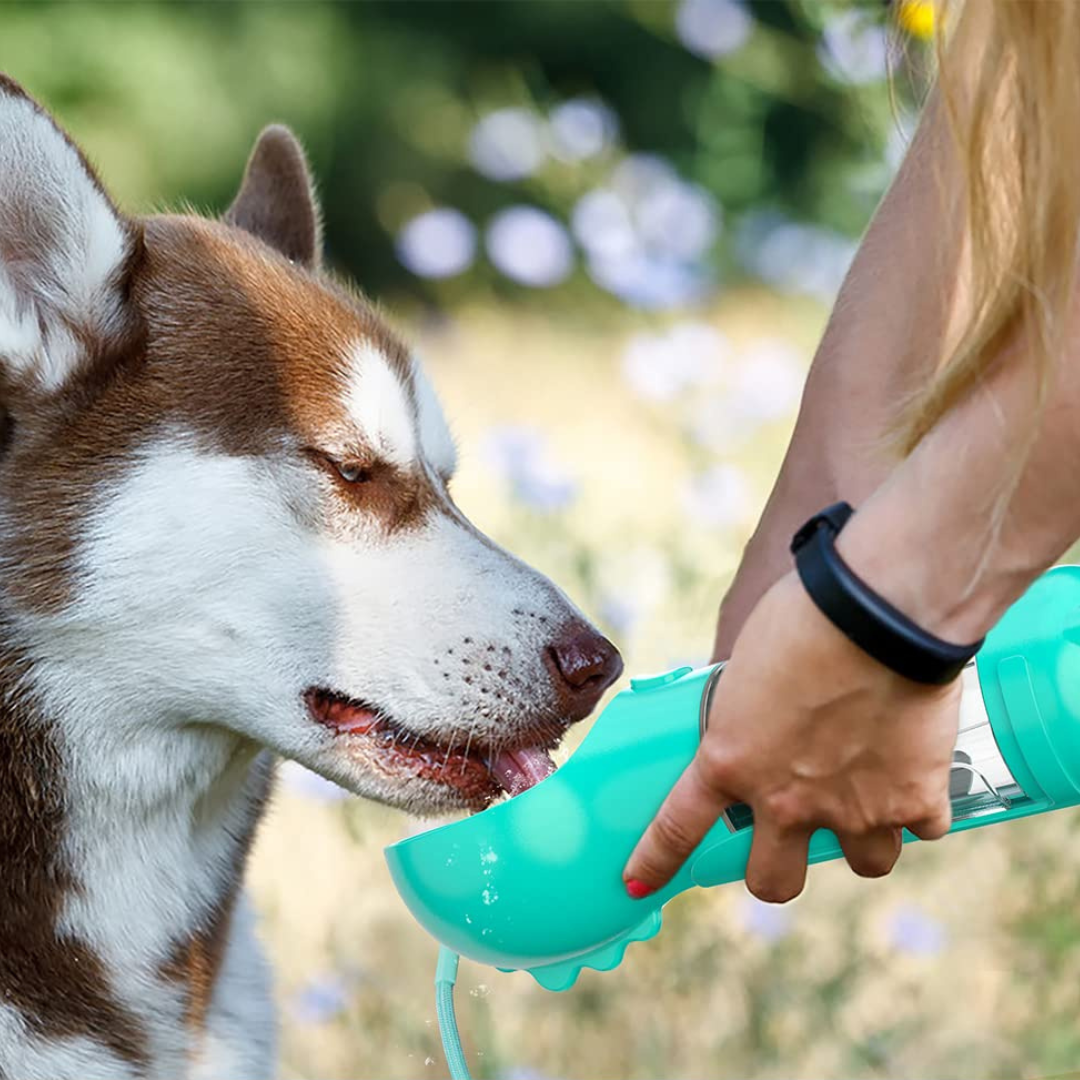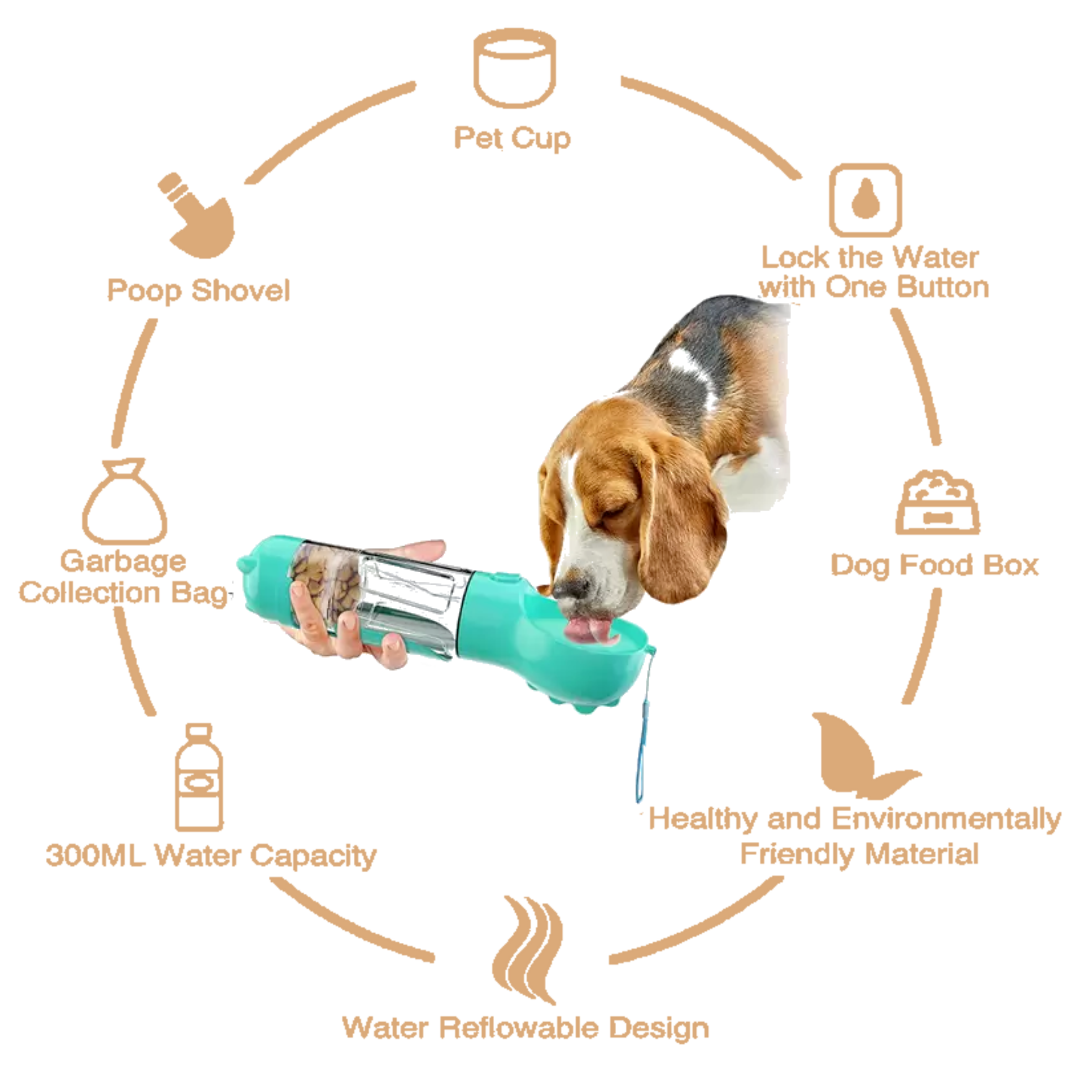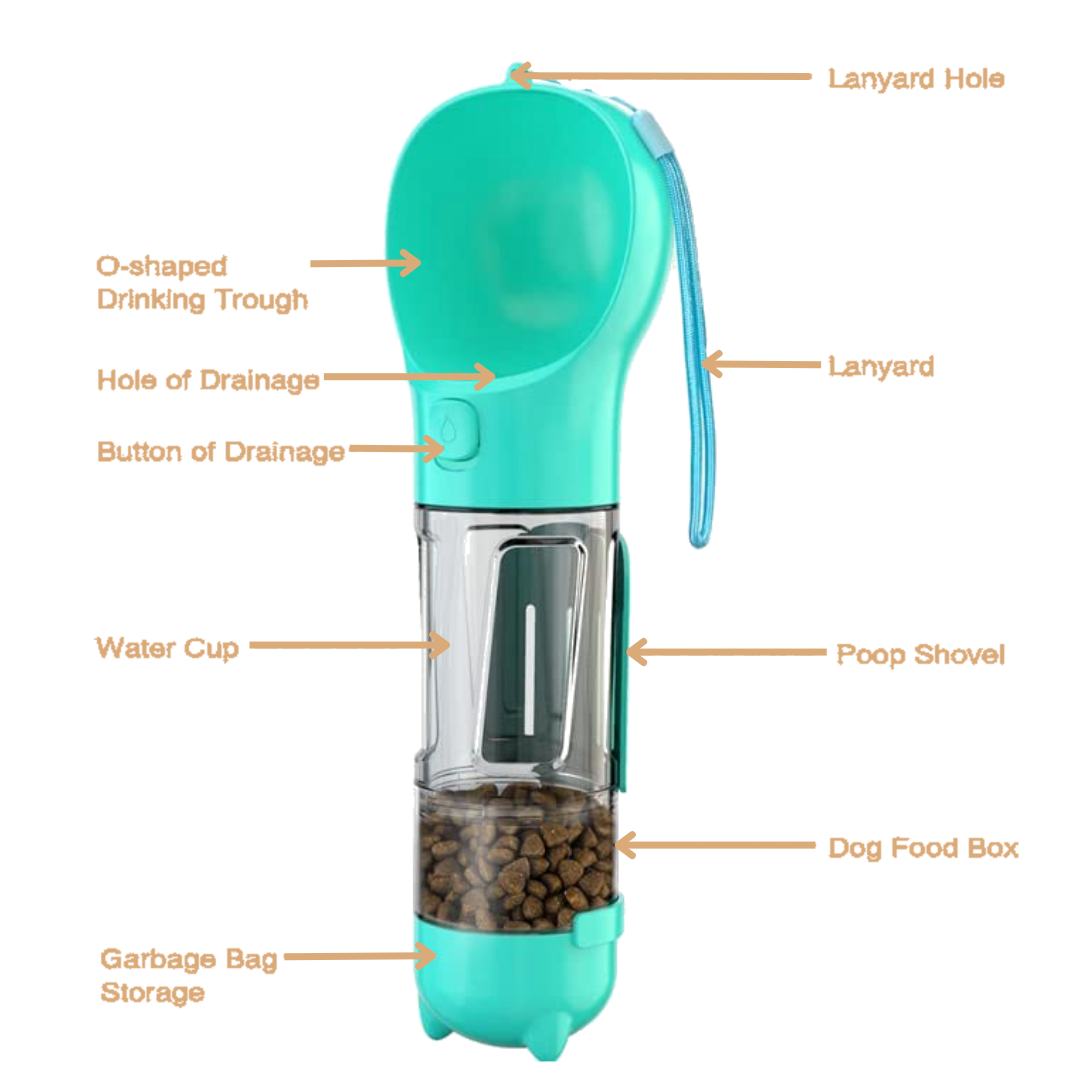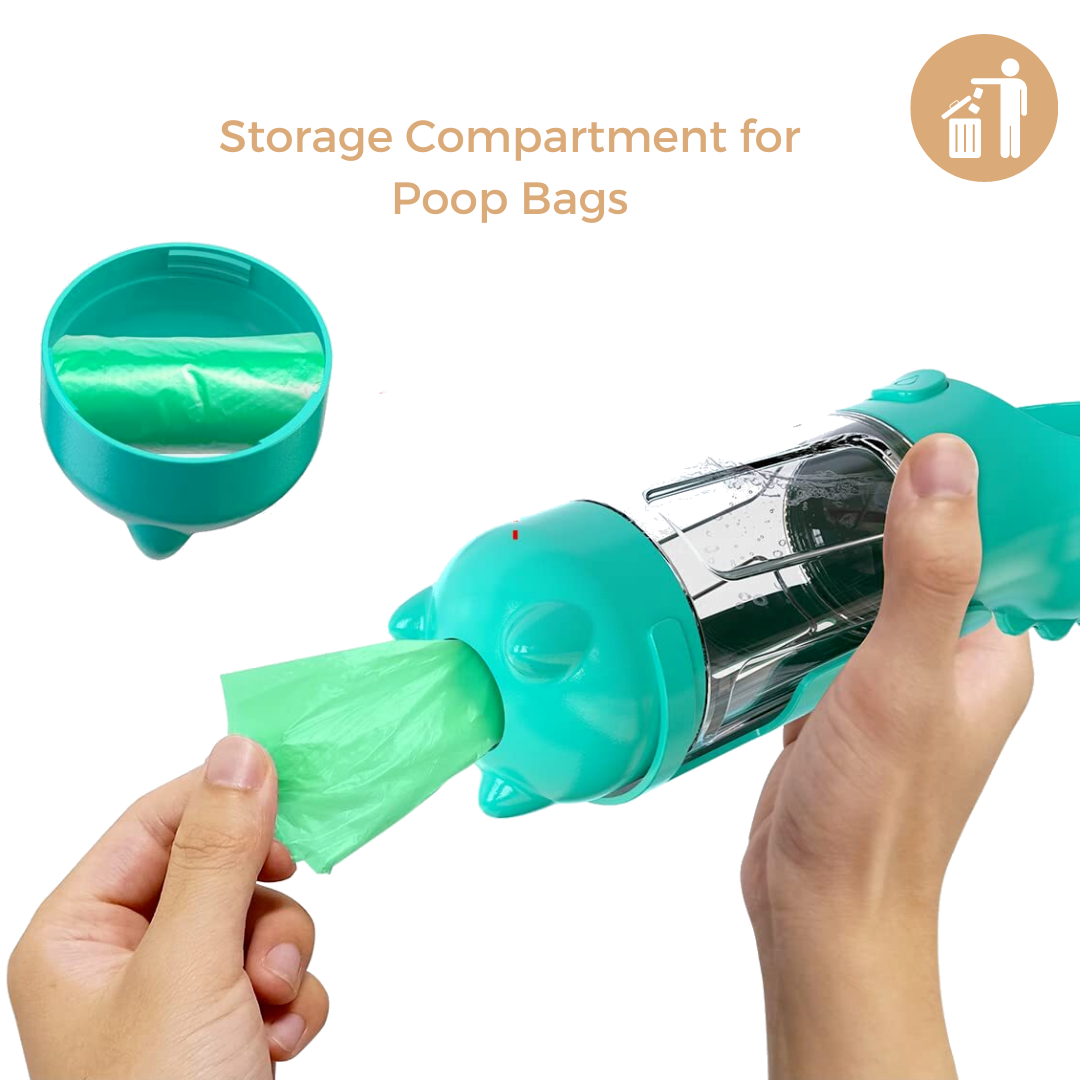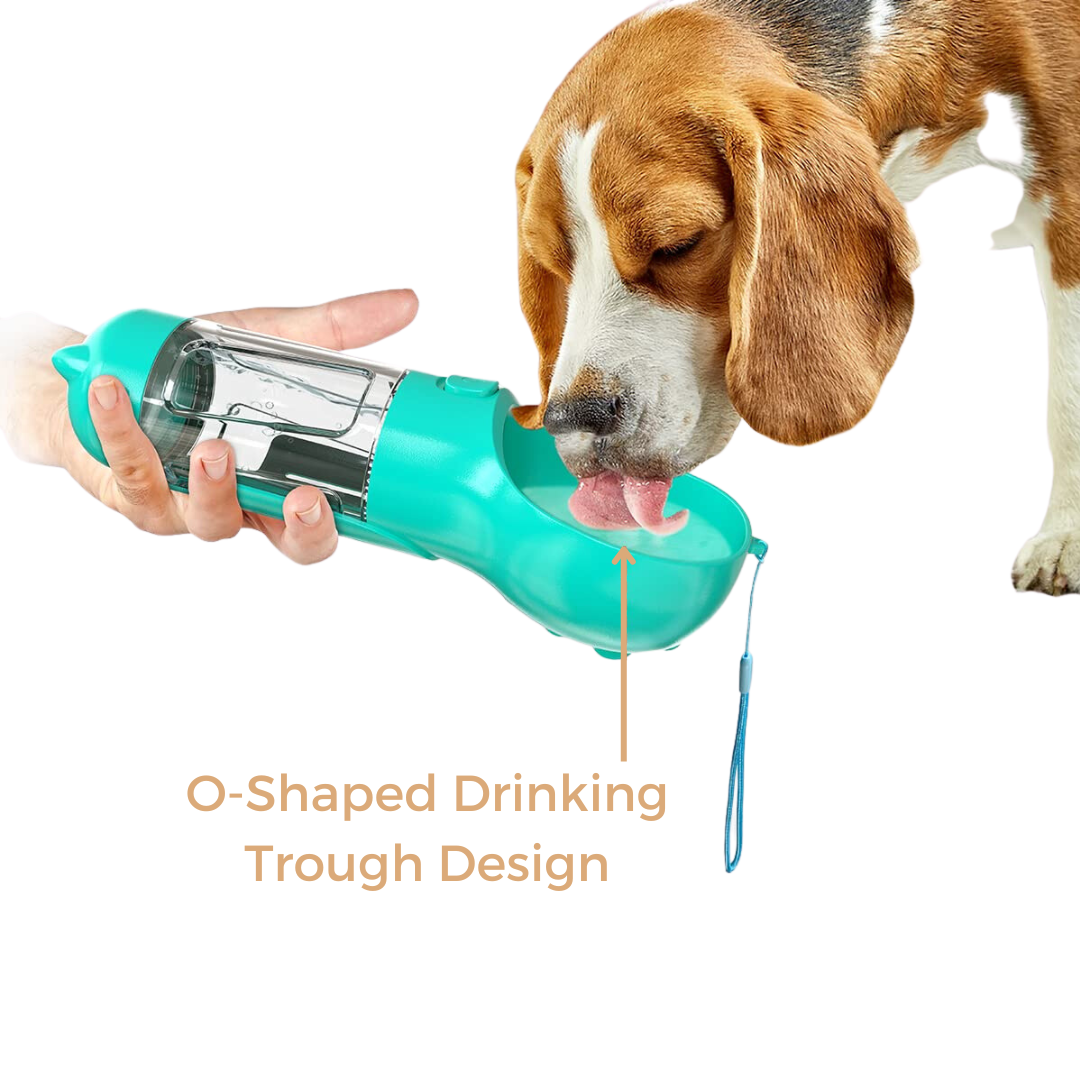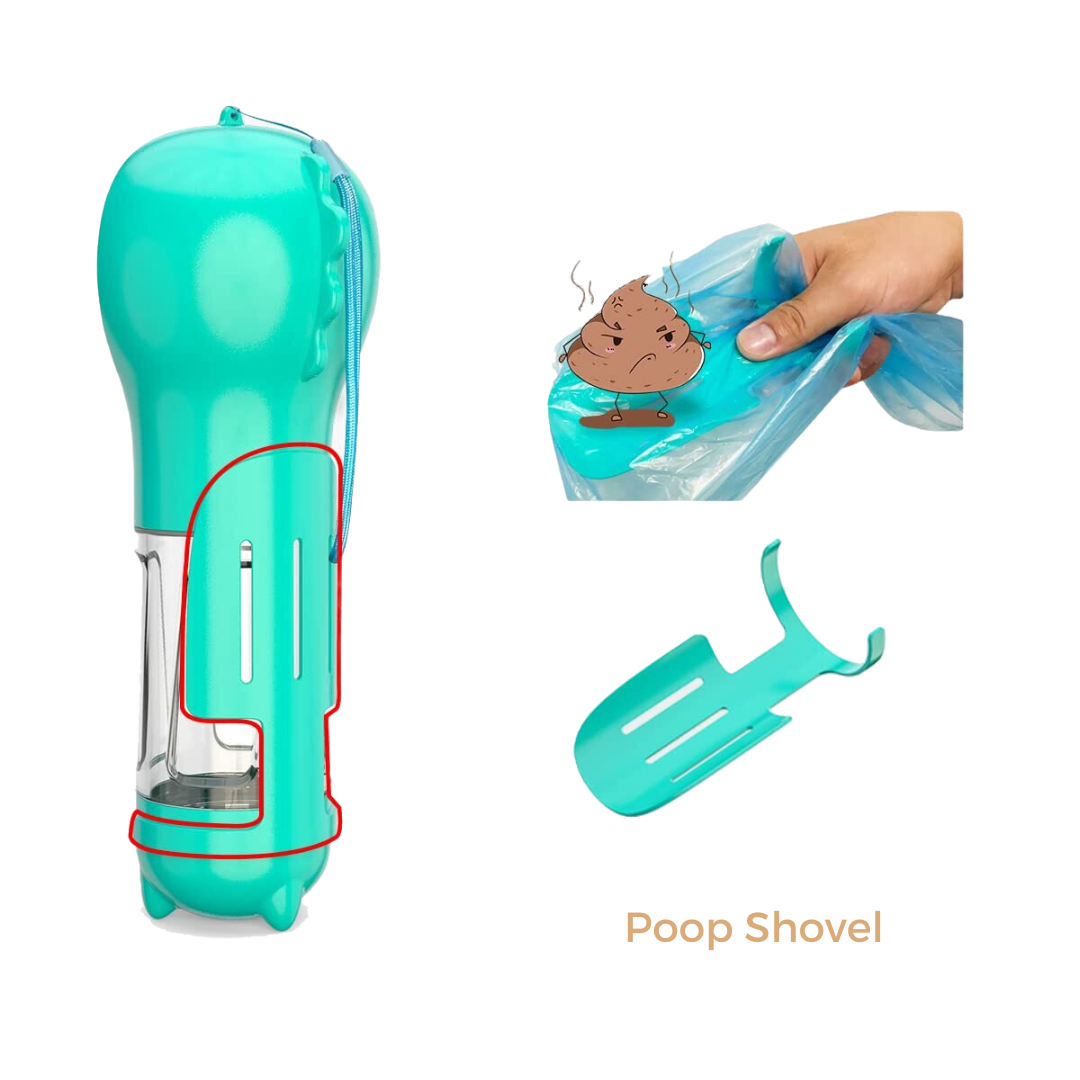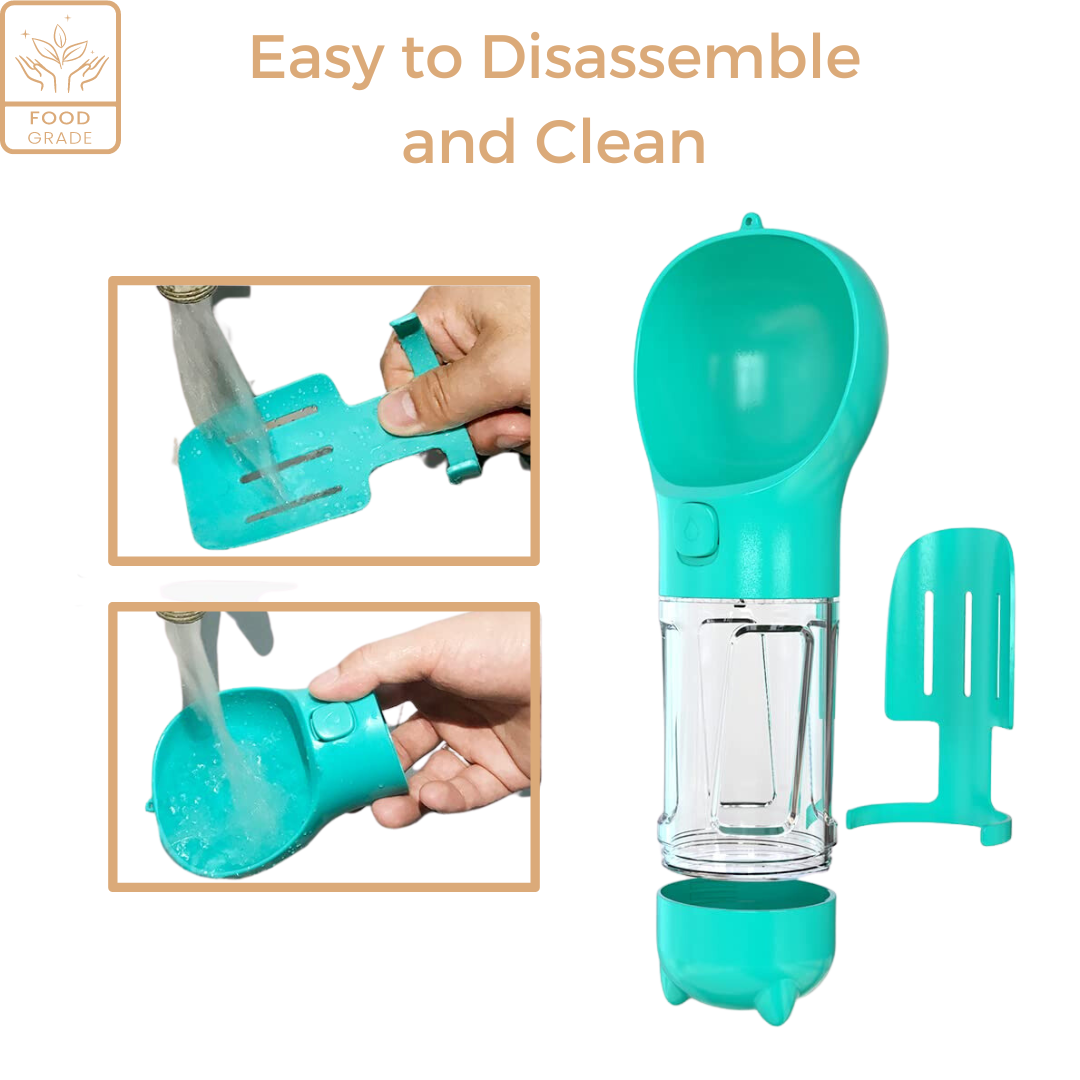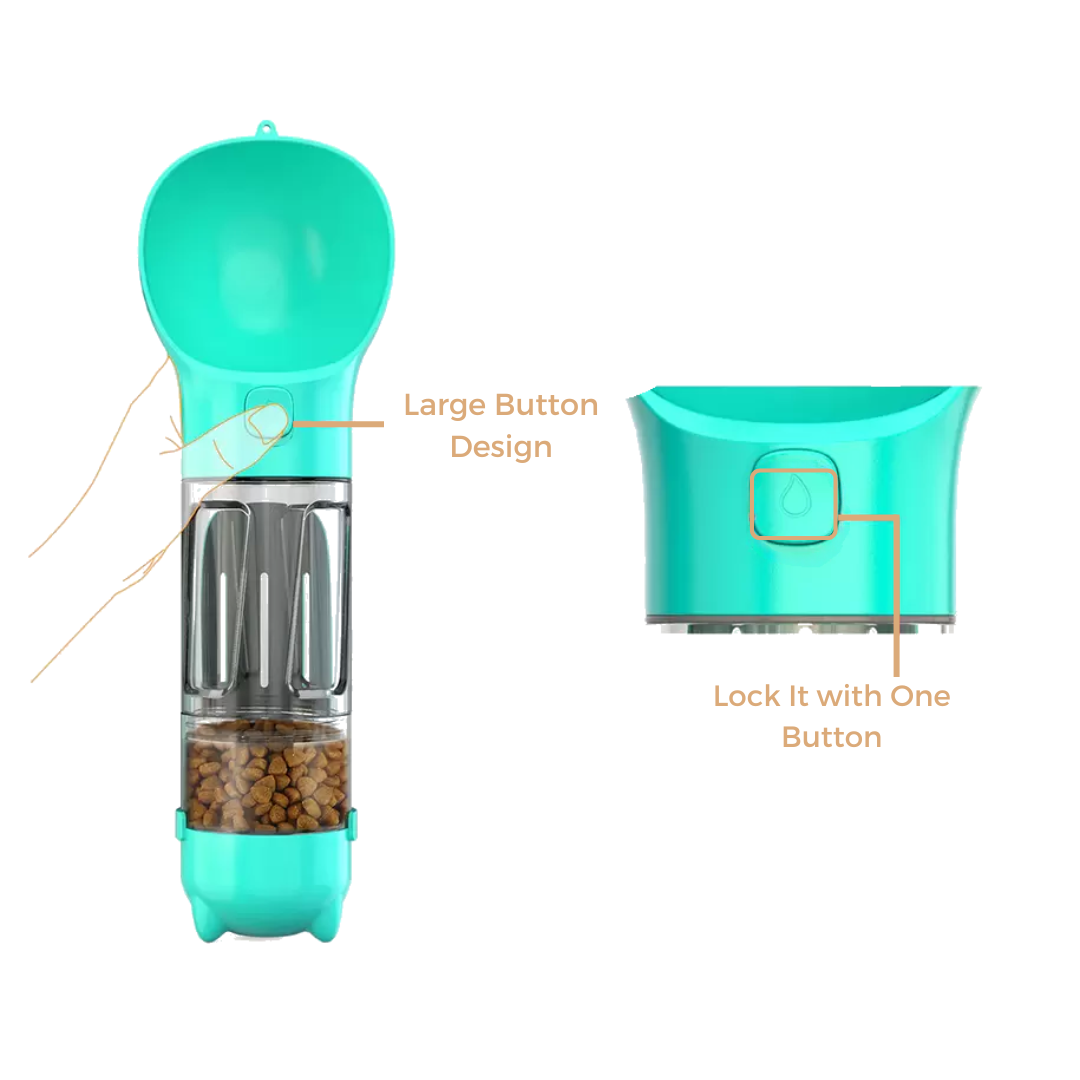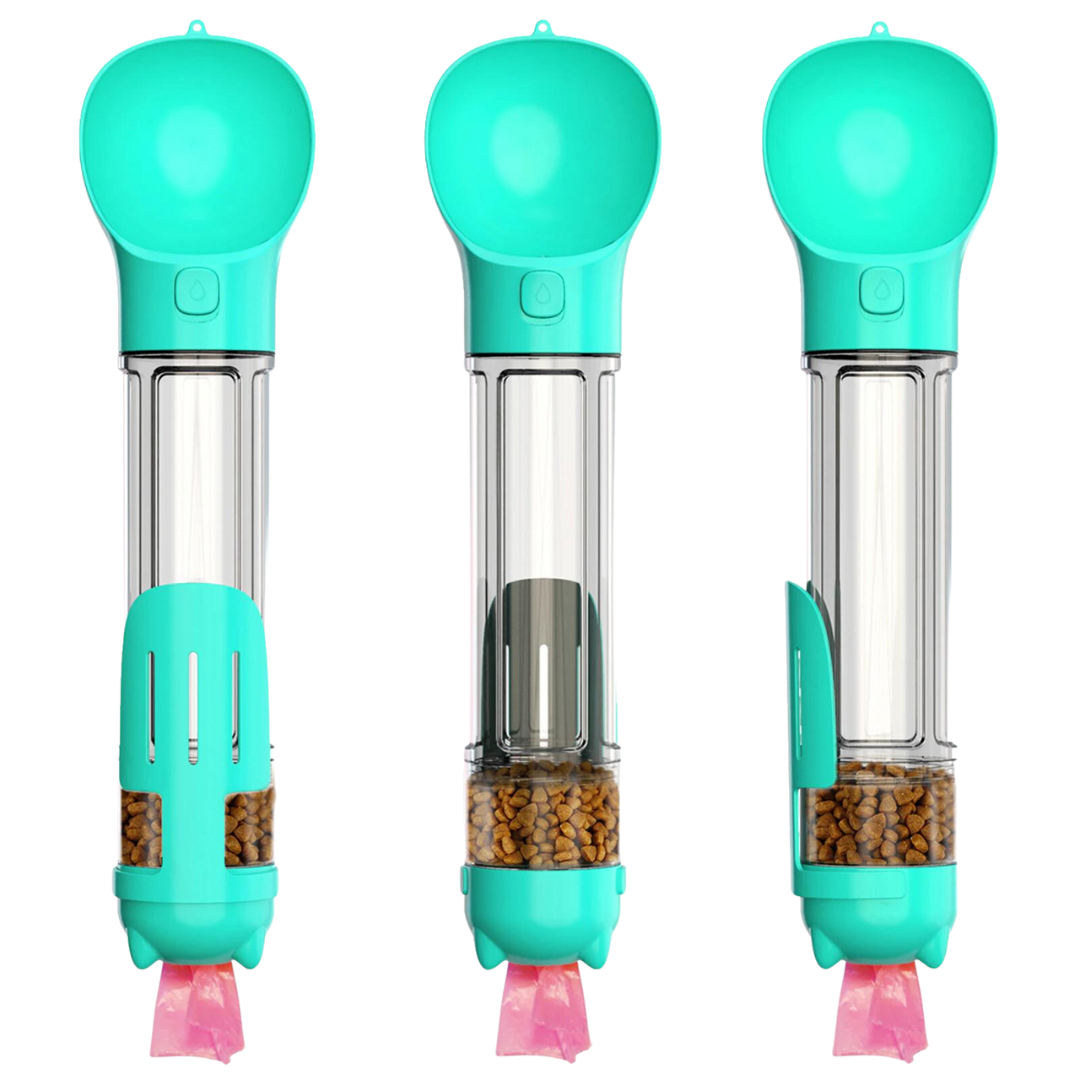 More Than Just a Water Bottle: The Convenient Solution
Give your furry friend the best with our dog bed, designed to provide unmatched comfort, durability, and convenience.

✓ 4-in-1 Combination: Consisting of a water cup, food storage cup, poop bags, and a shovel for all your canine needs.

✓ Anti-Leakage: A silicone leak-proof seal and lock button also prevents any spills or leaks

✓ Effortless use: Dispense water with a button press, then lock the bottle with another press

✓ Hassle Free Cleaning: Can be broken down for cleaning, and is heat-resistant when washing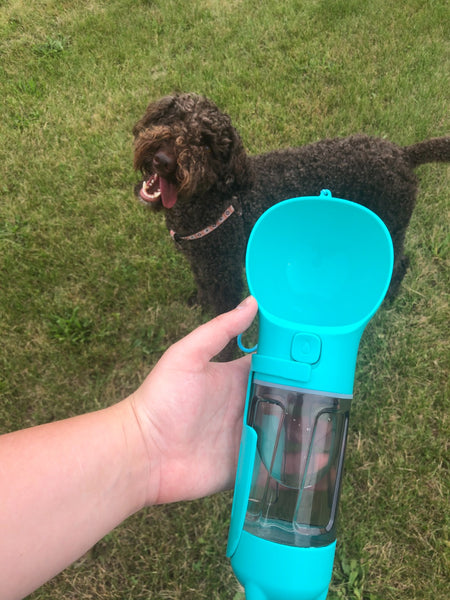 See What Our Customers Are Barking About
"Excellent Product - Exactly what I needed!"
"I am really impressed with this water bottle. In fact, it's much more than that. It has a treat compartment, poop scoop, and bag compartment too. It has a cute dinosaur design and I love the color (I got the turquoise)! My dog had no issue drinking from this and it's definitely a must have for travel and walks."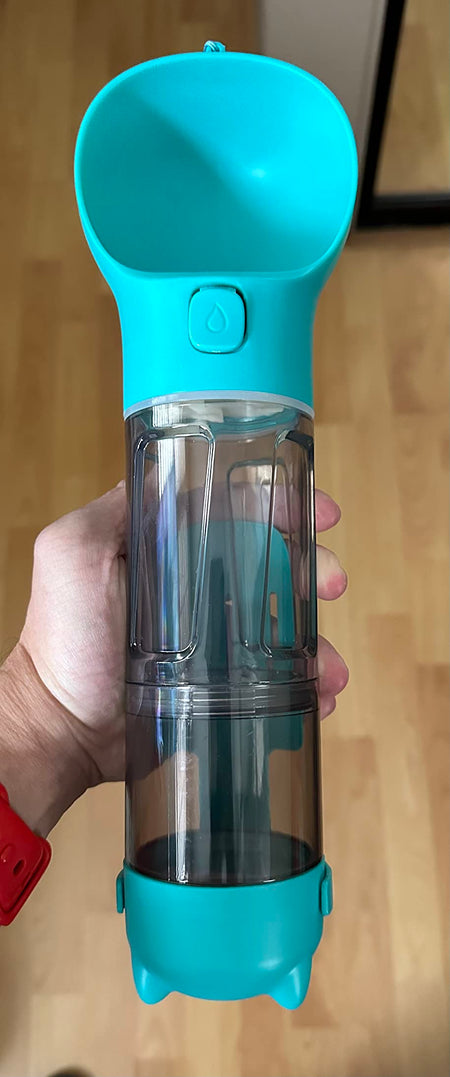 Dogs and their owners have spoken:
"Love it!"
"Totally makes taking your dog anywhere so much easier! We road tripped with ours and it was a life saver!"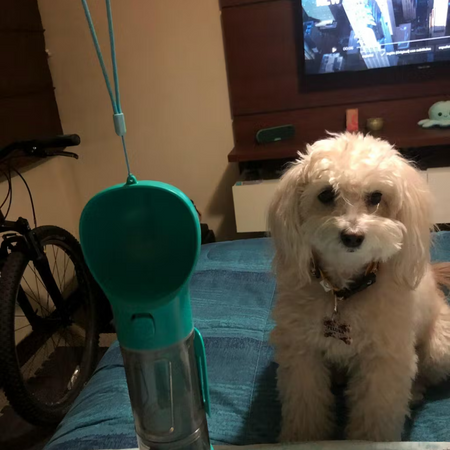 Dogs and their owners have spoken:
"Great for outings"
"I have used this twice now on outings. I put treats in the food section and ice/water on the water section. It fits under his stroller and water is then handy whenever he needs it. I highly recommend."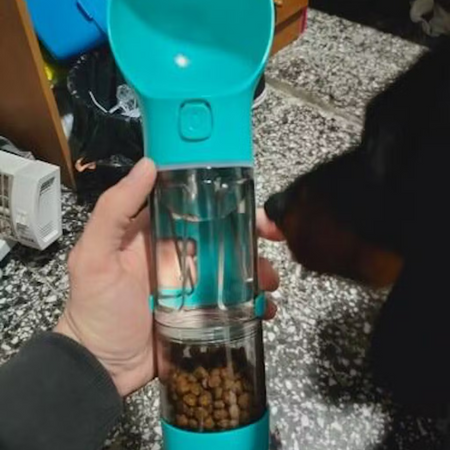 Dogs and their owners have spoken:
"Perfect"
"Perfect, all-in-one little contraption to handle everything for me when I take the dog out."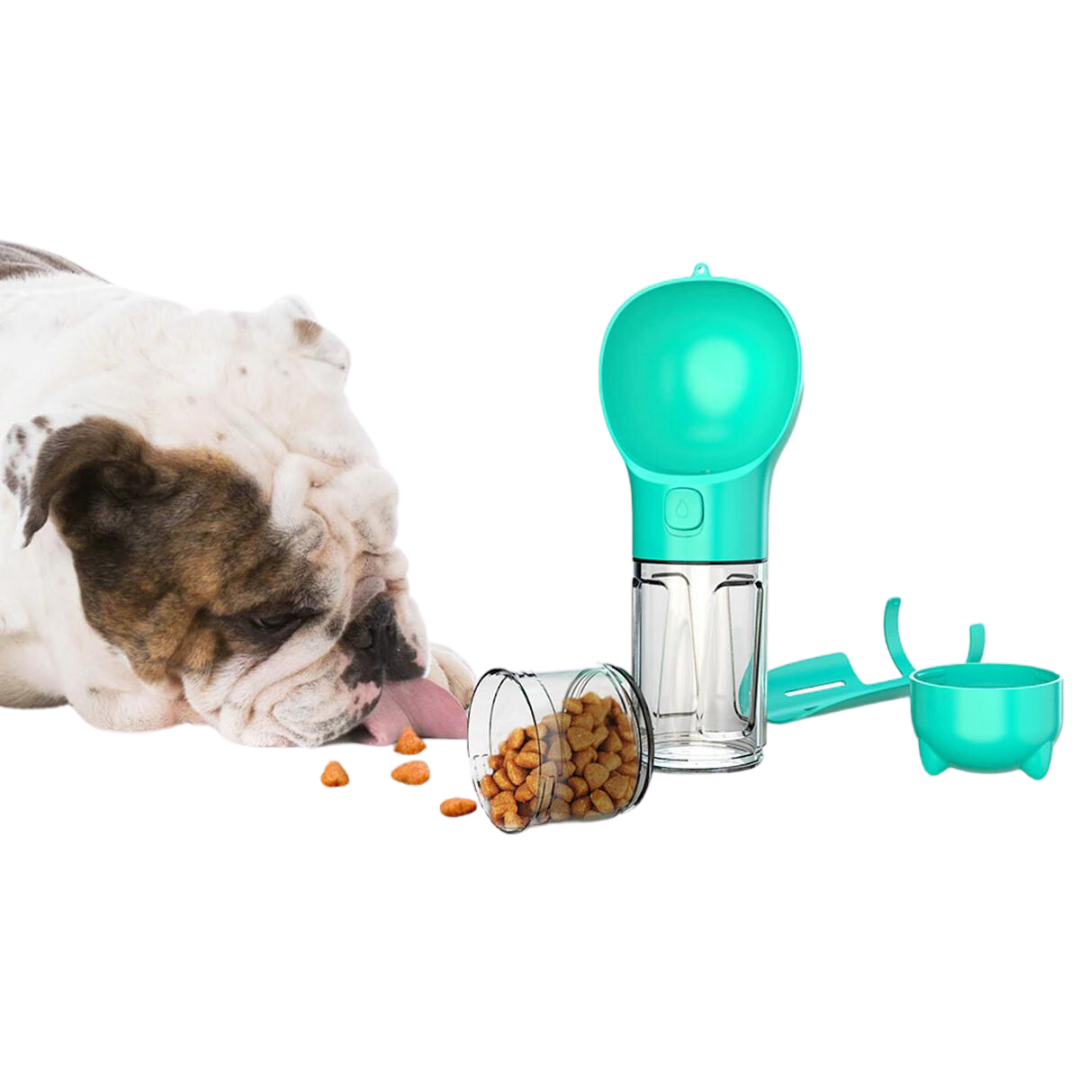 Keep your dog hydrated
Tired of carrying multiple containers and accessories for your furry friend during outdoor adventures?

Say goodbye to carrying multiple containers and hello to convenience and functionality.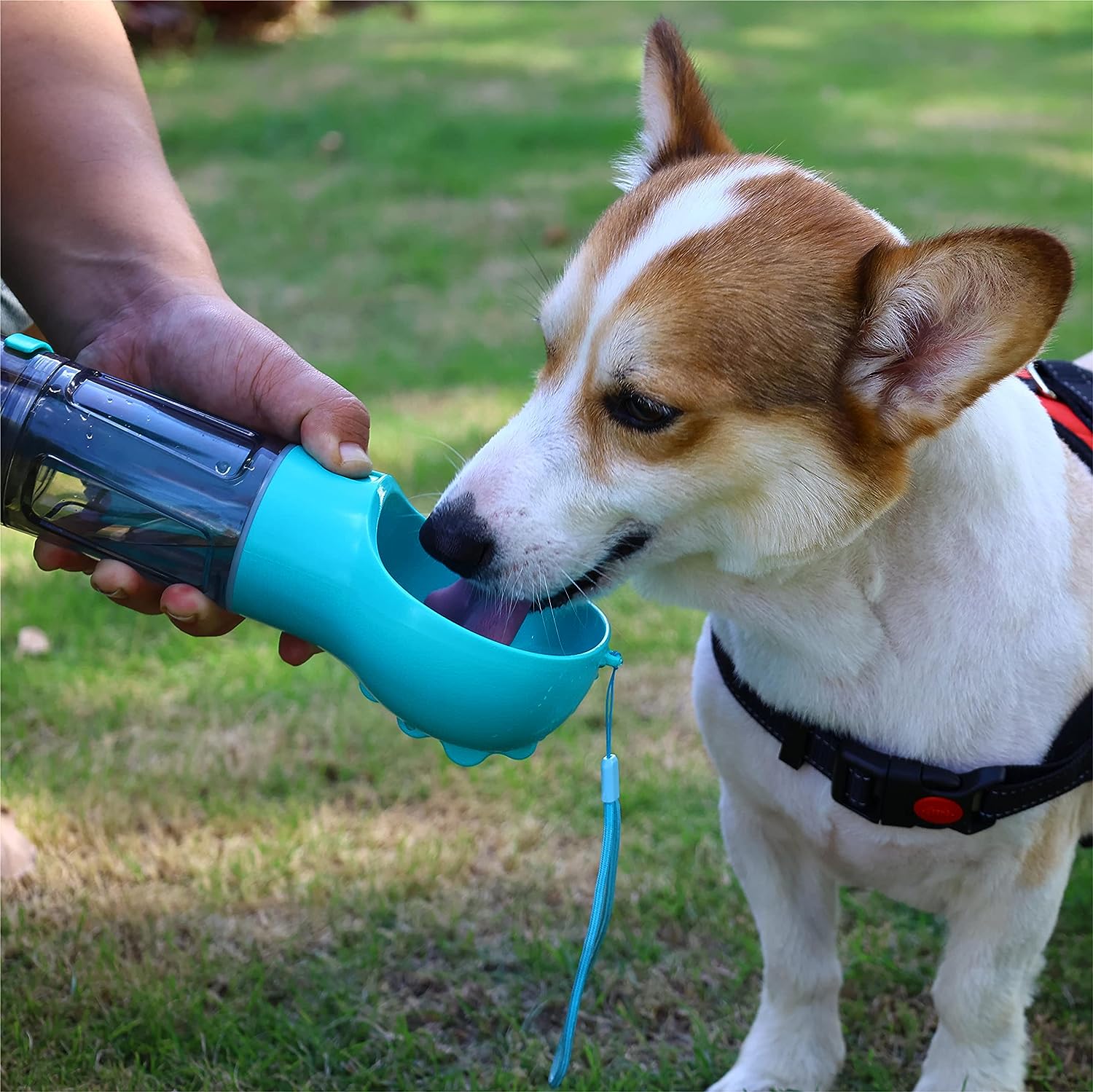 The Ultimate Water Bottle
Have you ever experienced that sinking feeling when you realize you've forgotten essential items for your dog?

Make forgetfulness a thing of the past. Embrace preparedness and create unforgettable memories with your furry friend.
All-In-One Solution

Our thoughtfully designed bottle ensures you always have the essentials with you.

Hassle-Free Design

Easy to disassemble and assemble, allowing for quick refills and effortless cleaning.

Easy To Carry

It fits snugly in your bag or attaches effortlessly with the included handle.
"Don't let your furry friend miss out on what they need while out and get this all in one portable water bottle'' - Michael T.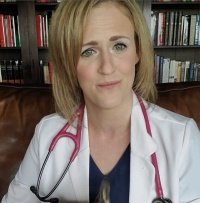 "Pelsbarn provides a water bottle that I trust and my patients love to use!"
DR. LISA HUSTON, DVM, VET CONSULTANT
Frequently Asked Questions
Is the 4-in-1 Portable Dog Water Bottle washable?

Yes! The bottle can be disassembled into small parts for easy cleaning and is resistant to high temperatures and corrosion.
How much does shipping cost and when will I receive it?

Enjoy free shipping on orders over $50 (US only). It takes about 24-48 hours for processing your order. Delivery times may vary based on your location, but typically, if you choose for DHL shipping it takes 4-7 business days. Rest assured that your order will arrive promptly and safely to your doorstep!
What is the size of the Pelsbarn 4-in-1 Portable Dog Water Bottle?

Our Pelsbarn 4-in-1 Portable Dog Water Bottle comes in one size.

Size: 3.82 x 12.87 x 3.94 inches

Water: 17 oz

Food: 5 oz
Do you offer any guarantee?

At Pelsbarn, we stand behind the quality and comfort of our products, which is why we offer a 2 year money-back guarantee. If for any reason, you or your furry friend are not completely satisfied with your purchase, simply return it for a full refund - no questions asked. We're confident that our 4-in-1 Portable Dog Water Bottle will meet your expectations and exceed your pup's wildest dreams!

*all sale, discounted, and promotional items are excluded.