''I love making treats for my dogs and these make the cutest design for their frozen treats. The treats mold perfectly in the shape of the paw!''
- Lisa (verified customer)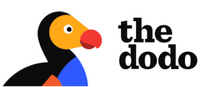 The Pawsicle Perfect Silicone Mold is more than just a mold; it's your ticket to creating delightful frozen treats that will have your furry friend's tail wagging with joy. 
PawPrint Design
Multi-Functional
Easy to Clean
Freezer & Oven Safe
Regular price
$19
Sale price
$10
Unit price
per
Save $9 47% OFF
Sold out
This sale ends on Saturday, 12.02.2023
Not Sure What Size To Pick? Choose Here.
We still advise to order 1 size up for extra comfort!
WHAT'S INCLUDED - you'll love it!

+

-

Order today, and you'll receive everything you need to make homemade, healthy, and refreshing pawprint-shaped treats they'll adore - all at a price you can afford.

Pawsicle Perfect Silicone Mold designed with love for your pet
BONUS #1: A free Dog tooth brush to help keep your furry friend's teeth clean and healthy
BONUS #2: Our Exclusive ebook ''12 Signs Your Dog is Happy'', to help you better understand your dog's behavior and promote their overall health and wellbeing
BONUS #3: Our Informative Book ''How to Easily Learn Your Dog Everything'', filled with tips and advice for training your dog and building a stronger bond with your furry friend
BONUS #4: Free access to our 'Dog Mom Community', where you can ask all your questions and connect with like-minded dog moms!
30 (!) day money-back guarantee - only from pelsbarn.org

+

-

Guaranteed Tail-Wagging Comfort: Our Pawsicle Perfect Silicone Mold Comes with a 30 (!) day money-back guarantee!

We're confident that your furry friend will LOVE the treats made from our Pawsicle Perfect Silicone Mold. That's why we're offering a 30 (!) day money-back guarantee, so you can try it out and creating delightful treats for your pet. If for any reason you or your furry friend aren't satisfied, we'll give you a full refund - no questions asked.
FREE SHIPPING & RETURNS 🇺🇸

+

-

At Pelsbarn, we get it - when you need a a treat mold, you need it now! That's why we offer fast shipping with DHL, so your furry friend can start enjoying homemade treats in no time. And when you spend over $50, we'll even cover the shipping within the US for free!

And if you're not completely satisfied, our easy returns will make it a walk in the park. Shop with confidence and give your furry friend the ultimate treat experience they deserve today!

* all sale, discounted, and promotional items are excluded.
View full details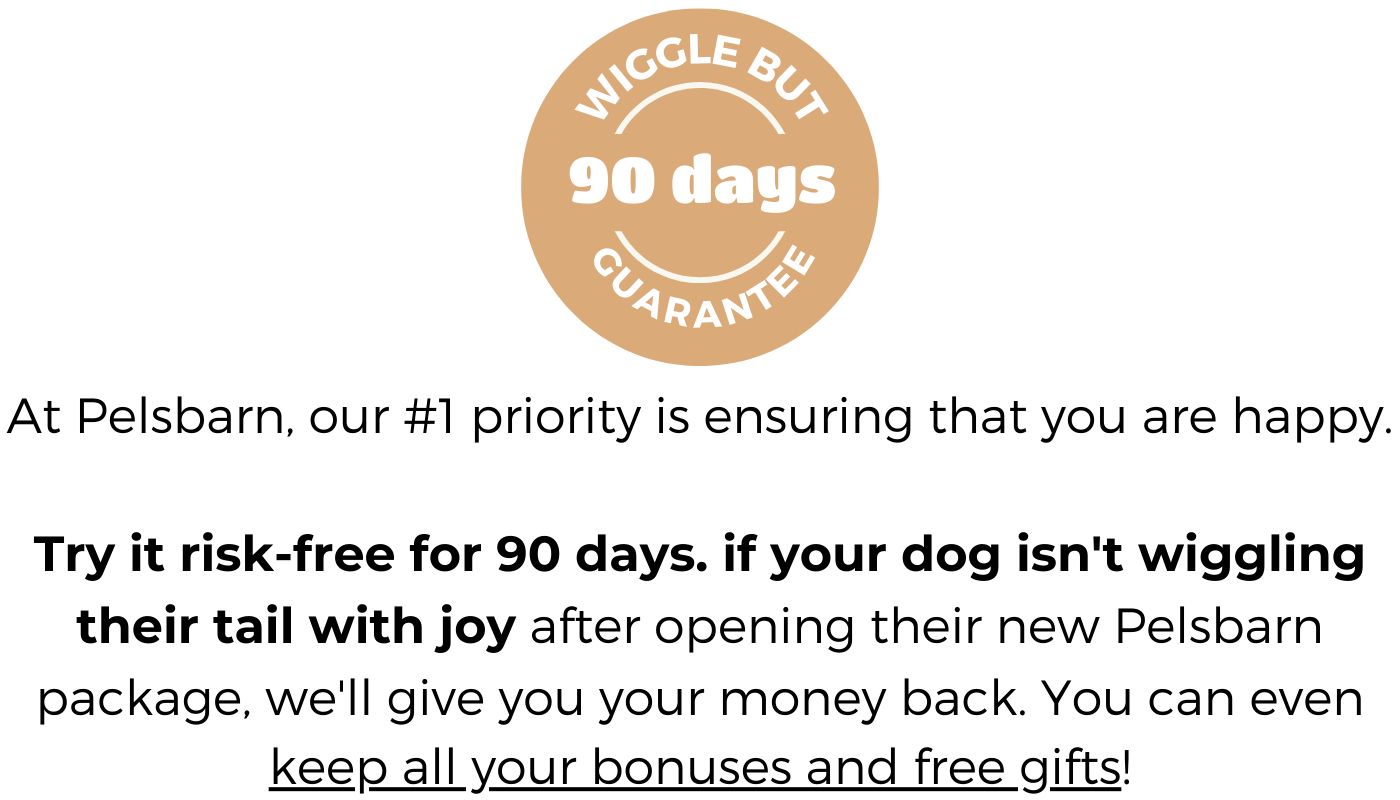 More Than Just a Mold: It's Your Ticket To Homemade Treats
Give your furry friend the best with our Pawsicle Perfect Silicone Mold, designed to cater to your pet's dietary needs and preferences.

✓ Food-Grade Silicone: Crafted from high-quality, pet-safe silicone ensuring it's safe

✓ Multi-Functional: Ideal for homemade frozen or baked treats

✓ Heat Safe: This versatile mold can accommodates various temperatures
✓ Easy to Clean: Hassle-free cleaning. Simply hand wash or toss in the dishwasher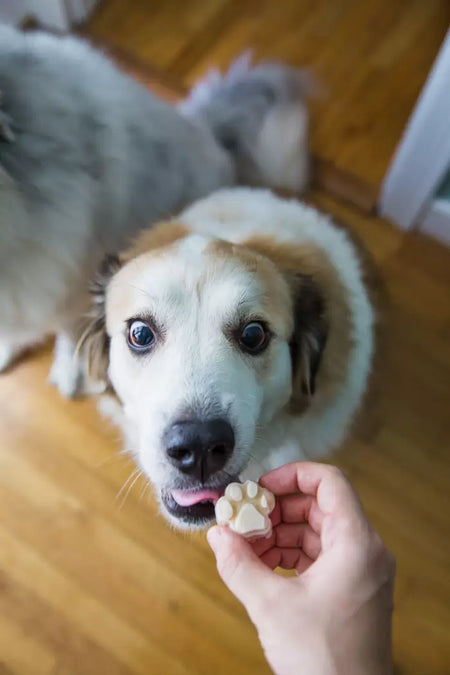 See What Our Customers Are Barking About
"Great Treats"
"Love these! Easy to get treats out! I make all kinds if frozen treats for my dogs! Pumpkin, Greek yogurt with blueberries, strawberries and peanut butter! Also just make plain ice cubes for them. They love them!! Spoiled! 😊"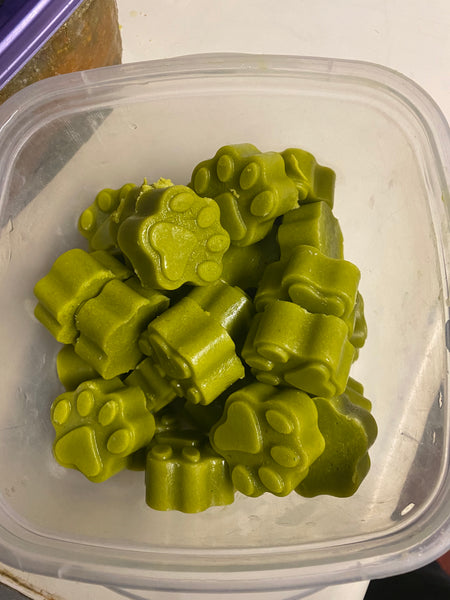 Dogs and their owners have spoken:
"SO CUTE"
"Used these to make special frozen treats for my pups. They loved them of course! Super easy to use and the molds look so cute!"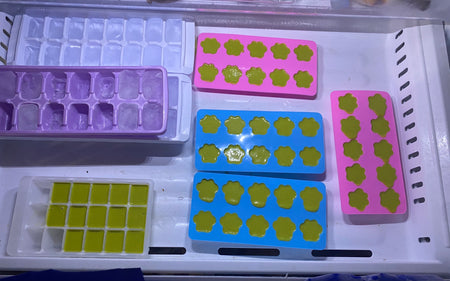 Dogs and their owners have spoken:
"Great molds!"
"Purchased these silicone molds to make frozen treats for my dog. Super easy to use, just poured the mixture and placed in the freezer. Treats are so easy to take out of the molds and just as easy to wash right after. So glad I purchased!"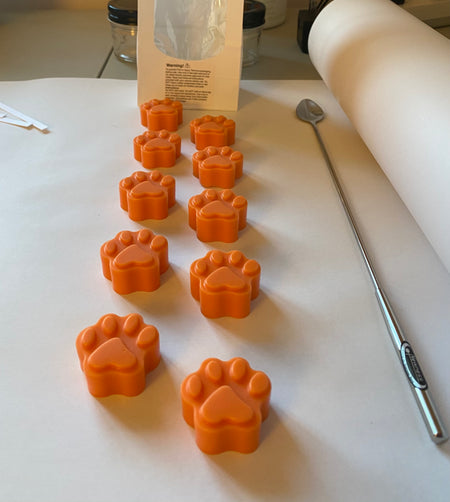 Dogs and their owners have spoken:
"PERFECT AND AMAZING"
"I have made ice cubes, crayons and mini muffins in these, and nothing has disappointed. I have frozen these, microwaved these and oven baked them. Not a single drop of melt. Not a single speck of smell. Just a darn good product right here!! Like DARNNNNNNN good."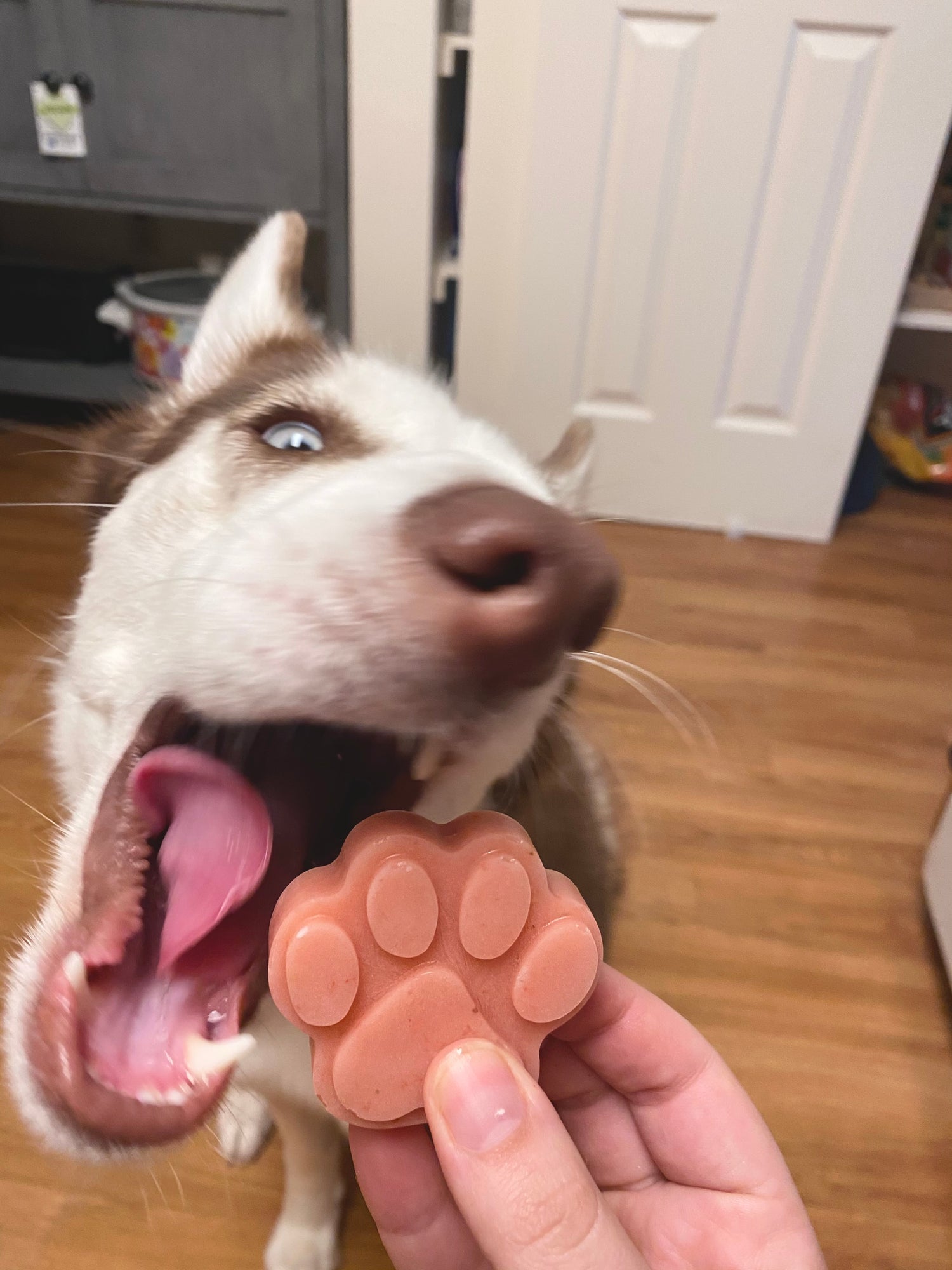 The Ultimate Treat Maker
Make every treat moment special for your furry friend with the Pawsicle Perfect Silicone Mold.

Whether it's a reward for good behavior or a way to keep your pet cool during warm days, this mold is the paw-fect choice.
Create Tail-Wagging Treats for Your Dog
Cater to your pet's dietary needs and preferences, ensuring they get the best, healthiest snacks possible.

Give your pet a taste of love and care, one pawprint at a time. Start creating irresistible frozen treats that will leave your pet begging for more!
Easy To Use

Crafted for the ease of your culinary endeavors, our silicone mold is versatile, accommodating various kitchen needs.

Multi-Functional

While it's ideal for making ice cubes, its potential goes beyond that. Whether you're baking, freezing, microwaving, or cleaning up, our mold is up to the task.

Easy to Clean

Say goodbye to the hassle of stubborn residue. Our silicone mold is both flexible and non-stick, ensuring easy demolding and quick cleanup.
"Love these! My favorite mold for pet treats so far! Perfect size for single servings for our dogs. Perfect if you like to make your own baked dog treats, or are trying to keep your dog cool with some frozen snacks this summer!'' - Rachel W.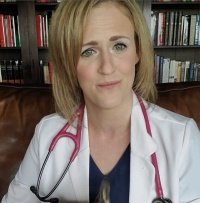 "Pelsbarn provides a product that I trust and my patients love to use!"
DR. LISA HUSTON, DVM, VET CONSULTANT
Frequently Asked Questions
Are the Pawsicle Perfect Silicone Mold dishwasher safe?

Yes! The Pawsicle Perfect Silicone Mold are dishwasher safe!
How much does shipping cost and when will I receive it?

Enjoy free shipping on orders over $50 (US only). It takes about 24-48 hours for processing your order. Delivery times may vary based on your location, but typically, if you choose for DHL shipping it takes 4-7 business days. Rest assured that your order will arrive promptly and safely to your doorstep!
Do you offer any guarantee?

At Pelsbarn, we stand firmly behind the quality of our products. That's why we offer you peace of mind with our comprehensive warranty terms.

30-Day Money-Back Guarantee: We're confident that you'll fall in love with our Pelsbarn products. But we also understand that individual preferences can vary. That's why we offer a 30-day money-back guarantee on all non-sale items. If, for any reason, you're not entirely satisfied with your purchase, you can return the product within 30 days from the date of purchase. We'll refund you the full purchase amount with no cumbersome questions or hassle.

365-Day Warranty on Factory Defects: We take pride in the meticulous craftsmanship of our products. However, if, by any chance, a factory defect occurs within 365 days from the date of purchase, we ensure that the issue will be addressed. Simply reach out to our customer service, and we will promptly repair or replace the defective item at no cost.

We want you to shop at Pelsbarn with confidence, knowing that we stand by our products and strive for your complete satisfaction. If you have any questions about our warranty terms or need to file a warranty claim, please feel free to contact our customer service.

Your satisfaction is our priority!