This One's For The Dog Moms Who Want the Best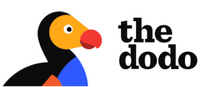 Don't let the sun dictate your comfort or damage your vehicle. Invest in our Foldable Car Umbrella Sunshade today and experience the ultimate in sun protection and convenience. 
Protection for Yourself and Car
Convenient to Use
Durable Material
Universal Size
Regular price
$34
Sale price
$19
Unit price
per
Save $15 44% OFF
Sold out
This sale ends on Thursday, 09.28.2023
WHAT'S INCLUDED - you'll love it!

+

-

Order today, and you'll receive everything you need to enjoy the benefits of a cooler, more comfortable drive - all at a price you can afford.

Original Pelsbarn Foldable Car Umbrella Sunshade designed with your dog's and your comfort and happiness in mind
BONUS #1: A free Dog tooth brush to help keep your furry friend's teeth clean and healthy
BONUS #2: Our Exclusive ebook ''12 Signs Your Dog is Happy'', to help you better understand your dog's behavior and promote their overall health and wellbeing
BONUS #3: Our Informative Book ''How to Easily Learn Your Dog Everything'', filled with tips and advice for training your dog and building a stronger bond with your furry friend
BONUS #4: Free access to our 'Dog Mom Community', where you can ask all your questions and connect with like-minded dog moms!
FREE 2 YEAR WARRANTY - only from pelsbarn.org

+

-

Guaranteed Tail-Wagging Comfort: Our Pelsbarn Foldable Car Umbrella Sunshade comes with a 2 year warranty.

We're confident that you will LOVE the original Pelsbarn Foldable Car Umbrella Sunshade. That's why we're offering a 2 (!) year money-back guarantee, so you can try it out and feel the comfort. If for any reason you or your furry friend aren't satisfied, we'll give you a full refund - no questions asked.
FREE SHIPPING AND RETURNS 🇺🇸

+

-

At Pelsbarn, we get it - when you need a car sunshade, you need it now! That's why we offer fast shipping with DHL, so you can enjoy a cooler, more enjoyable drive in no time. And when you spend over $50, we'll even cover the shipping within the US for free!

And if you're not completely satisfied, our easy returns will make it a walk in the park. Shop with confidence and give yourself the ultimate cool car experience you deserve today!

* all sale, discounted, and promotional items are excluded.
View full details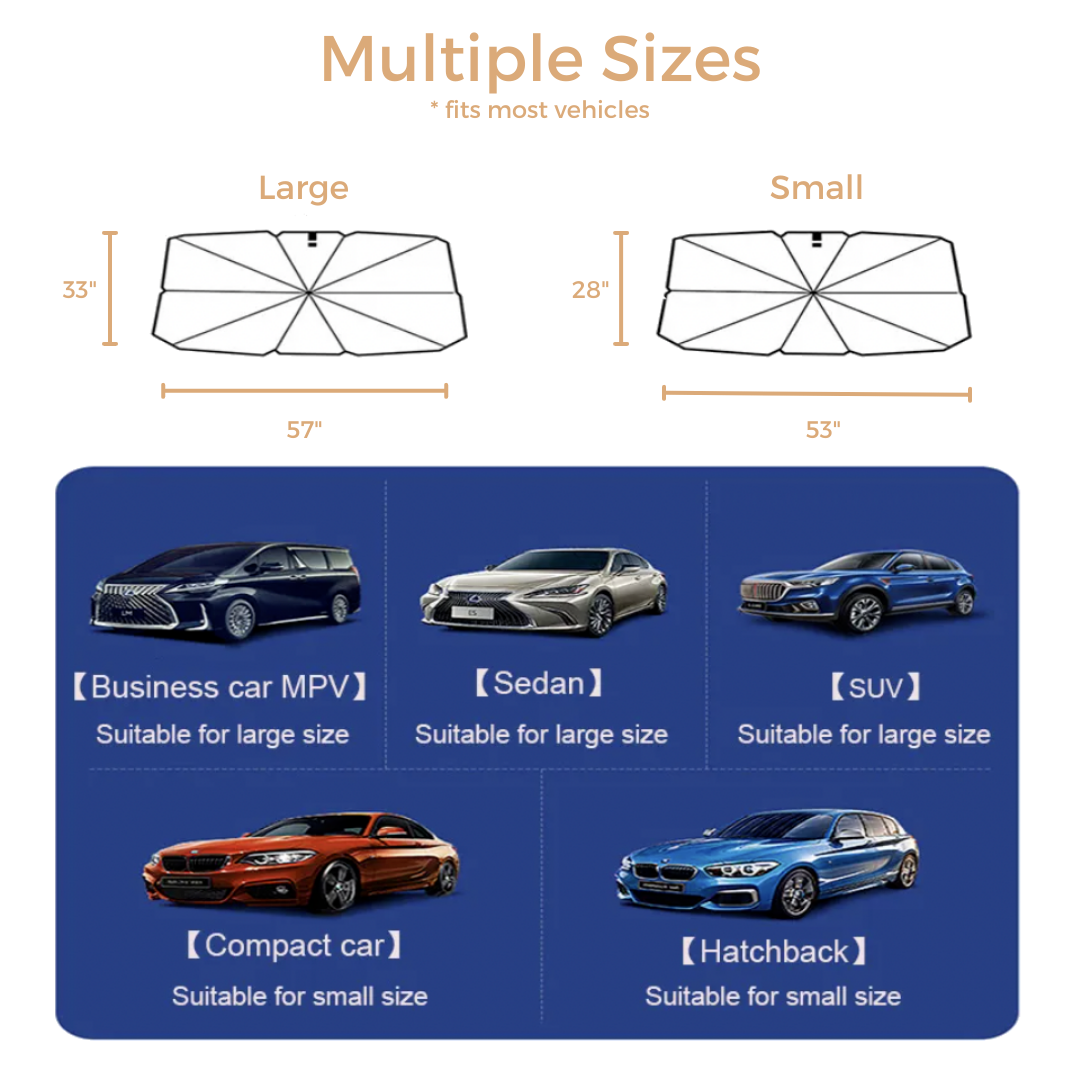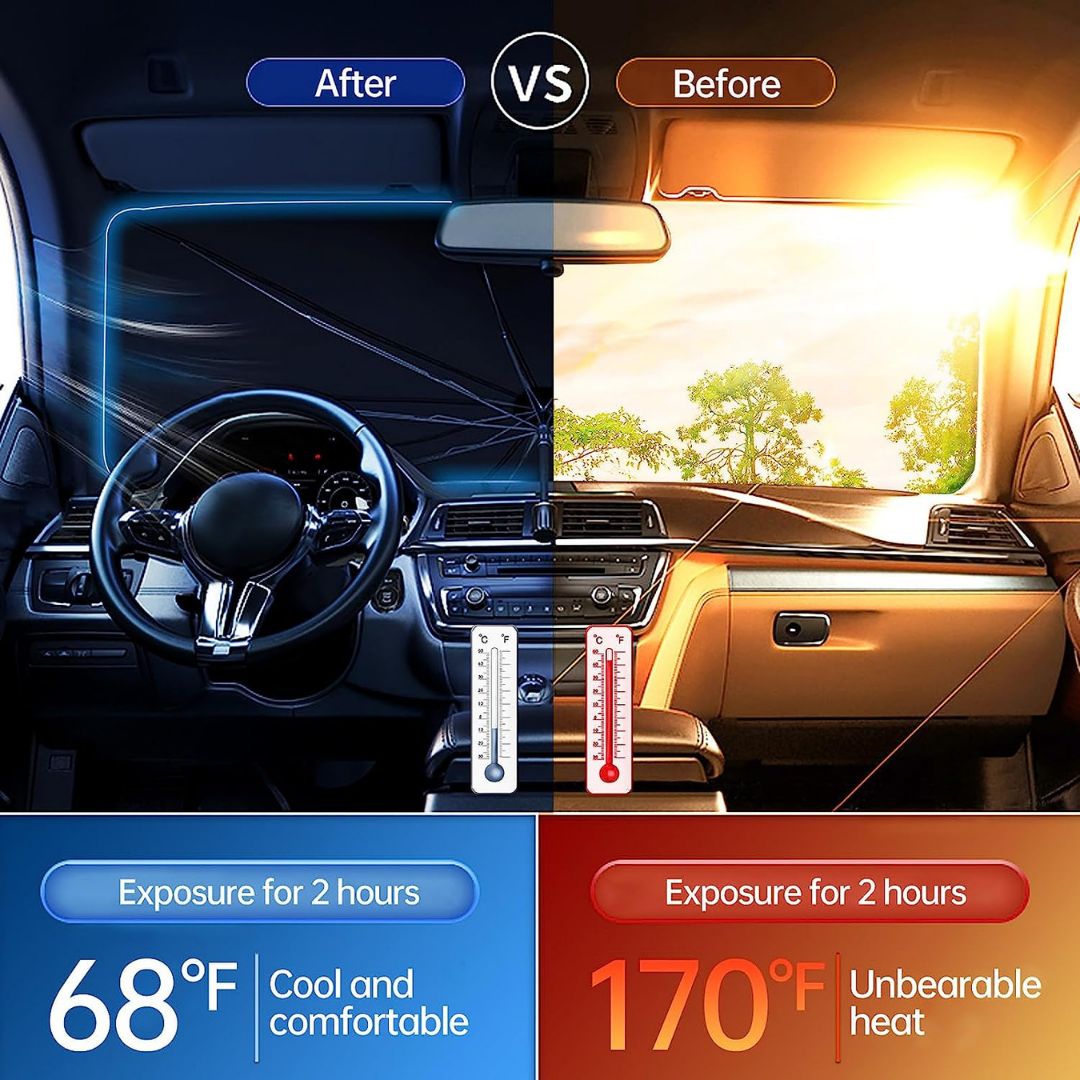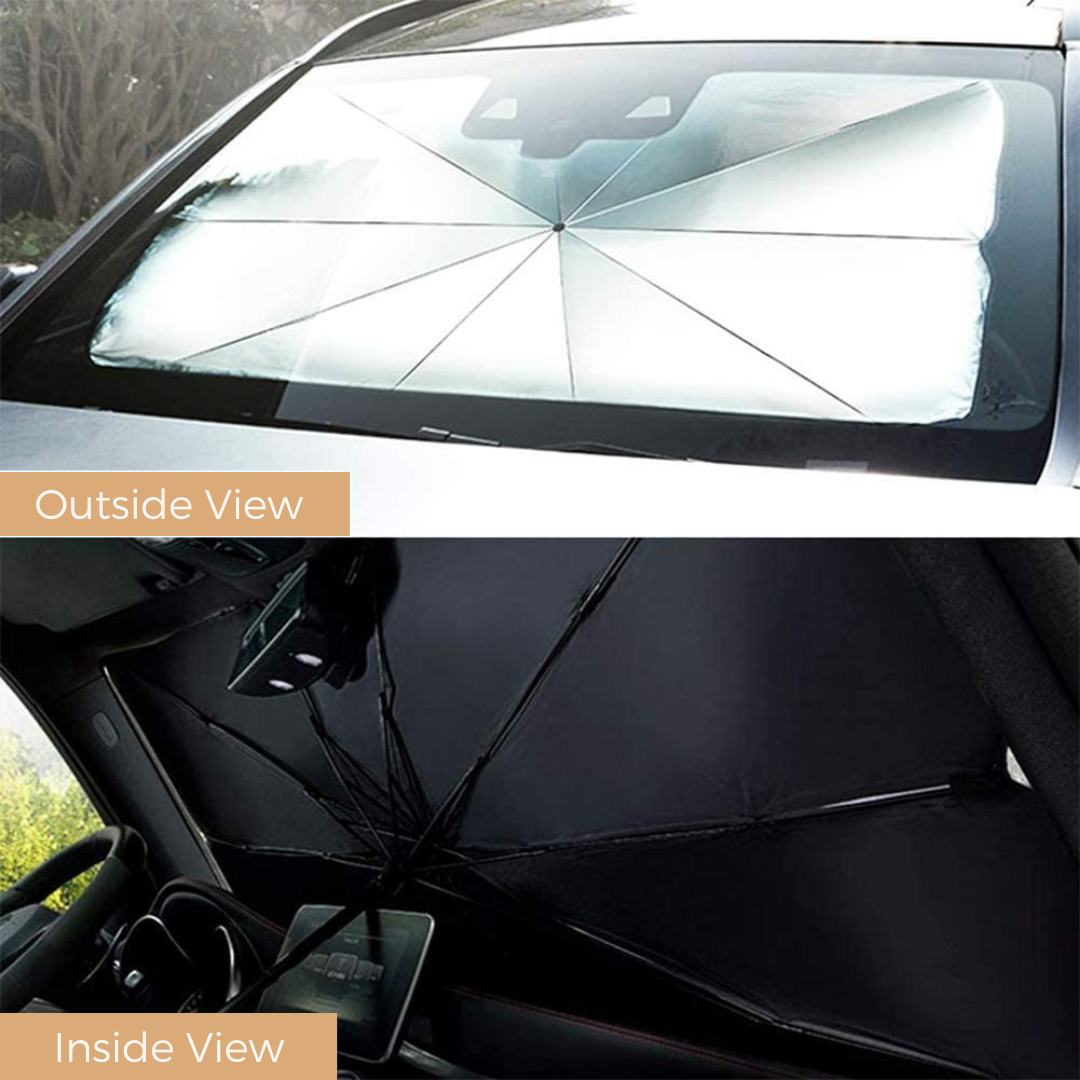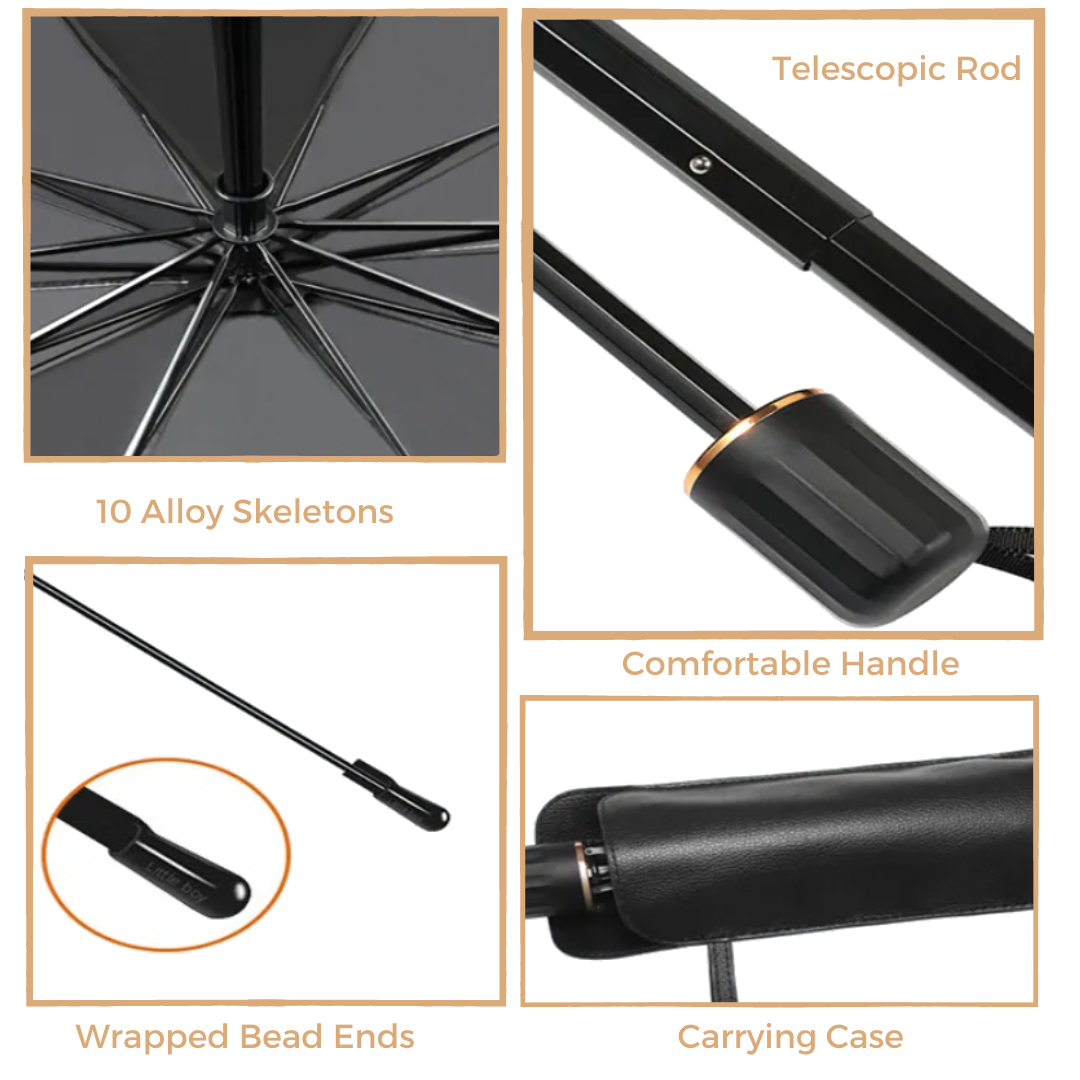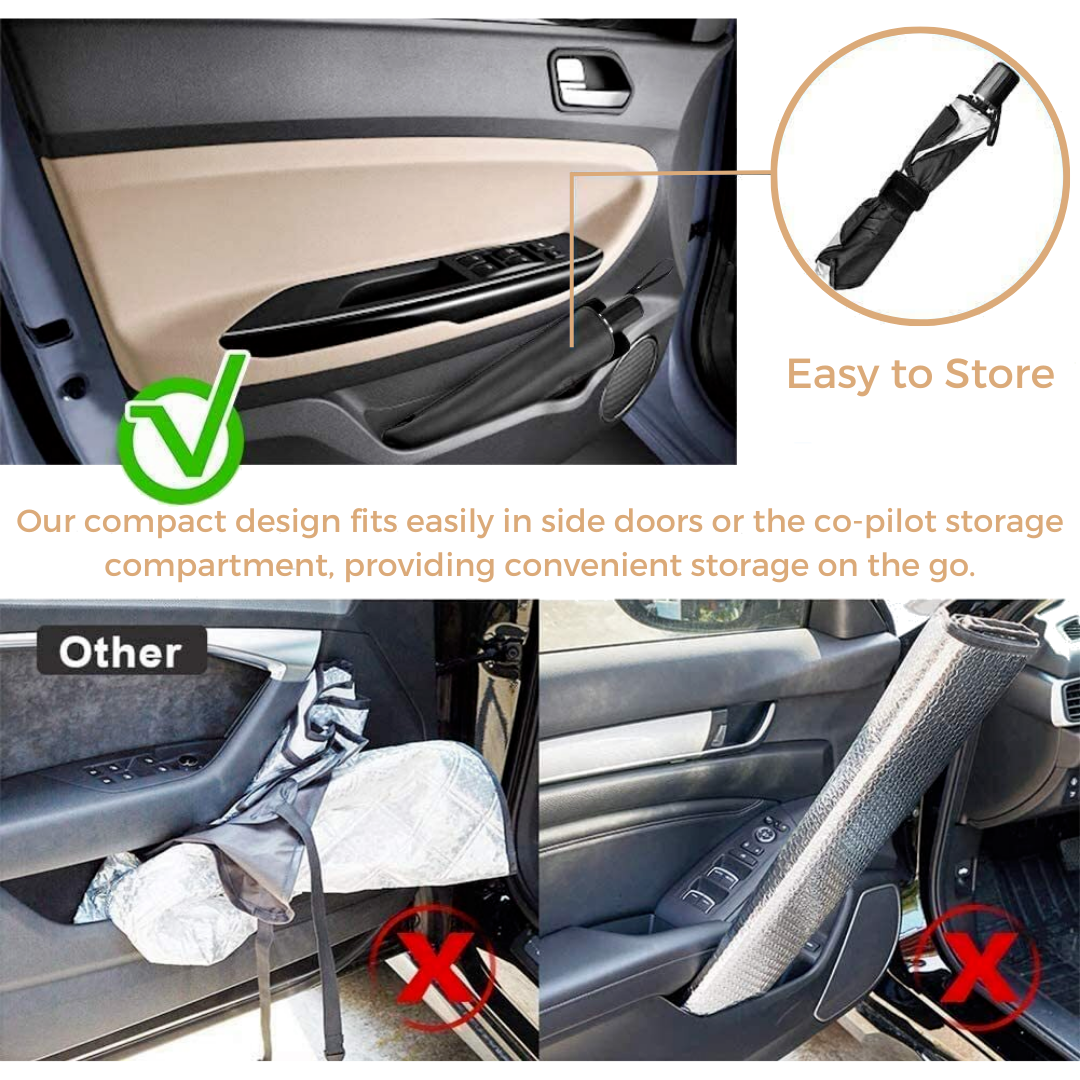 Introducing the ultimate car sunshade - beat the heat and protect your vehicle!
Say goodbye to the discomfort of a hot car and protect your vehicle with style and convenience. Upgrade your driving experience with the Foldable Car Umbrella Sunshade.

✓ Multi-Protection: Offers protection from sunlight, helping to keep the interior of your car cool

✓ Easy Installation and Storage: Foldable design allows for effortless opening and closing

✓ Durability: Made of high-hardness steel, provides heat insulation and effectively blocks UV rays

✓ Fits Most Vehicles: widely applicable and fits most vehicles, including popular models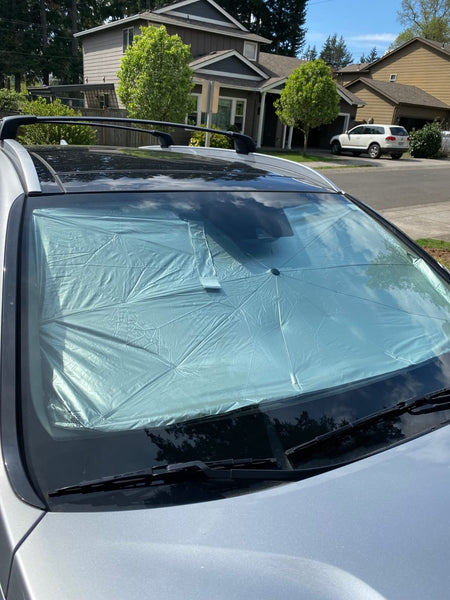 See What Our Customers Are Barking About
"Amazing!"
"Super easy to put in the window and take out. Way more convenient than those ones you have to fold and unfold. Also compact when it's closed so it fits easily in the pocket in the seat or even in the middle console! Great product!!"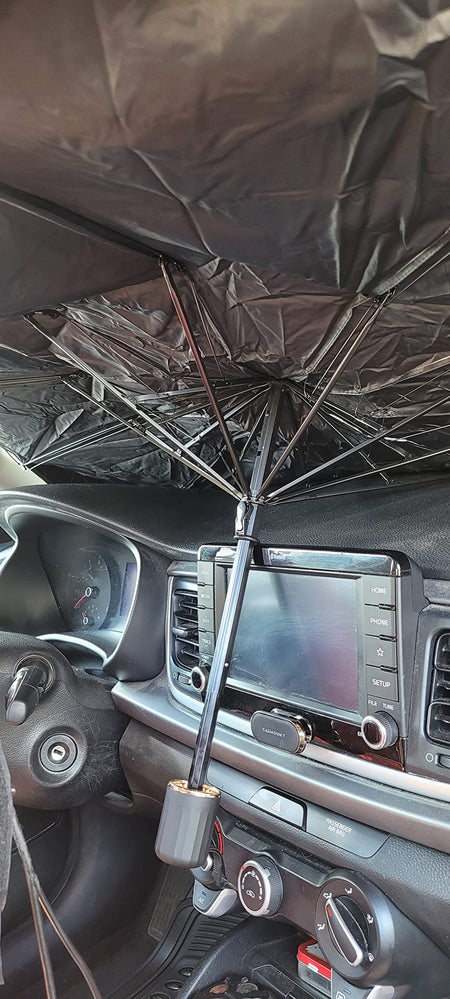 Dogs and their owners have spoken:
"It works"
"A little bit of trouble with setting it up, but it could be because of the wires and the dash cam. It holds its place and does the job, so that's all I really care for!"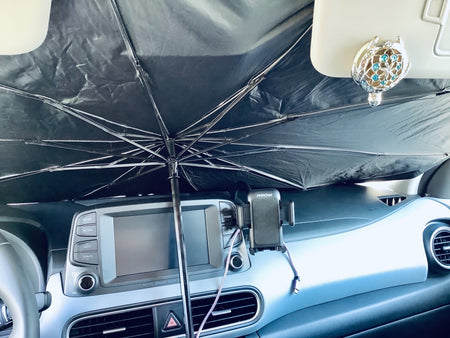 Dogs and their owners have spoken:
"I am LIVING for this no more oragmi fold up ridiculousness"
"Everyone needs this. Those round oragmi circles they show soooo easy to fold up b*llsh*t. They were the worst. Accordian style are easy fold but take up tons of space. I thought there has to be something better. THIS IS IT! If you can use an umbrella you can use this. First time use is a bit tricky because who is used to opening an umbrella in their car :) after that it's a breeze. I use my visors to keep it propped up tight to my windshield because I got the large for my Hyundai Kona and it's a little too big. Personally if I can shut my doors I'd rather a little big than too small. I throw it in the holder behind my seat right next to my umbrella LOL. Love this! Truly! Jersey gets hot kids and leather seats will burn your a**! I've used this over a dozen times no issue. Wrap it up after I'm finished shove it back in case and you are good to go."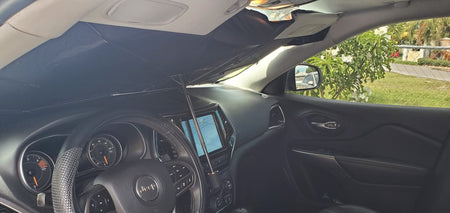 Dogs and their owners have spoken:
"Very handy alternative"
"I have a Jeep Cherokee (2019) and this fits fine. I'd say it's a bit big for my dash, but I make it work. Once I pull down my visors a bit, it does the job. Set up and take down are relatively quick, and that's what matters most to me. I'm not fumbling trying to fold up the traditional ones. I'd definitely recommend. Once you know how to open an umbrella gently, you'll be fine."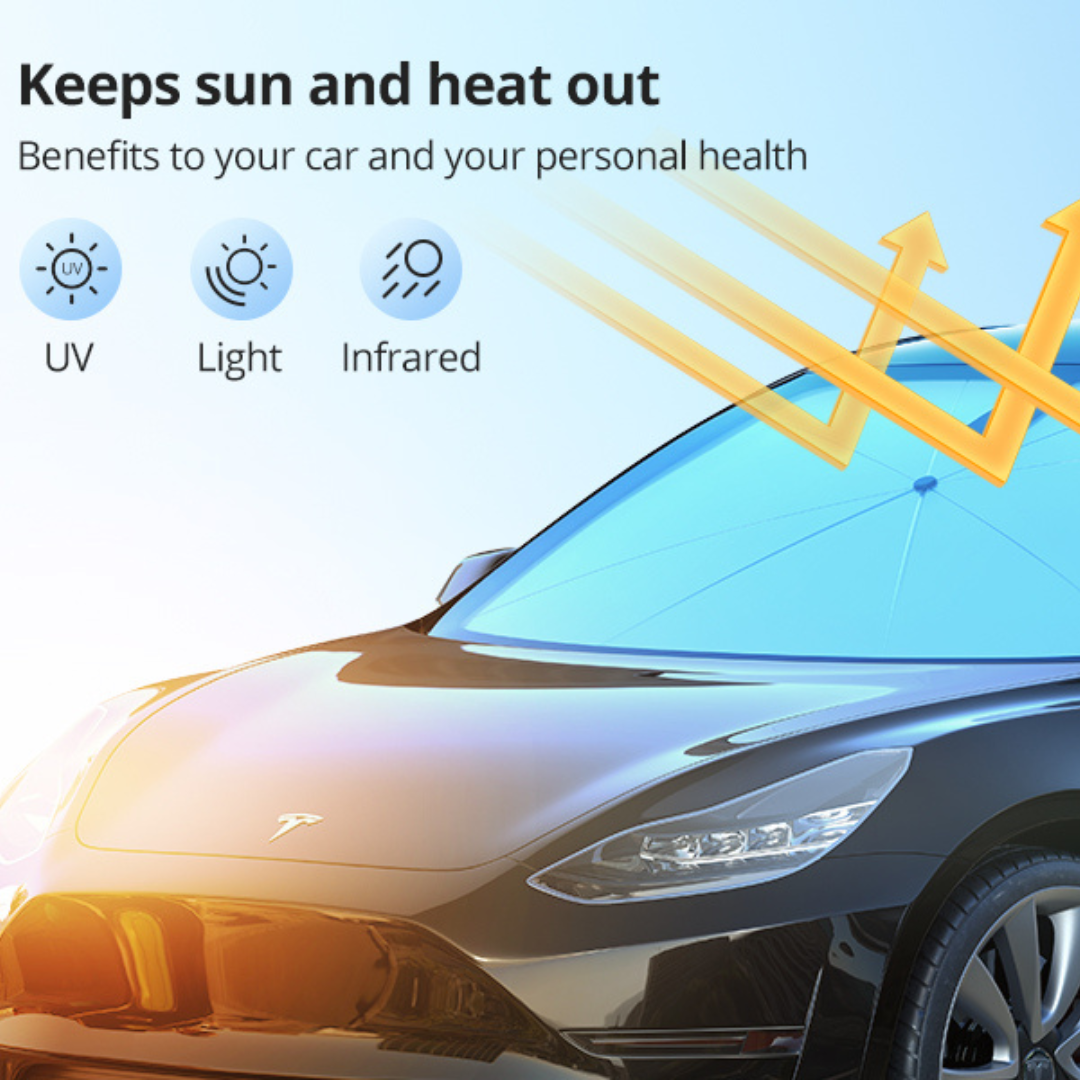 Protect Your Vehicle With Style
Our sun shade is designed to block 100% of the sun's rays, keeping your car interior safe from harmful UV radiation and maintaining a fresh and cool atmosphere.

Don't compromise on quality – choose Pelsbarn Foldable Car Umbrella Sunshade for the ultimate sun protection!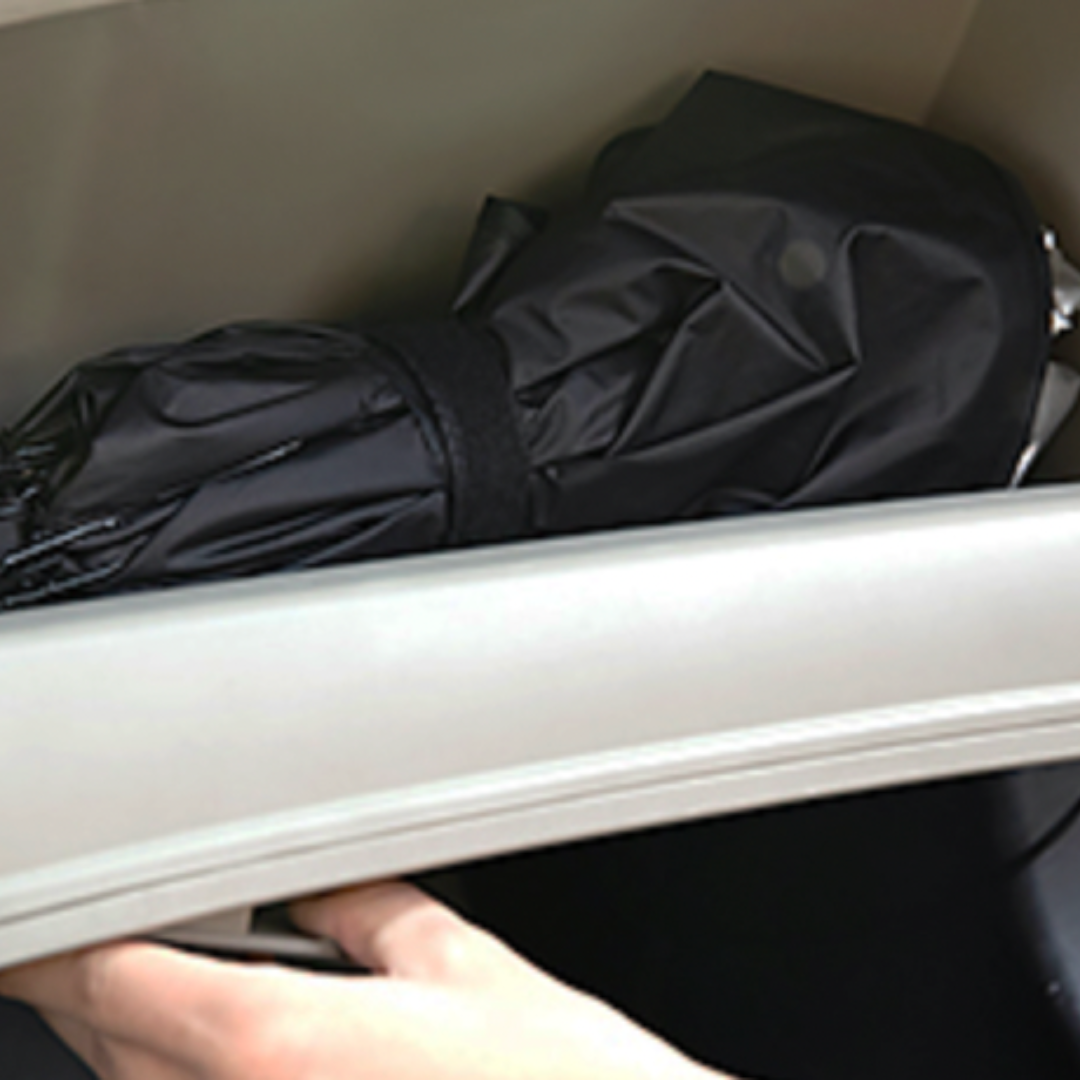 Say goodbye to cumbersome alternatives
Convenience is at the heart of our design.With its foldable feature, opening and closing it is a breeze.

It's super space-saving, allowing you to store it conveniently in your car without taking up valuable space.
Space Saving

Its compact design allows for easy storage in side doors or the co-pilot storage compartment, freeing up valuable trunk space for your other belongings.

Hassle-Free Installation

The foldable design ensures effortless opening and closing, allowing you to easily secure it in place without any complicated setup or adjustments.

Protection For Your Car

High-quality materials and UV-blocking properties shield your vehicle from the sun's harmful rays, preventing interior damage and keeping it looking as good as new.
"Don't let your car spend another summer in the blistering heat and protect it with this car umbrella!'' - Hannah W.
Frequently Asked Questions
Are the beds machine washable?

Yes! The covers of all of our Pelsbarn beds are removable and machine washable!
How much does shipping cost and when will I receive it?

Enjoy free shipping on orders over $50 (US only). It takes about 24-48 hours for processing your order. Delivery times may vary based on your location, but typically, if you choose for DHL shipping it takes 4-7 business days. Rest assured that your order will arrive promptly and safely to your doorstep!
What is the size of the Pelsbarn car bed?

Our Pelsbarn car bed comes in one size which fits on 1 car seat.

Size= 28*28 (up to 55lbs)
Do you offer any guarantee?

At Pelsbarn, we stand behind the quality and comfort of our products, which is why we offer a 2 year money-back guarantee. If for any reason, you or your furry friend are not completely satisfied with your purchase, simply return it for a full refund - no questions asked. We're confident that our dog bed will meet your expectations and exceed your pup's wildest dreams!

*all sale, discounted, and promotional items are excluded.