"Finally! An enrichment system that my hyper-active pup loves!!"
- Jennifer (verified customer)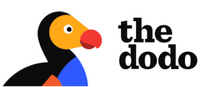 Get started with the smartest feeding solution for your pet. Visit IntelliFeed.com and experience a world of happiness and intelligence.
Teach and Reward with Every Press
Convenience and Easy Maintenance
Dual Power Supply for Versatility
Indoor and Outdoor Fun
Regular price
$139
Sale price
$99
Unit price
per
Save $40 29% OFF
Sold out
This sale ends on Saturday, 12.02.2023
Not Sure What Size To Pick? Choose Here.
We still advise to order 1 size up for extra comfort!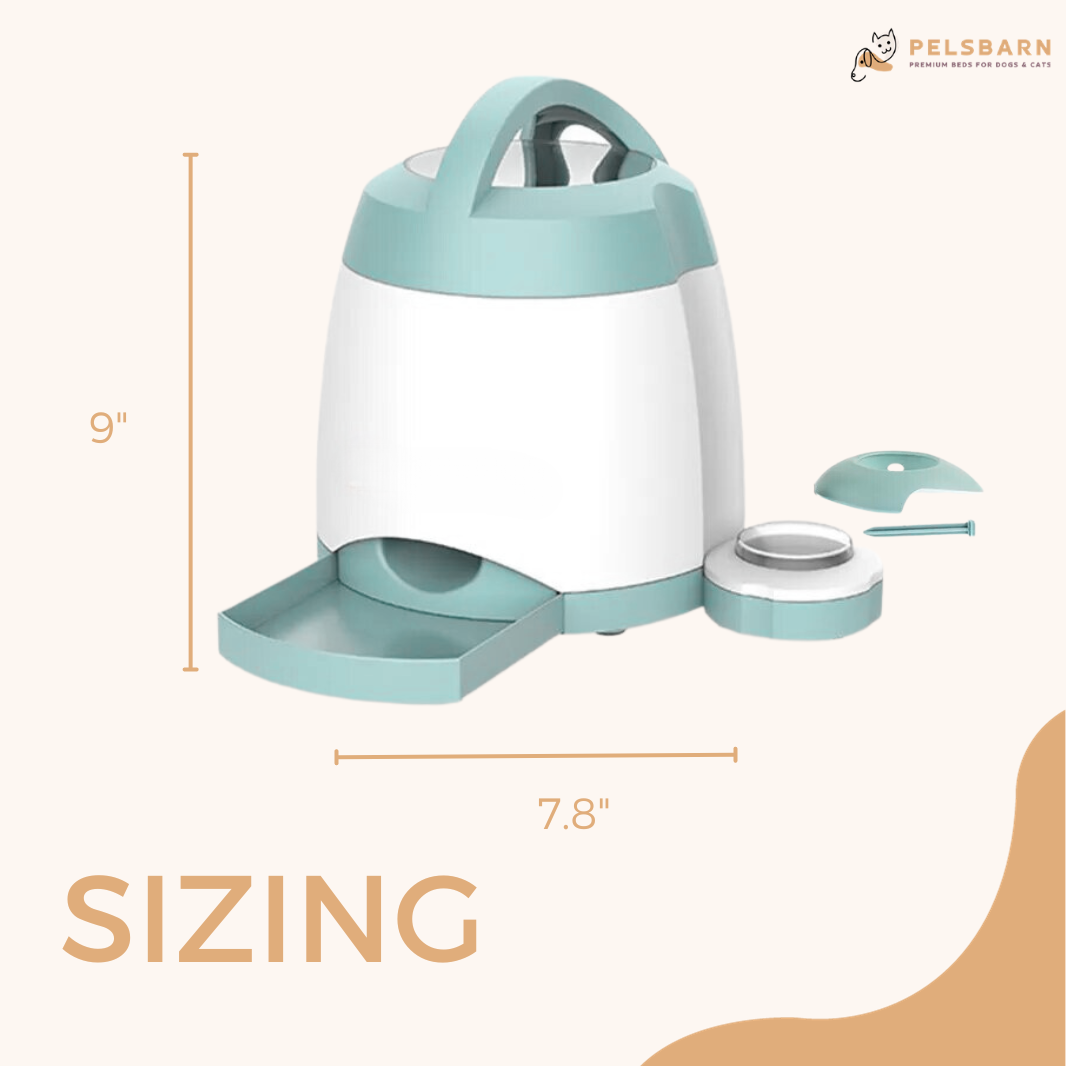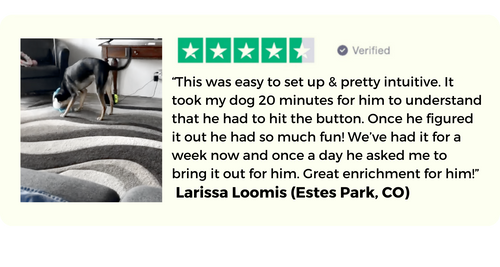 WHAT'S INCLUDED - you'll love it!

+

-

Order today, and you'll receive everything you need to help your dog feel happy, healthy, and comfortable - all at a price you can afford.

Original Pelsbarn Intelli-Feed Enrichment System designed with your dog's comfort and happiness in mind
BONUS #1: A free Dog tooth brush to help keep your furry friend's teeth clean and healthy
BONUS #2: Our Exclusive ebook ''12 Signs Your Dog is Happy'', to help you better understand your dog's behavior and promote their overall health and wellbeing
BONUS #3: Our Informative Book ''How to Easily Learn Your Dog Everything'', filled with tips and advice for training your dog and building a stronger bond with your furry friend
BONUS #4: Free access to our 'Dog Mom Community', where you can ask all your questions and connect with like-minded dog moms!
30 DAY MONEY-BACK GUARANTEE - only from pelsbarn.org

+

-

Guaranteed Tail-Wagging Comfort: Our Pelsbarn Bed Comes with a 30 Day Money-Back Guarantee.

We're confident that your furry friend will LOVE the original Pelsbarn dog bed. That's why we're offering a 30 (!) day money-back guarantee, so your dog can try it out and wag their tail in comfort. If for any reason you or your furry friend aren't satisfied, we'll give you a full refund - no questions asked.
FREE SHIPPING & RETURNS 🇺🇸

+

-

At Pelsbarn, we get it - when your dog needs a new treat dispenser, they need it now! That's why we offer fast shipping with DHL, so your furry friend can start getting their own treats in no time. And when you spend over $50, we'll even cover the shipping within the US for free!

And if your dog's not completely satisfied, our easy returns will make it a walk in the park. Shop with confidence and give your furry friend the ultimate treat experience they deserve today!

* all sale, discounted, and promotional items are excluded.
View full details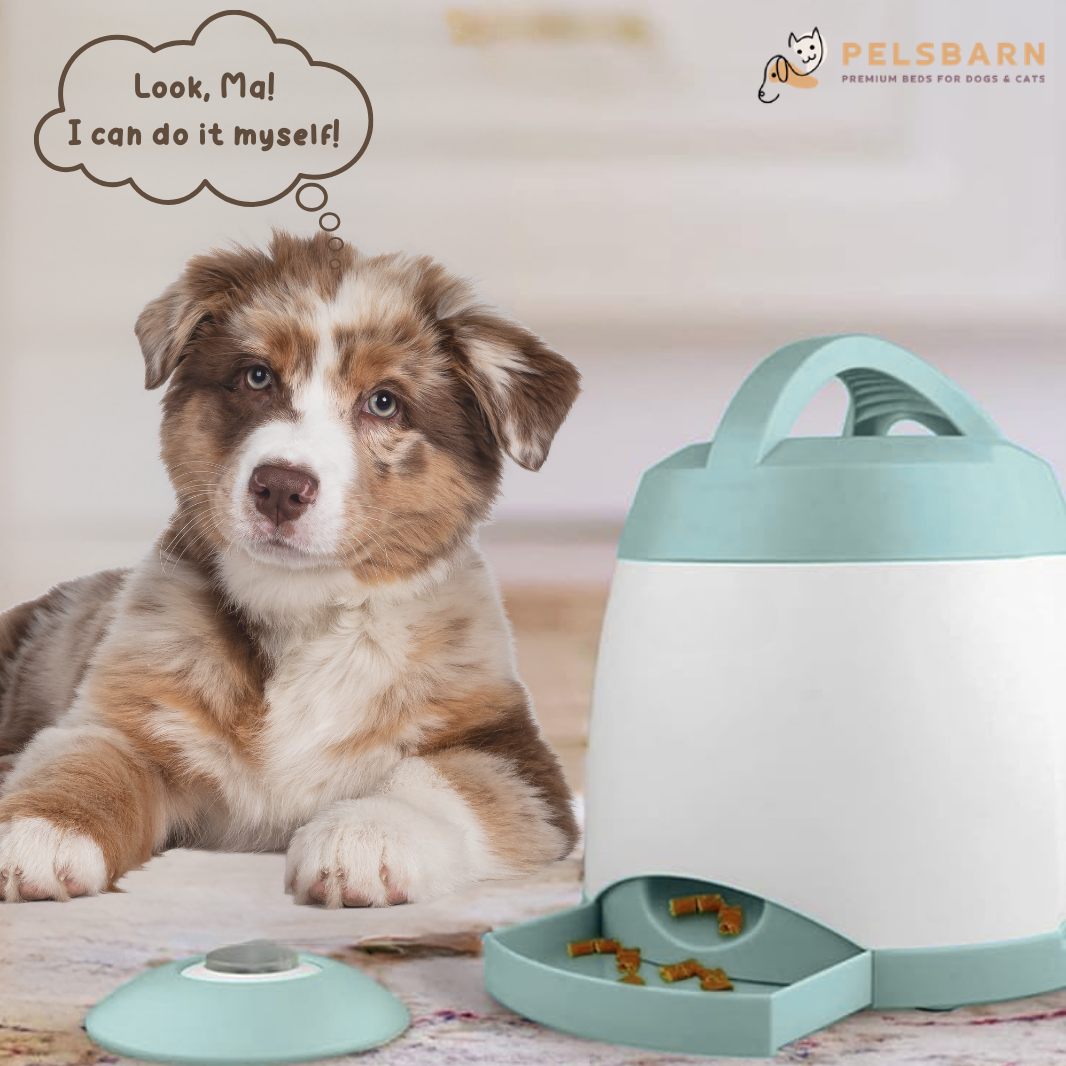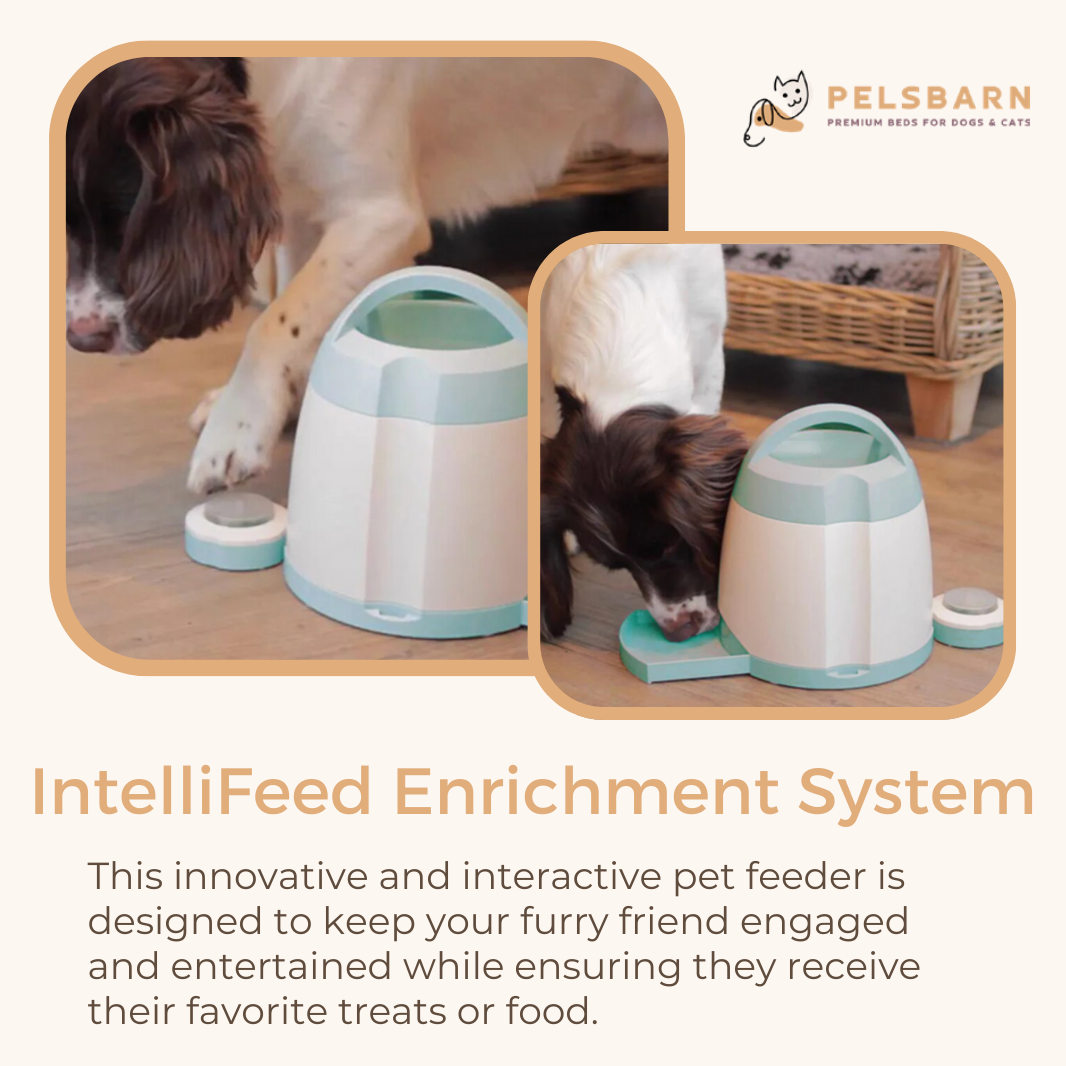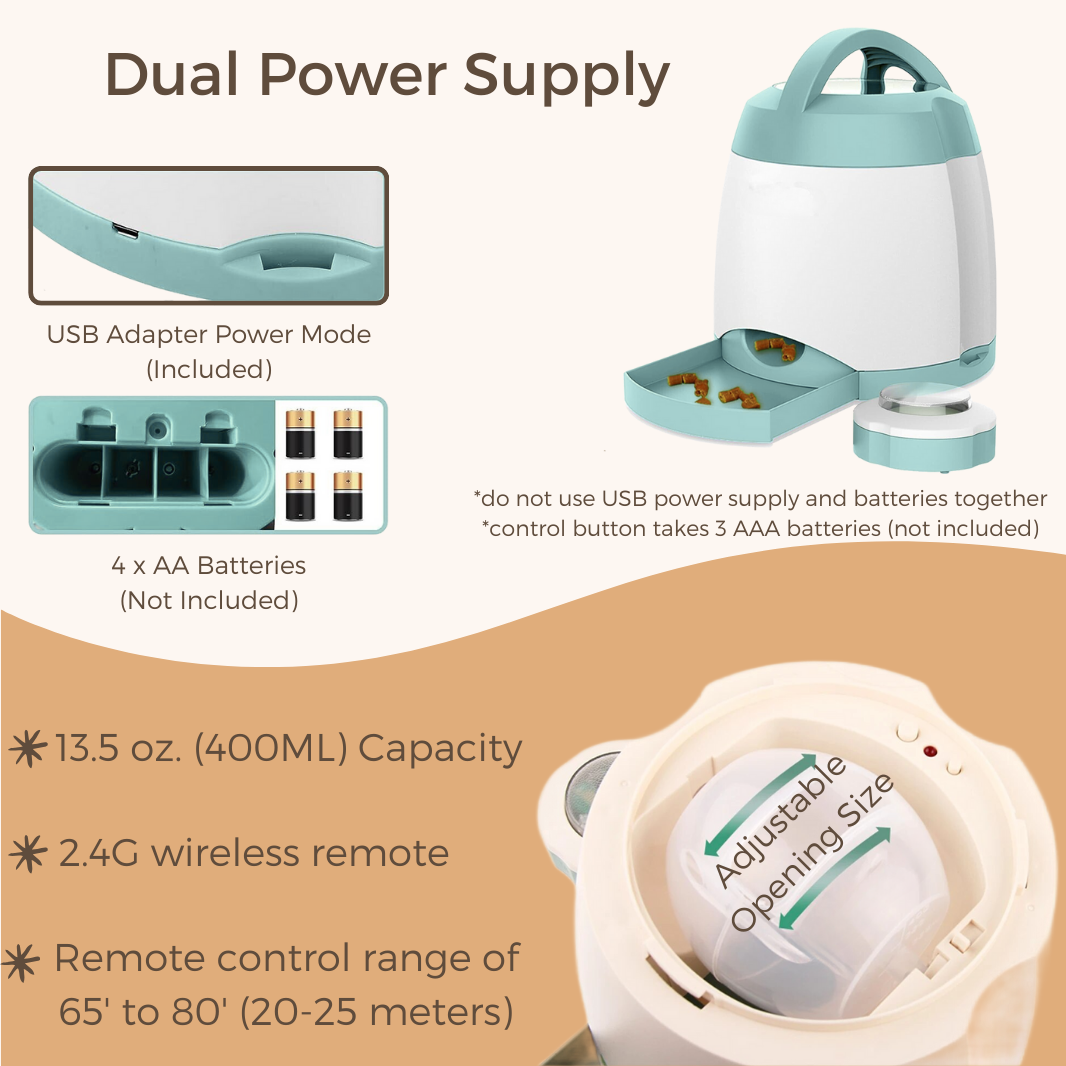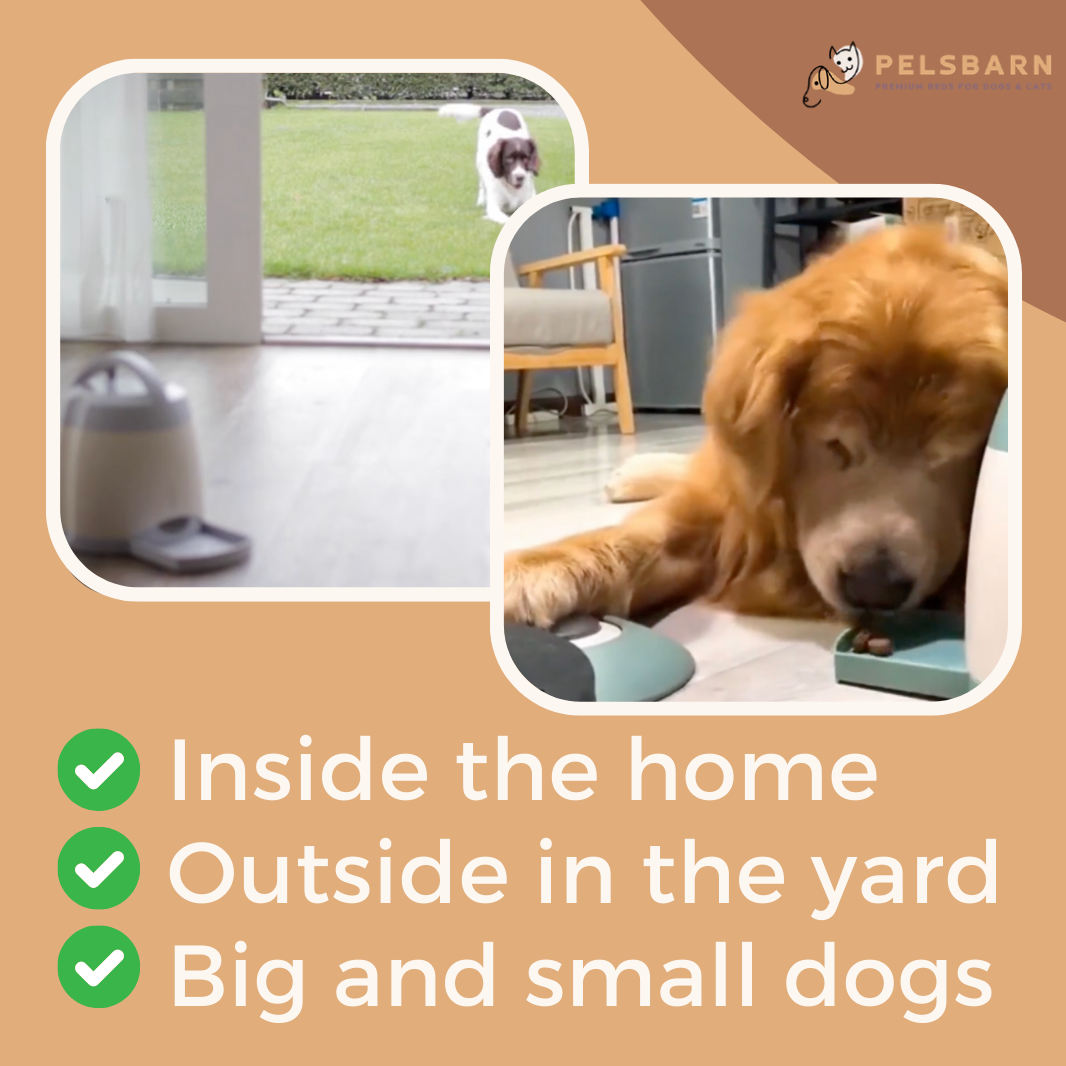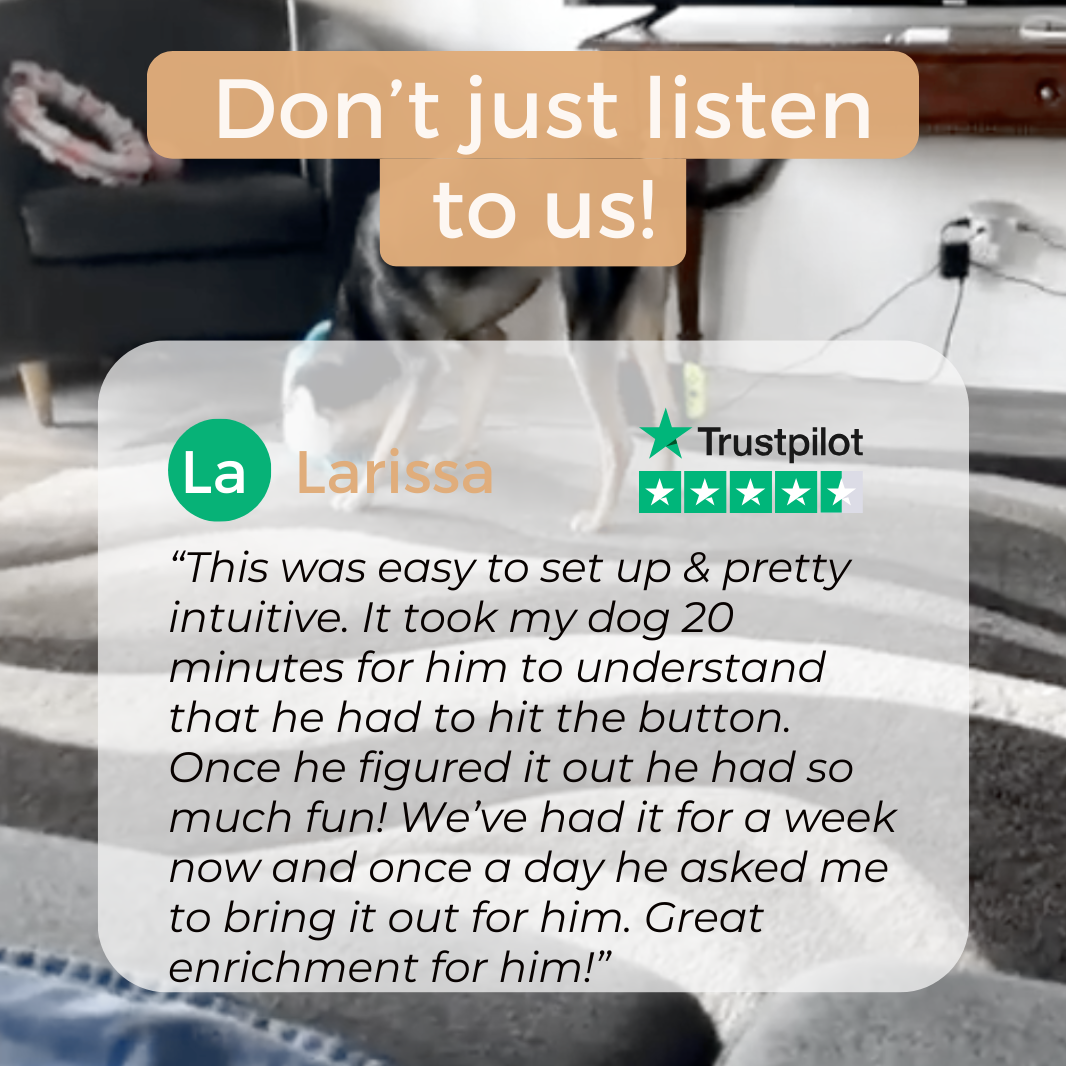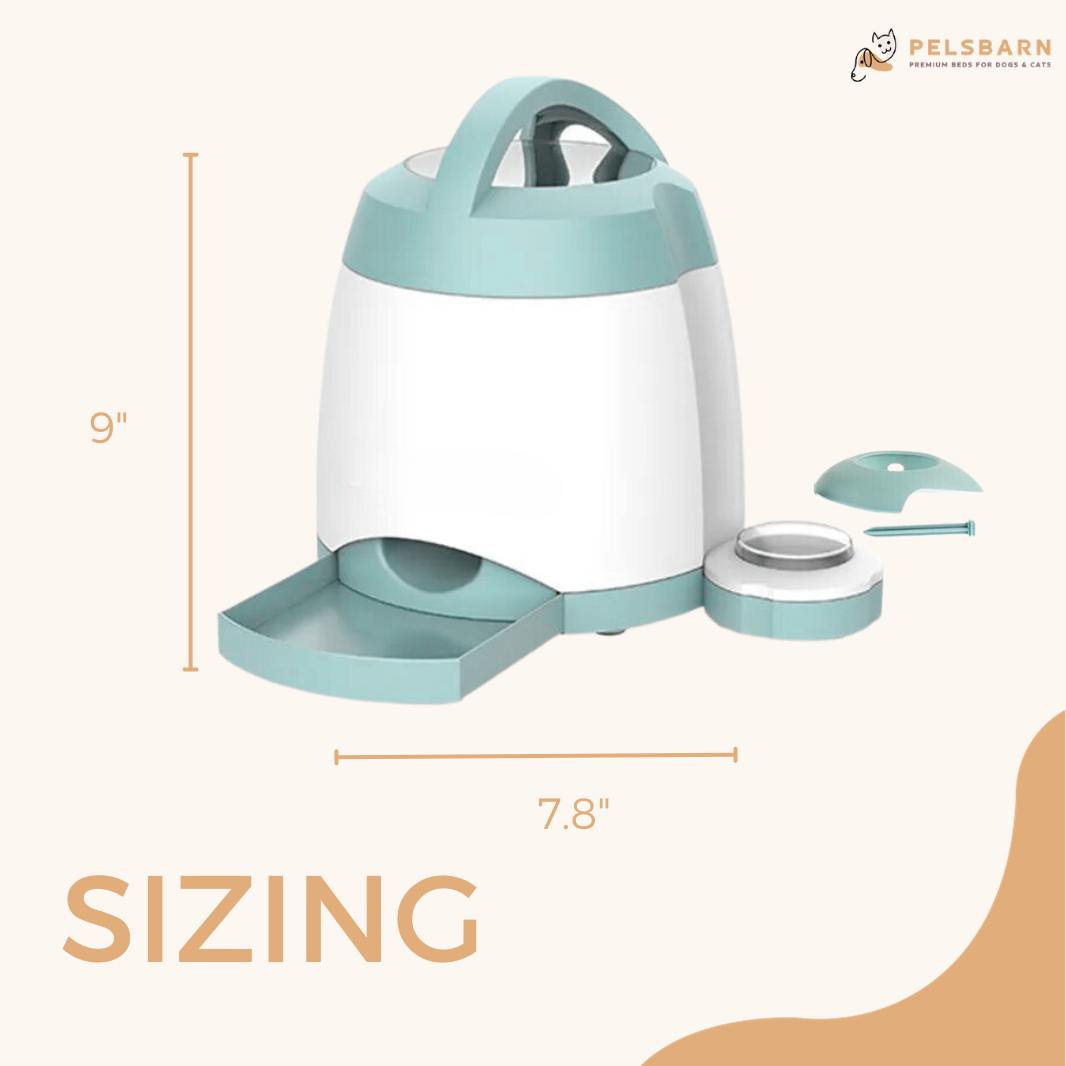 More Than Just a Treat: The Surprising Benefits
Give your furry friend the best with our Intelli-Feed Enrichment System, designed to provide unmatched excitement, durability, and convenience.

✓ Adjustable Treat Flow: Adjustable treat flow helps regulate your pet's diet

✓ Mental Stimulation: Provides stimulation, reducing boredom and associated problems

✓ Indoor and Outdoor Fun: Long-range remote enables play inside and outside

✓ Convenient Maintenance: Transparent hopper to easily monitor food levels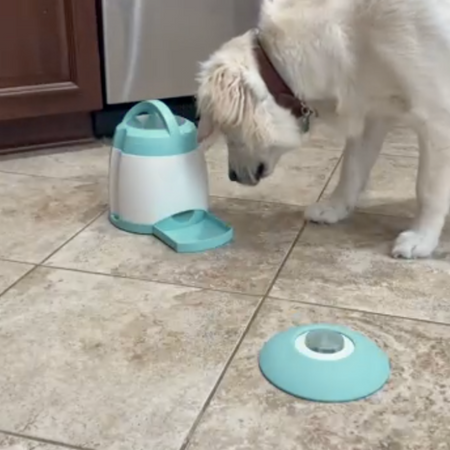 See What Our Customers Are Barking About
"My dog loves it"
"We showed him several times how to work it and he caught on and uses it all the time now. Good quality, easy to set up. Good price and the suction button works great. It's the perfect size for inside (or out)."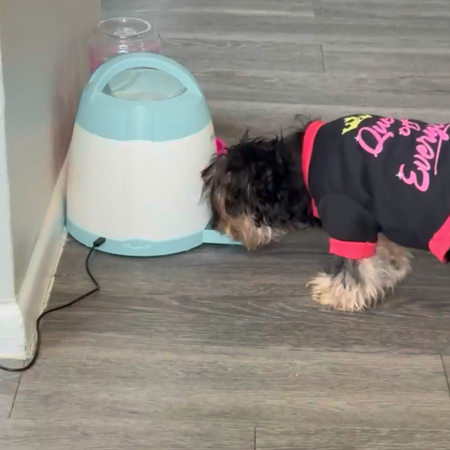 Dogs and their owners have spoken:
"Works for what I need"
"I have a little dog who is an alarm barker. I wanted an easy way for my husband to redirect her. So, I took the dish off of this and set it on the dining room table. Now when she starts barking, he can simply press the button and she runs to the other room. This moves her away from the front of the house and distracts her until the mail or UPS truck has gone by."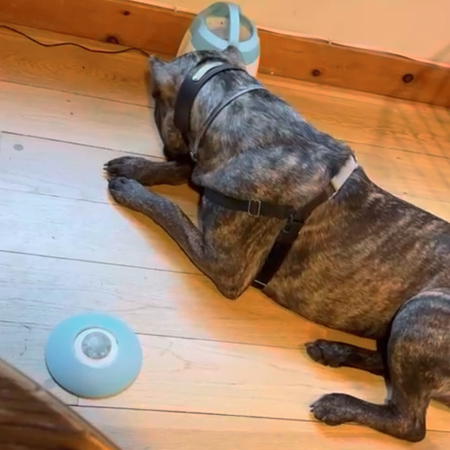 Dogs and their owners have spoken:
"Awesome! BOING!"
"She looked at it and was very interested. She touched the button and was delighted with the "boing" sound and was excited to find her kibble. 😄 it comes with a suction cup to keep the button secure to tile or linoleum floor and a spike to use outdoors. I ended up using the suction cup on some furniture because she loved the button sound so much she picked it up and ran around the living room shaking it to hear it causing the food to come tumbling out! This certainly was a hit. If you have a pet that gobbles his or her food, this would work great as a slow feeder or as we use it to stimulate her as a fun game. I love that I can control how much food comes out at a time, too!"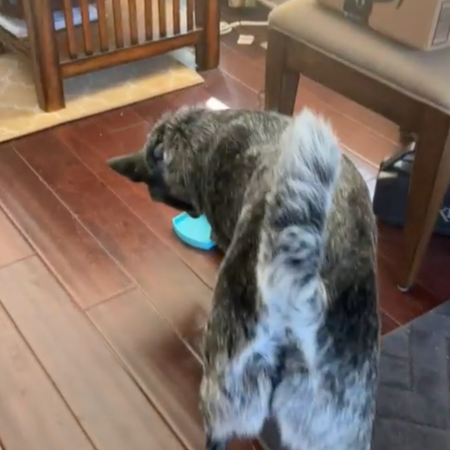 Dogs and their owners have spoken:
"Funny game/training"
"Great value for the price. The dogs have a lot of fun with this.What I like- This is a great enrichment game for them. They get some mental stimulation & some physical activity. Once they learn the game you can move the button further from the dispenser. It's easy to operate. It's easy to teach them how to use it. USB cord for the dispenser was great. Reward amount is random. Fun for the dogs & you."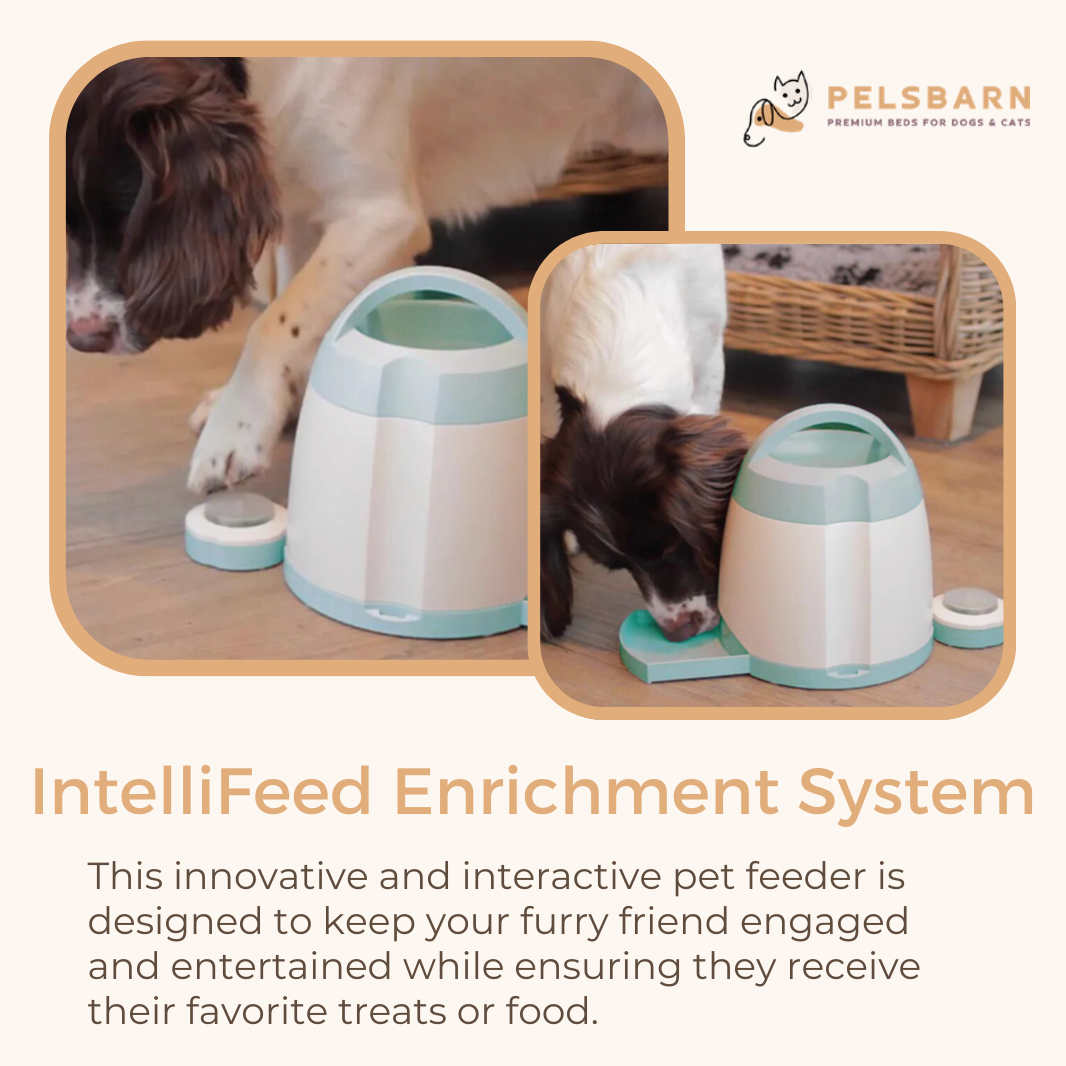 Challenge Your Furry Friend's Intelligence
No dog should have to suffer from boredom or lack of fun, which can result in some unpleasant behaviors.

Give the gift of fun and rewards with this new popular Pelsbarn Intelli-Feed Enrichment System.
Create a Rewarding Activity for Your Dog
Watching your furry friend struggle with anxiety or boredom can be heart-wrenching.

Create an engaging and rewarding activity for them with our innovative and interactive pet feeder, designed to keep your furry friend engaged and entertained while ensuring they receive their favorite treats or food.
Interactive Feeding

Engage your pet's mind and senses as they learn to operate the IntelliFeed system to receive their meals.

Adjustable Treat Flow

With the ability to customize treat flow, our system aids in maintaining your pet's dietary control and curbing overindulgence.

Indoor and Outdoor Use

Our long-range remote control enables play and challenge beyond the confines of your home, ensuring your pet's happiness wherever they roam.
"Don't let your furry friend miss out on the fun and excitement with this amazing enrichment system'' - Amber P.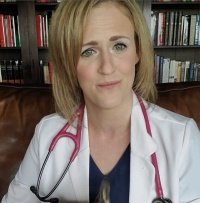 "Pelsbarn provides a product that I trust and my patients love to use!"
DR. LISA HUSTON, DVM, VET CONSULTANT
Frequently Asked Questions
Is the Intelli-Feed Enrichment System washable?

The food tray of the Intelli-Feed Enrichment System is removable and can be easily cleaned with soap and warm water, while the rest of the system can be simply wiped down for maintenance.
How does the Intelli-Feed Enrichment System get power?

The Intelli-Feed Enrichment System offers a versatile power source.

The dispenser can be powered through a USB adapter, or you can opt for the convenience of 4 x AA batteries.

The remote button, on the other hand, requires 3 AAA batteries for operation.
How much does shipping cost and when will I receive it?

Enjoy free shipping on orders over $50 (US only). It takes about 24-48 hours for processing your order. Delivery times may vary based on your location, but typically, if you choose for DHL shipping it takes 4-7 business days. Rest assured that your order will arrive promptly and safely to your doorstep!
Do you offer any guarantee?

At Pelsbarn, we stand firmly behind the quality of our products. That's why we offer you peace of mind with our comprehensive warranty terms.

30-Day Money-Back Guarantee: We're confident that you'll fall in love with our Pelsbarn products. But we also understand that individual preferences can vary. That's why we offer a 30-day money-back guarantee on all non-sale items. If, for any reason, you're not entirely satisfied with your purchase, you can return the product within 30 days from the date of purchase. We'll refund you the full purchase amount with no cumbersome questions or hassle.

We want you to shop at Pelsbarn with confidence, knowing that we stand by our products and strive for your complete satisfaction. If you have any questions, please feel free to contact our customer service.

Your satisfaction is our priority!