This One's For The Dog Moms Who Want the Best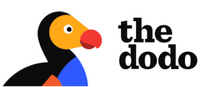 Spread a message of harmony, affection, and your unwavering passion for our furry companions with our "Peace, Love, Dogs" T-Shirt! 
Premium Comfort
Symbolic Design
Versatile Style
Perfect Gift
Regular price
$49
Sale price
$29
Unit price
per
Save $20 41% OFF
Sold out
This sale ends on Thursday, 09.28.2023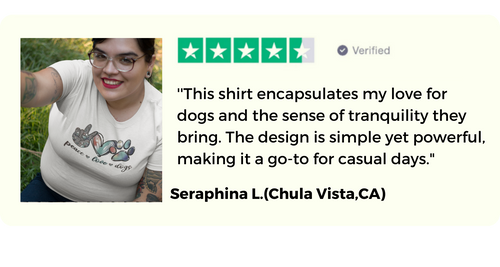 FREE SHIPPING AND RETURNS 🇺🇸

+

-

At Pelsbarn, we get it - when you see something as great as this shirt, you want it now! That's why we offer fast shipping with DHL. And when you spend over $50, we'll even cover the shipping within the US for free!

And if you're not completely satisfied, our easy returns will make it a walk in the park.

* all sale, discounted, and promotional items are excluded.
View full details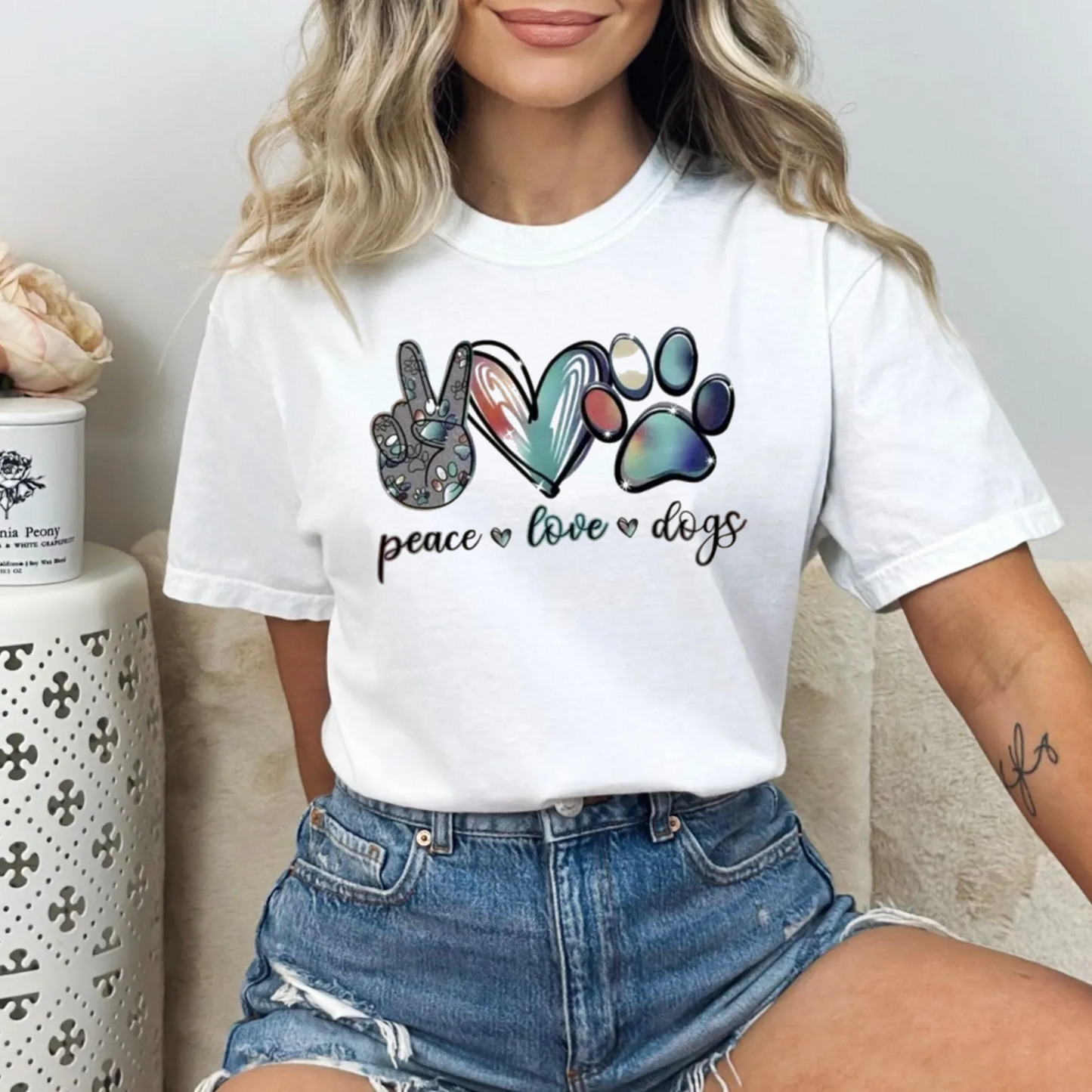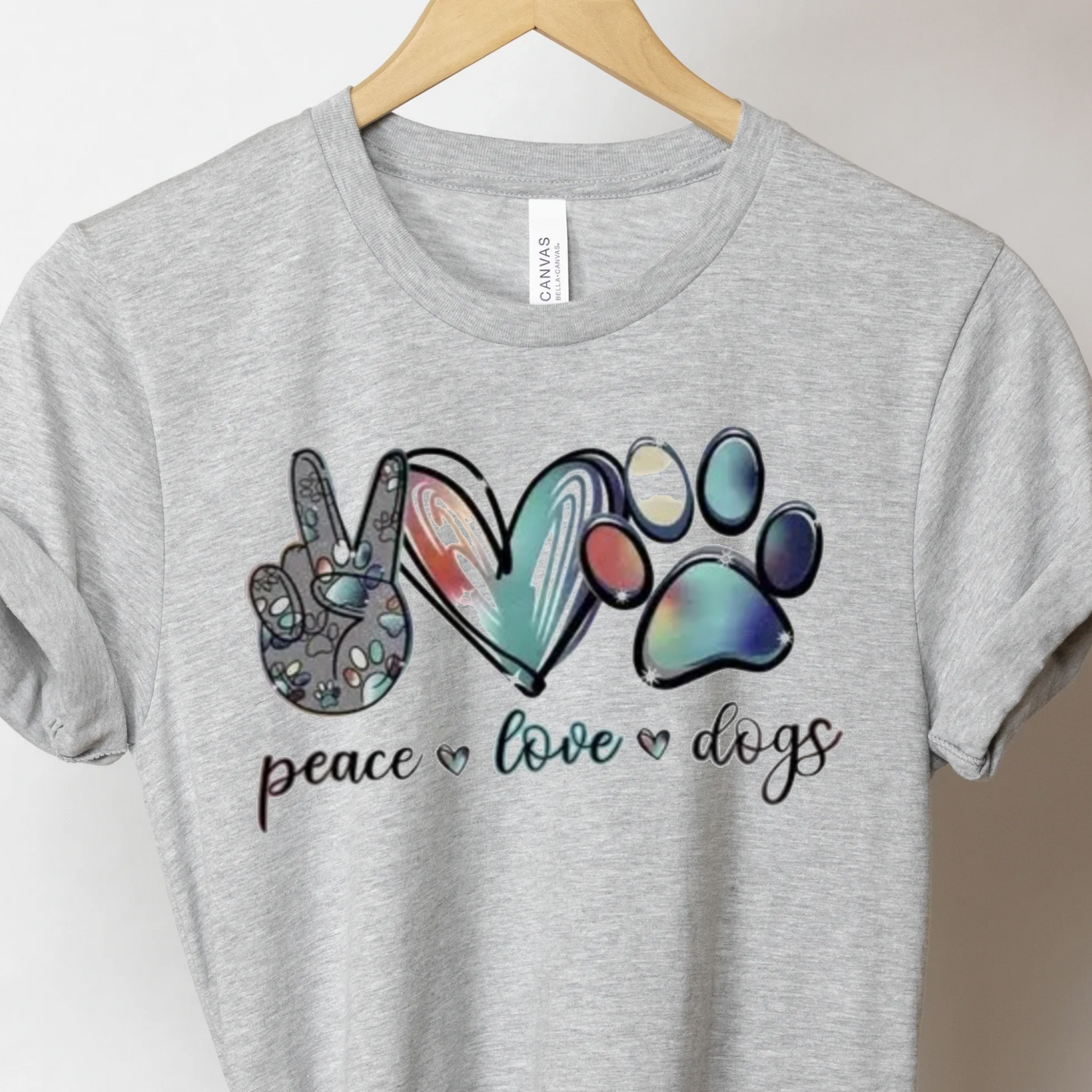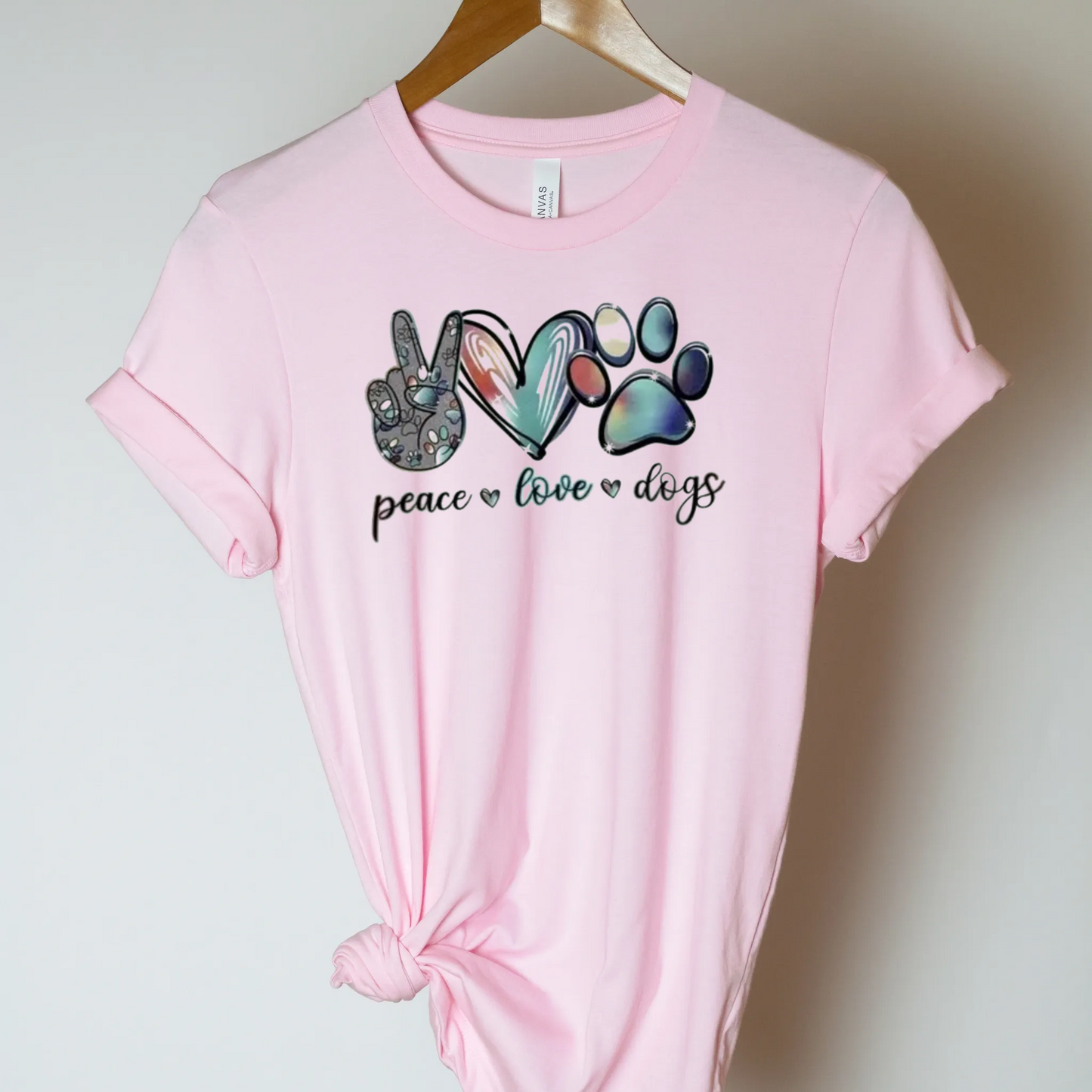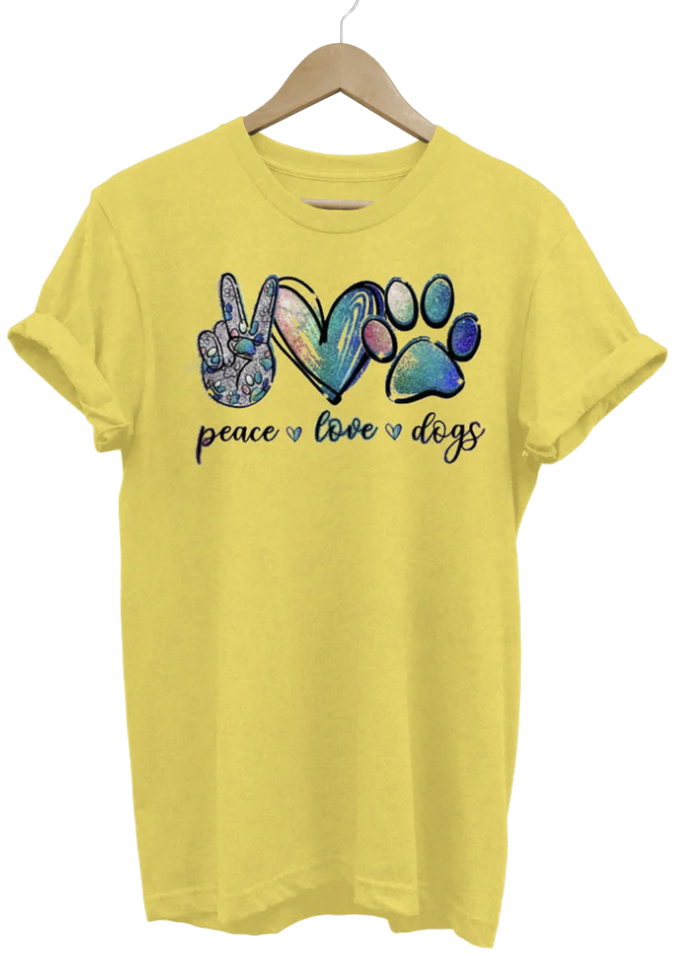 This shirt is not just a piece of clothing; it's a heartfelt expression
The "Peace, Love, Dogs" design is a harmonious blend of symbols that represent three powerful concepts: peace, love, and the unconditional bond we share with dogs. The iconic peace sign, a heart, and a charming paw print come together to create a visual representation of your values.

✓ Versatile: Unisex fit perfect for both men and woman

✓ High Quality: Lightweight, Classic fit, Double-needle sleeve and bottom hem

✓ Shoulder Tape: Twill tape helps stabilize and prevent stretching

✓ Machine Washable: Wash inside-out in cool water with similar colors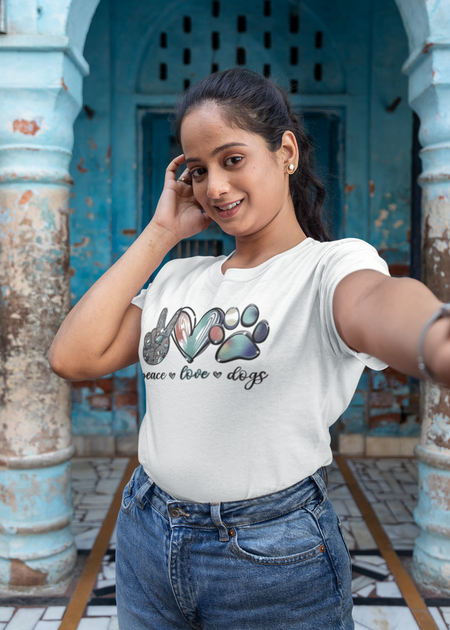 See What Our Customers Are Barking About
"Dog Lover's Anthem: Peace, Love, and Paws"
"Wearing this shirt is like embracing a moment of peace every time. It beautifully combines love for dogs with a soothing aesthetic. Comfortable and meaningful."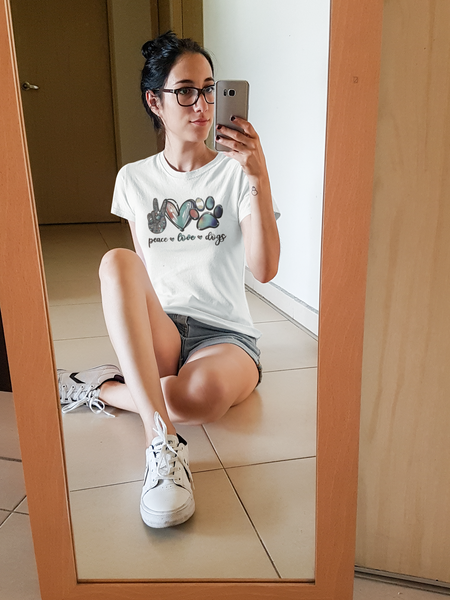 Dogs and their owners have spoken:
"Embrace the Joy of Dogs: Peace Love Dogs Tee"
"I can't help but smile whenever I wear this shirt. The 'Peace Love Dogs' message is a wonderful reminder of the happiness dogs bring to our lives."
Dogs and their owners have spoken:
"Finding Peace in Furry Companionship with This Tee"
"Wearing this tee is like wrapping myself in the tranquility of dog love. The design is a lovely reminder of the peaceful moments shared with our furry friends."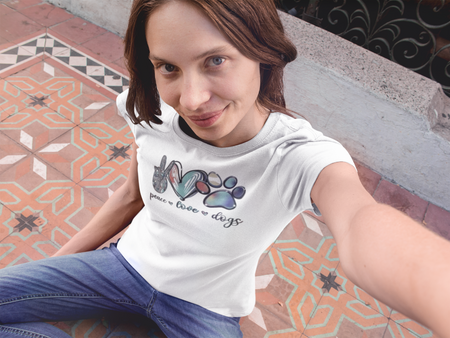 Dogs and their owners have spoken:
"A Statement of Love and Harmony: Peace Love Dogs"
"This shirt captures the essence of my dog-filled days. It's a peaceful proclamation of my canine devotion. Every time I wear it, I feel a sense of harmony."
Versatile Style

With its timeless crew neck and versatile fit, this t-shirt effortlessly complements any outfit. Pair it with jeans, leggings, or your favorite shorts for a look that's casual, comfortable, and full of meaning.

Statement of Belief

This shirt isn't just about fashion; it's about showcasing your beliefs and celebrating the values that matter to you. By wearing "Peace, Love, Dogs," you're declaring your commitment to a world filled with the joy that dogs bring into our lives.

Premium Comfort

Crafted from the softest and most breathable cotton, our t-shirt offers a level of comfort that's perfect for everyday wear. It's designed to feel as good as it looks, whether you're out and about or simply relaxing.
"Simple yet profound. This shirt speaks volumes with its message. It's a wonderful way to show my affection for dogs and spread a peaceful vibe." Aria A.
Frequently Asked Questions
How much does shipping cost and when will I receive it?

Enjoy free shipping on orders over $50 (US only). It takes about 24-48 hours for processing your order. Delivery times may vary based on your location, but typically, if you choose for DHL shipping it takes 4-7 business days. Rest assured that your order will arrive promptly and safely to your doorstep!
What is the size of the Pelsbarn Peace, Love, Dogs T-Shirt?

To ensure the perfect fit, our "Peace, Love, Dogs" T-Shirt is available in various sizes.

Be sure to consult our size chart to find the size that suits you best.
Do you offer any guarantee?

At Pelsbarn, we stand behind the quality and comfort of our products, which is why we offer a 2 year money-back guarantee. If for any reason, you or your furry friend are not completely satisfied with your purchase, simply return it for a full refund - no questions asked. We're confident that our dog bed will meet your expectations and exceed your pup's wildest dreams!

*all sale, discounted, and promotional items are excluded.