''Finally! A raincoat my picky, sensitive pup loves!!''
- Jennifer (verified customer)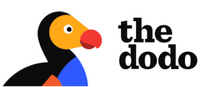 Introducing the Pelsbarn Dog RainCoat: Unmatched Protection for Your Furry Friend!
Waterproof PU Leather Material
Adjustable Straps
Reflective Strip for Night Visibility
Top Leash Opening and Pocket Design
Regular price
$44
Sale price
$34
Unit price
per
Save $10 23% OFF
Sold out
This sale ends on Saturday, 12.02.2023
Not Sure What Size To Pick? Choose Here.
We still advise to order 1 size up for extra comfort!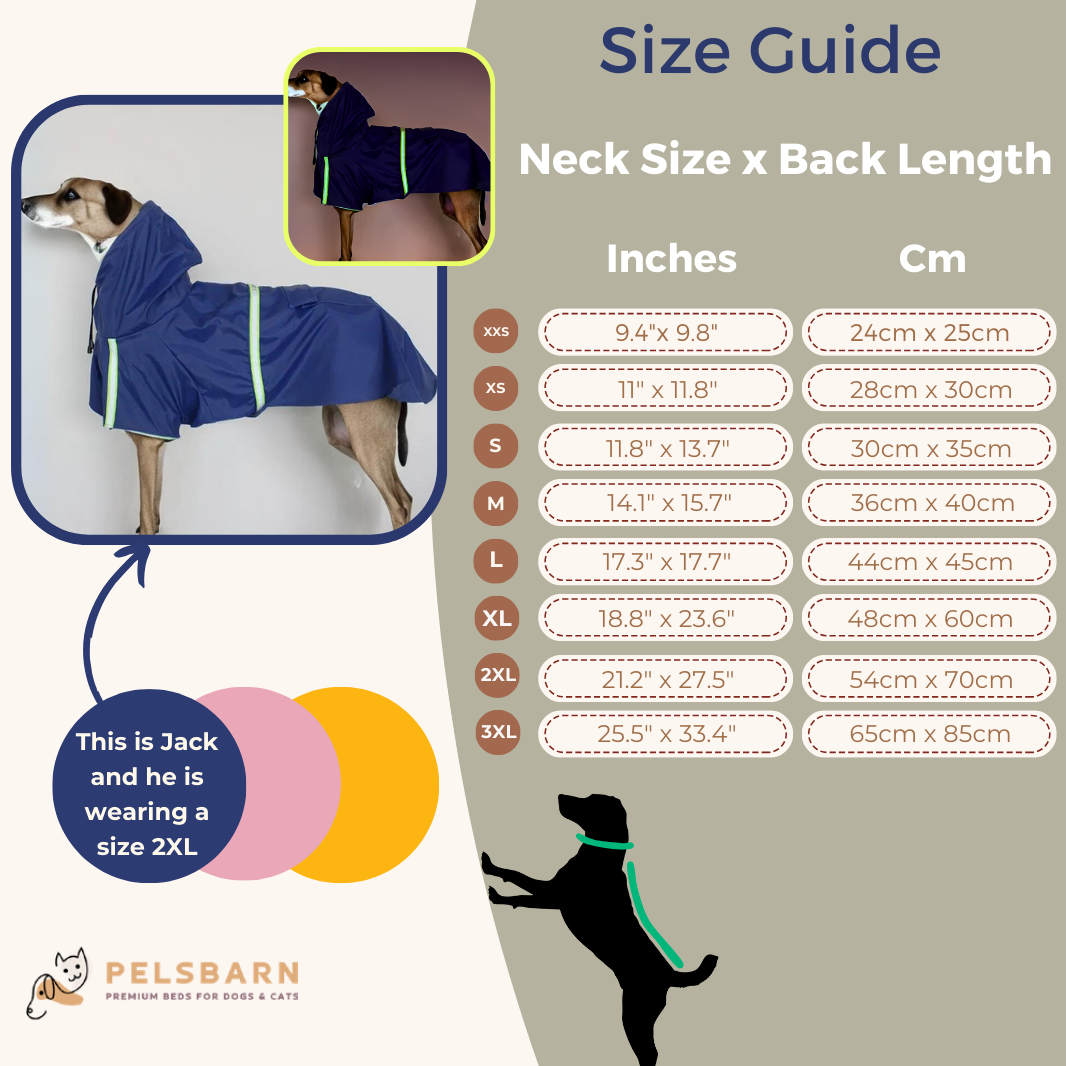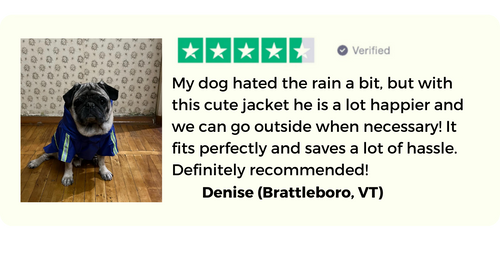 WHAT'S INCLUDED - you'll love it!

+

-

Order today, and you'll receive everything you need to help your dog feel happy, healthy, and comfortable - all at a price you can afford.

Original Pelsbarn Dog Raincoat designed with your dog's comfort and happiness in mind
BONUS #1: A free Dog tooth brush to help keep your furry friend's teeth clean and healthy
BONUS #2: Our Exclusive ebook ''12 Signs Your Dog is Happy'', to help you better understand your dog's behavior and promote their overall health and wellbeing
BONUS #3: Our Informative Book ''How to Easily Learn Your Dog Everything'', filled with tips and advice for training your dog and building a stronger bond with your furry friend
BONUS #4: Free access to our 'Dog Mom Community', where you can ask all your questions and connect with like-minded dog moms!
30 Day Money-Back Guarantee - only from pelsbarn.org

+

-

Guaranteed Tail-Wagging Comfort: Our Pelsbarn Dog Raincoat Comes with a 30 Day Money-Back guarantee!

We're confident that your furry friend will LOVE the original Pelsbarn Dog Raincoat. That's why we're offering a 30 (!) day money-back guarantee, so your dog can try it out and wag their tail in comfort. If for any reason you or your furry friend aren't satisfied, we'll give you a full refund - no questions asked.
FREE SHIPPING & RETURNS 🇺🇸

+

-

At Pelsbarn, we get it - when your dog needs a new raincoat, they need it now! That's why we offer fast shipping with DHL, so your furry friend can start dreaming of chasing squirrels in comfort in no time. And when you spend over $50, we'll even cover the shipping within the US for free!

And if your dog's not completely satisfied, our easy returns will make it a walk in the park. Shop with confidence and give your furry friend the dry outdoor experience they deserve today!

* all sale, discounted, and promotional items are excluded.
View full details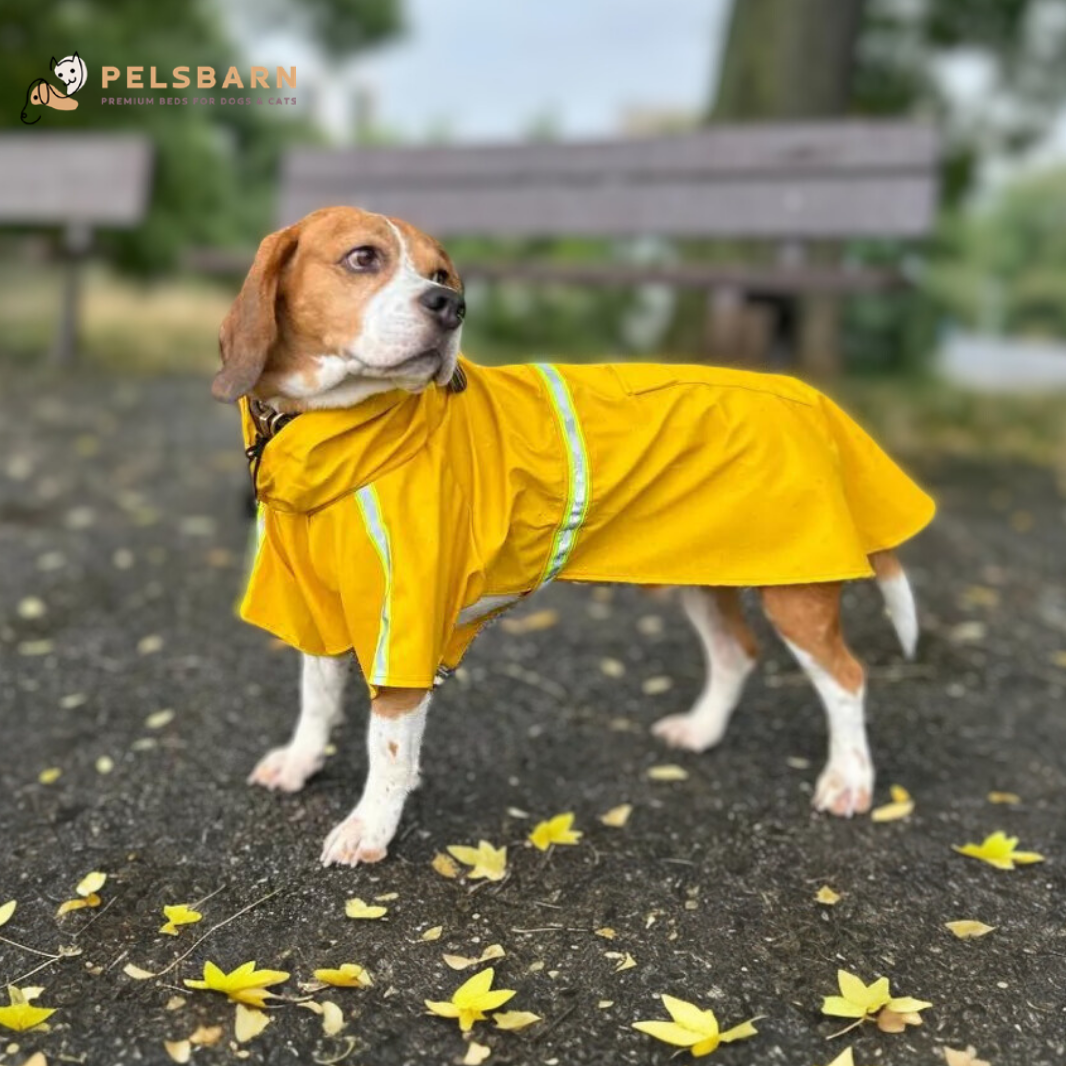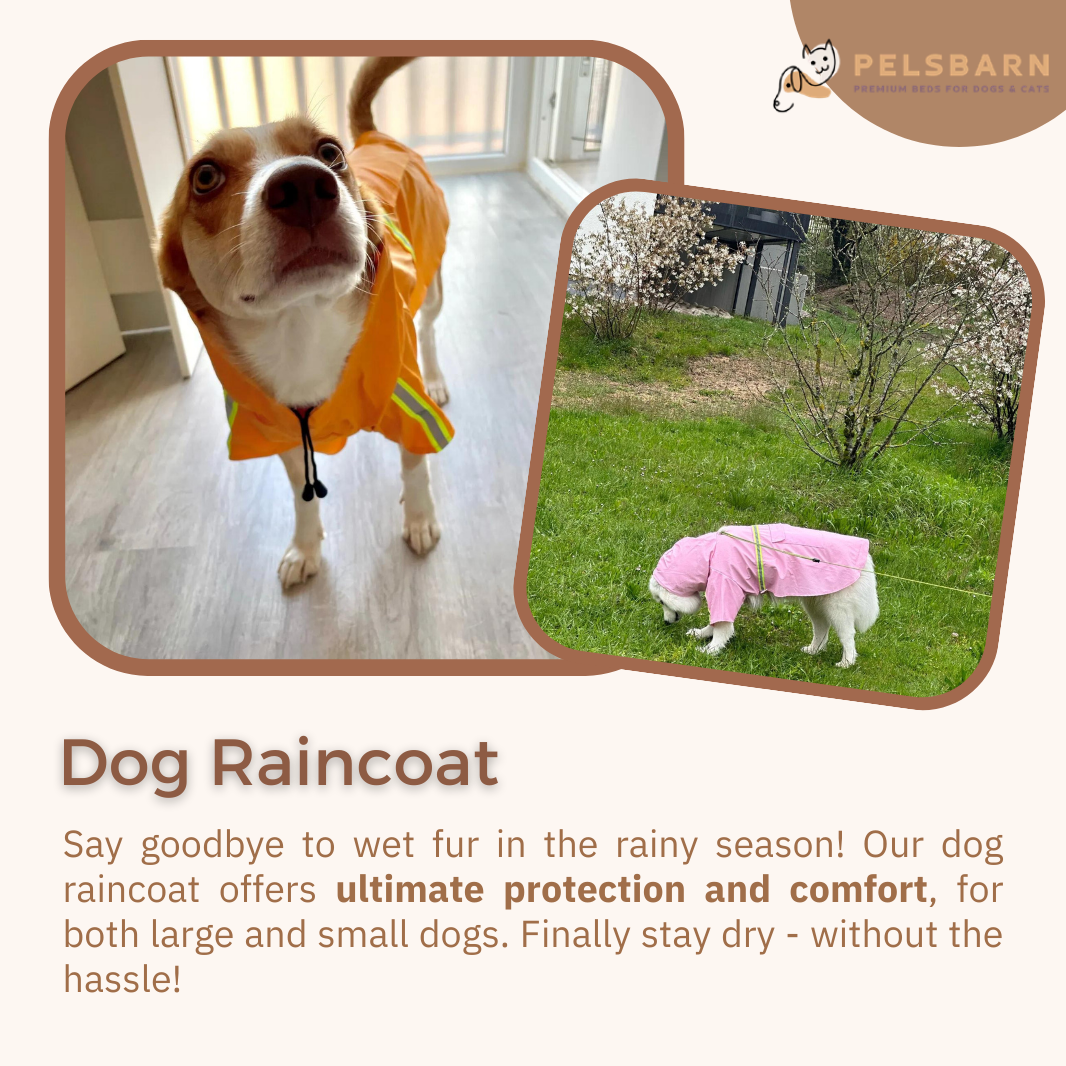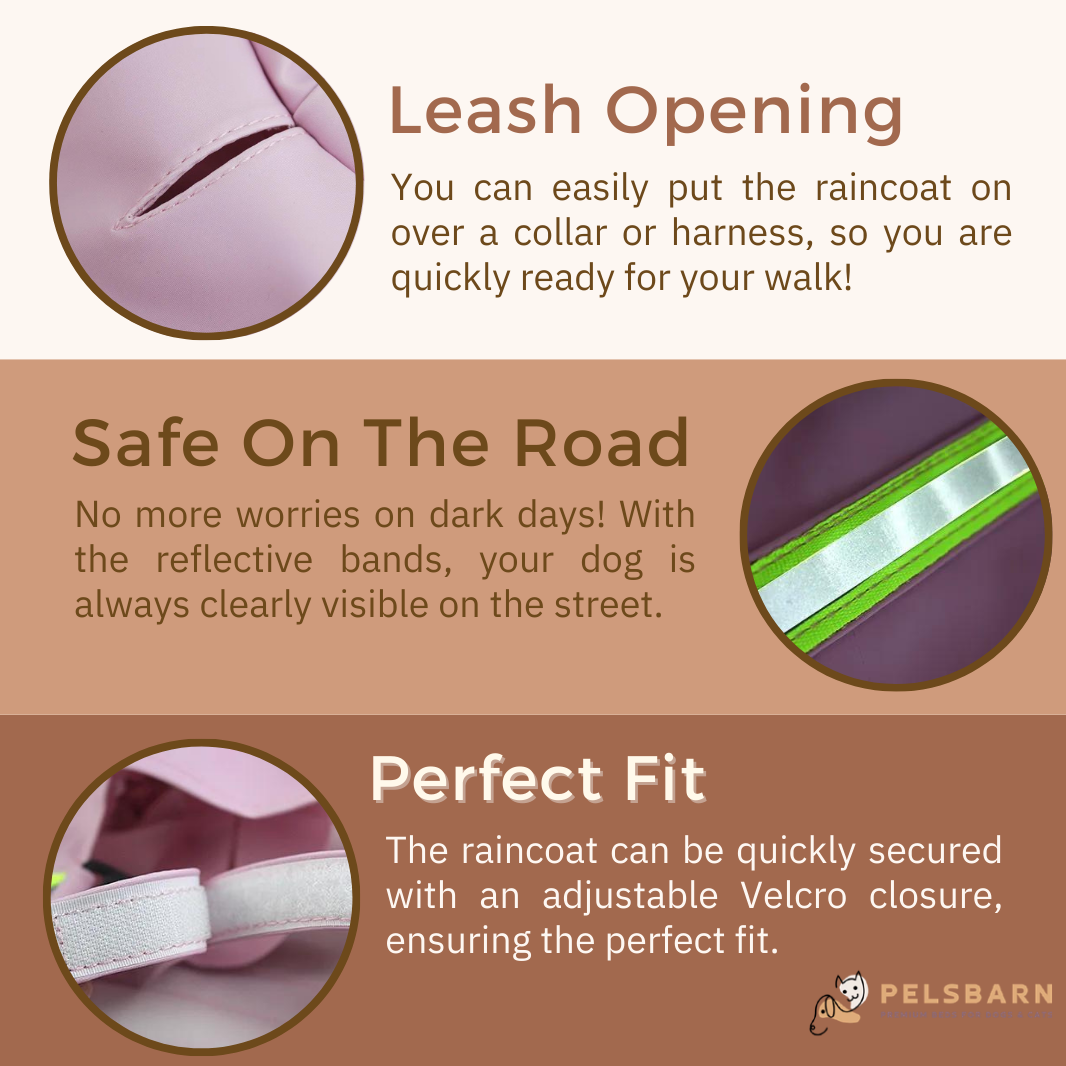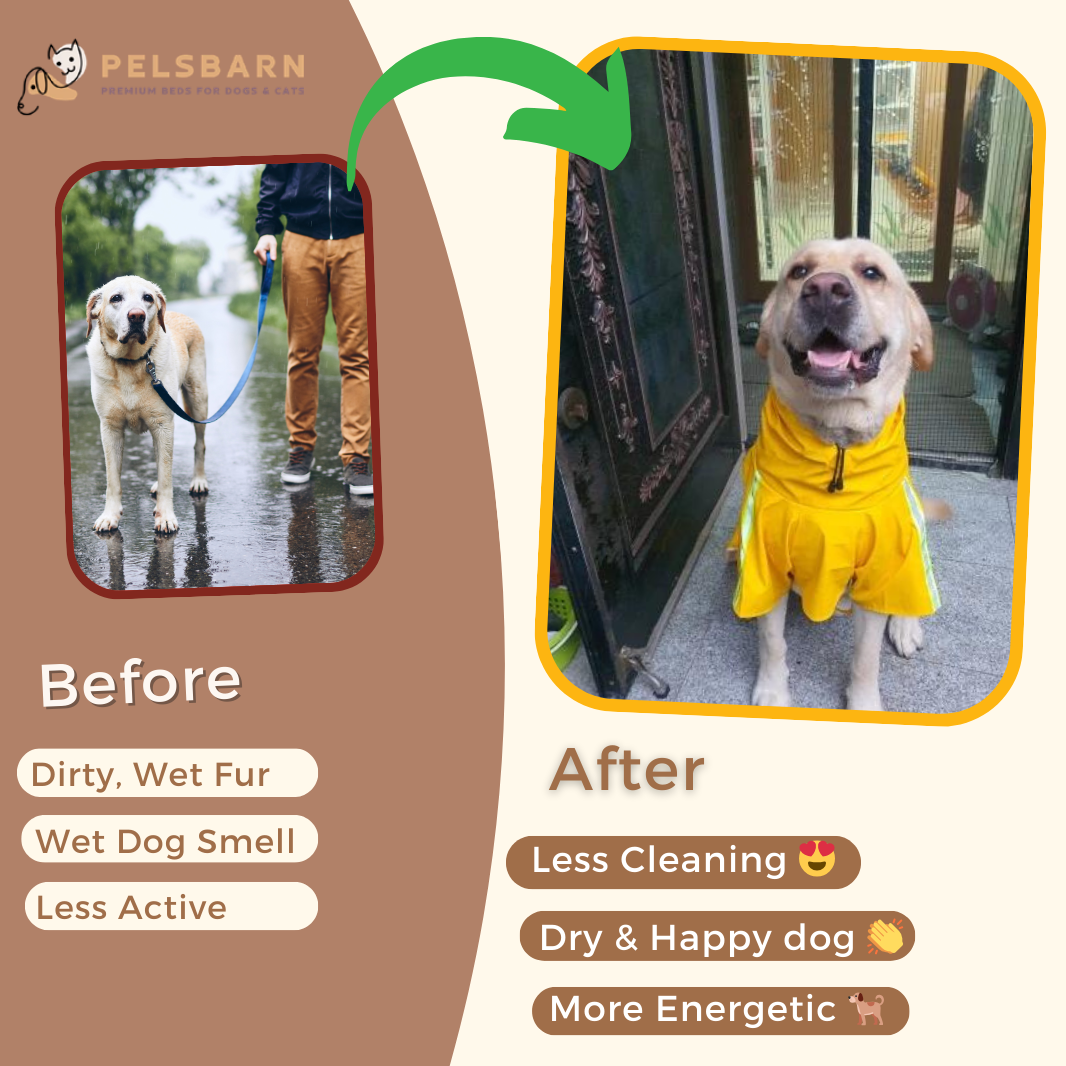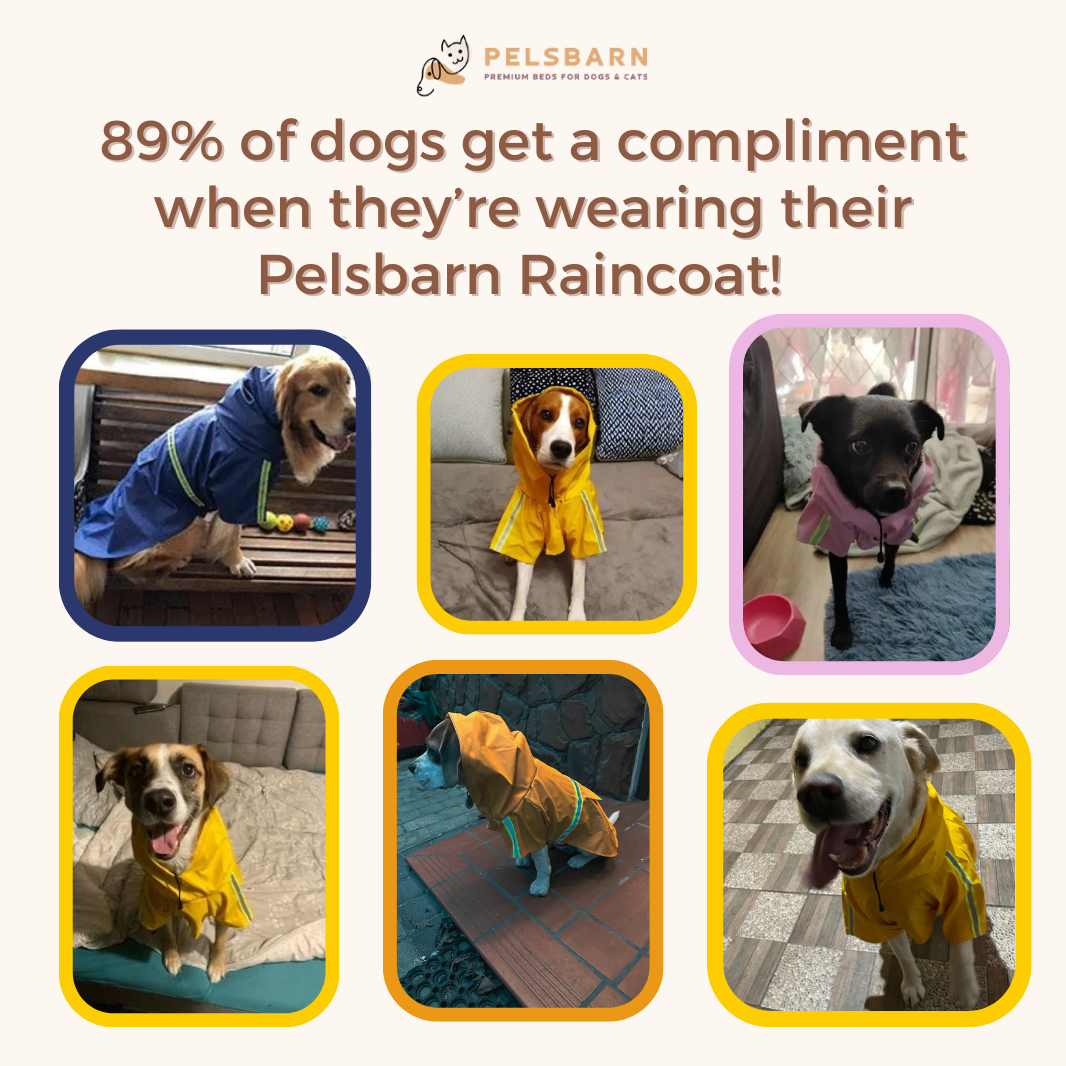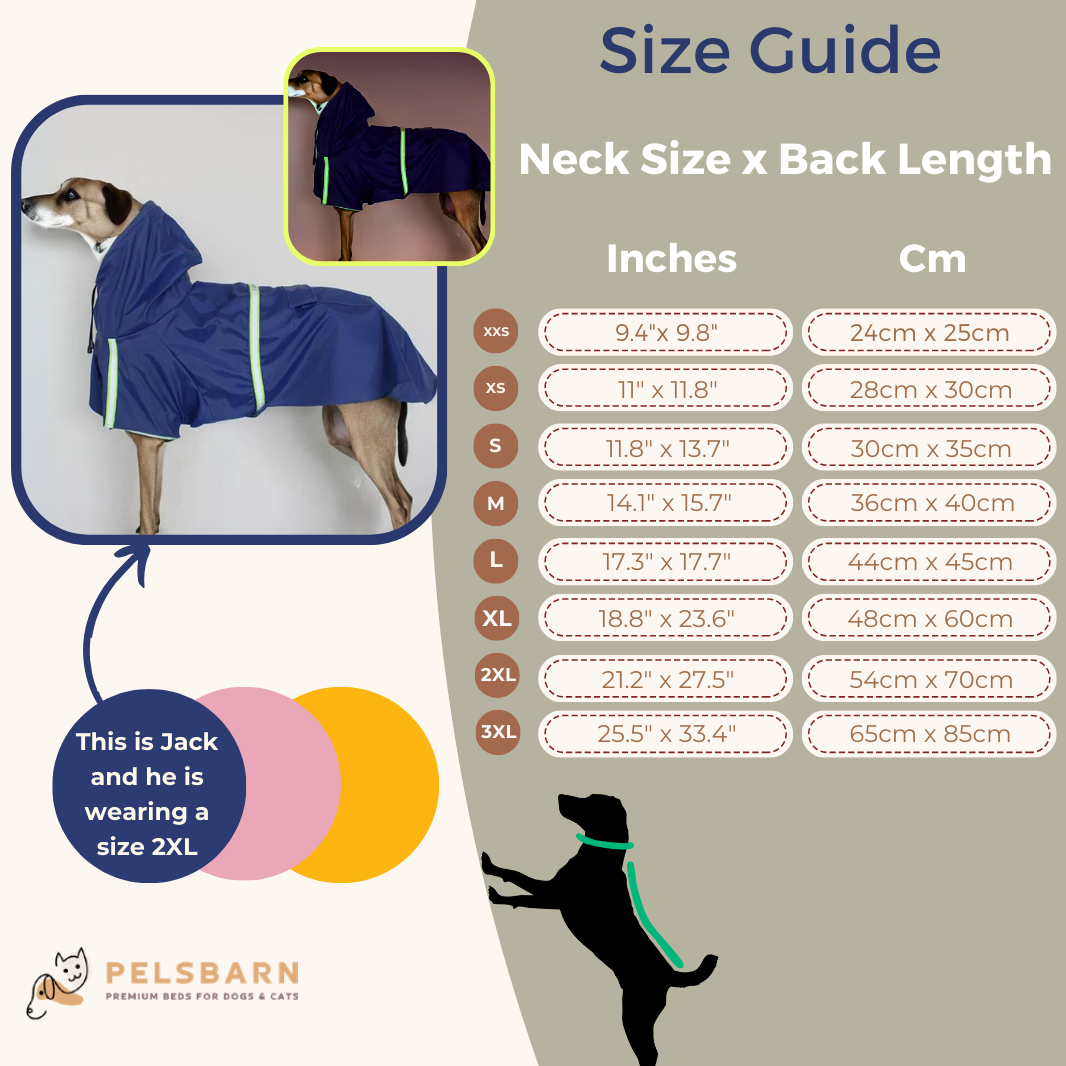 More Than Just a Raincoat: The Surprising Benefits
Give your furry friend the best with our dog raincoat, designed to provide unmatched comfort, protection, and convenience.

✓ Waterproof Material: 100% waterproof fabric keeps your pet dry

✓ Adjustable Straps: Featuring adjustable straps providing a comfortable and secure fit

✓ Reflective Strip: Reflective strip ensures both yours and your pet's safety

✓ Top Leash Opening: Outdoor activities are made extra easy with the top leash opening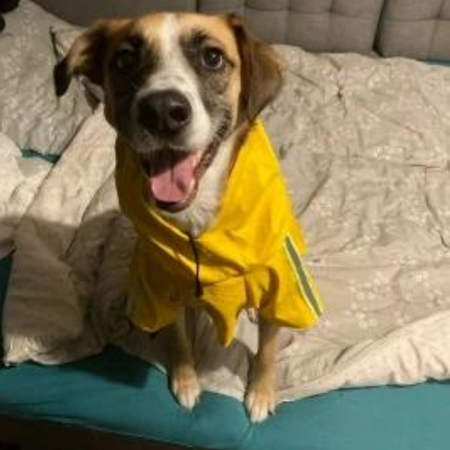 See What Our Customers Are Barking About
''Milo gets compliments all the time!"
"This has been a great purchase. Makes my Milo boy handsome and dry at the same time. He gets complimented all the time when people see him with it on."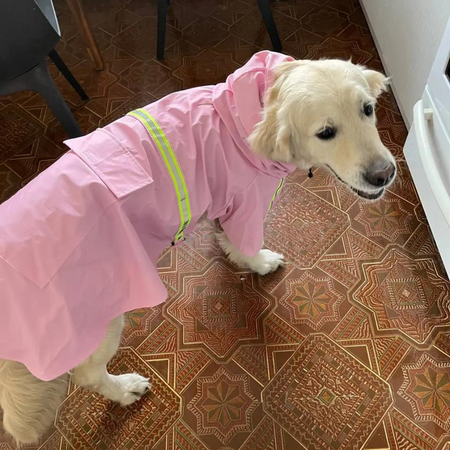 Dogs and their owners have spoken:
"Rainy day hero!"
"Who knew I'd be the owner of a dog in a raincoat? My dog despises rain, but this raincoat changed the game. Surprisingly easy to put on, it fits perfectly and saves us from rainy day struggles. A bit heavier than expected, but worth it for a dry pup and stress-free outings. If you've got a rain-averse dog, this is a must-try!"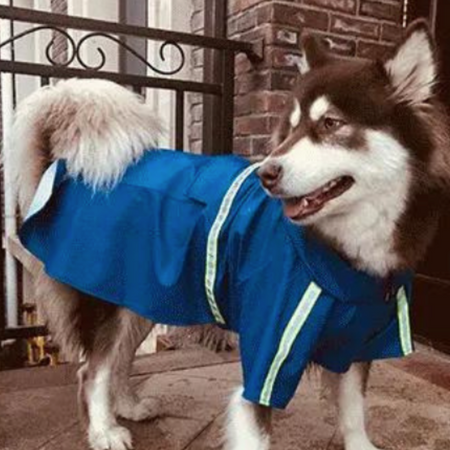 Dogs and their owners have spoken:
"Best dog raincoat at great price"
"This raincoat was a great purchase! It fits well, nice material, and my husky doesn't get wet when we go out. have used it a number of times. I'm so glad I purchased. Seems to be holding up well!"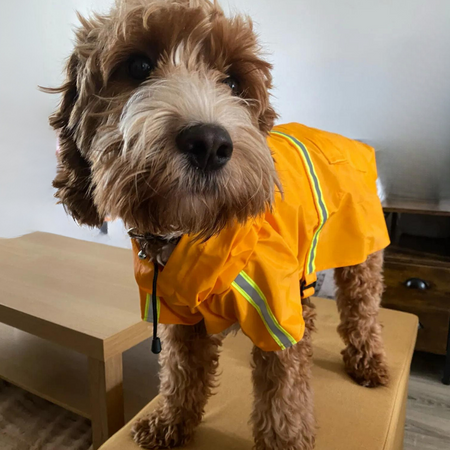 Dogs and their owners have spoken:
"Excellent!"
"We did measure her per the guide, and the large we ordered fit correctly. It fits her well naked or over her harness, with a small hole to pass the leash through, which is well-placed for her harness and seems well-placed for a leash attaching to a collar."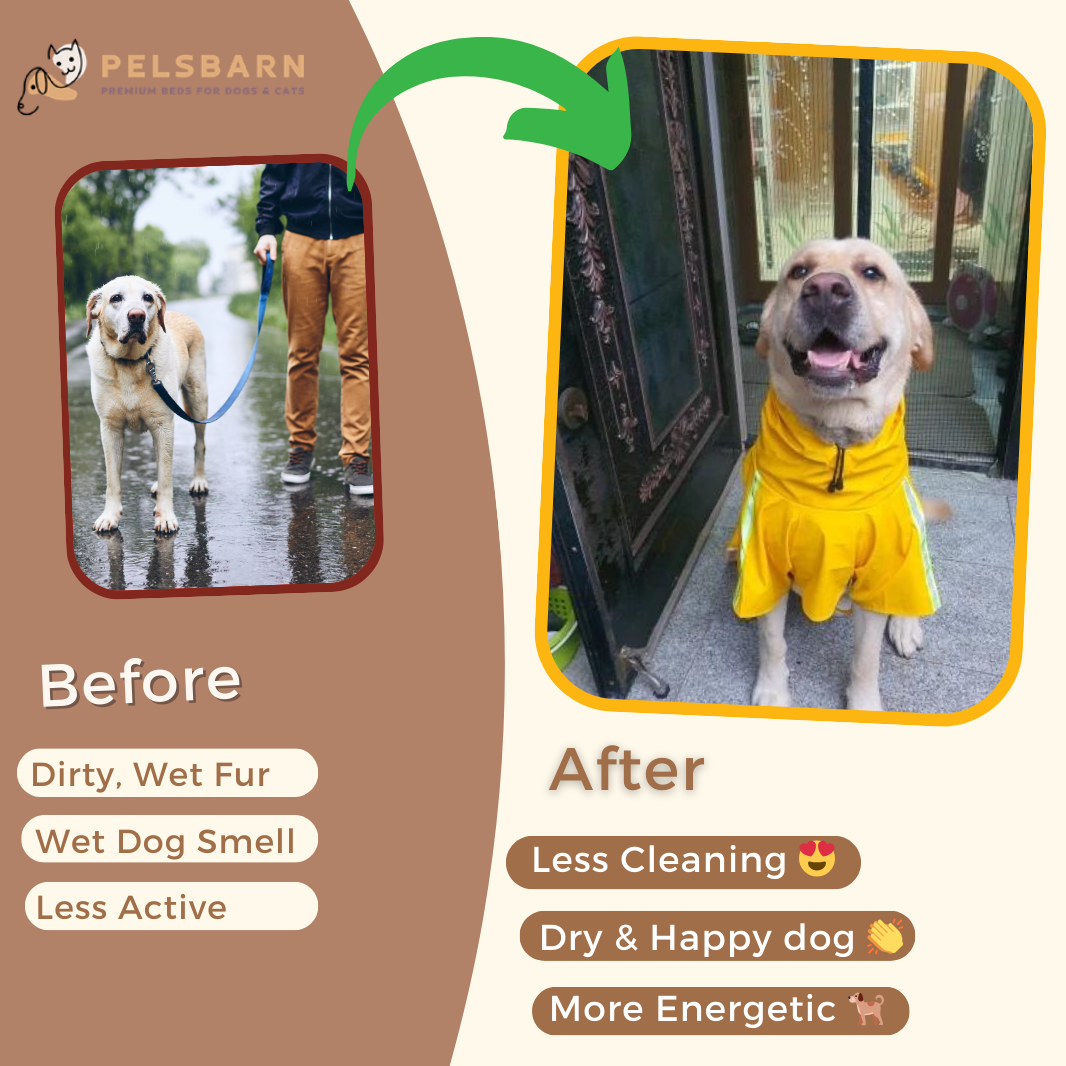 Protect Your Furry Friend
No dog should have to suffer from being wet and cold from the rain, which can make it difficult for them to stay warm.

Give the gift of protection and comfort with this new popular Pelsbarn Dog Raincoat.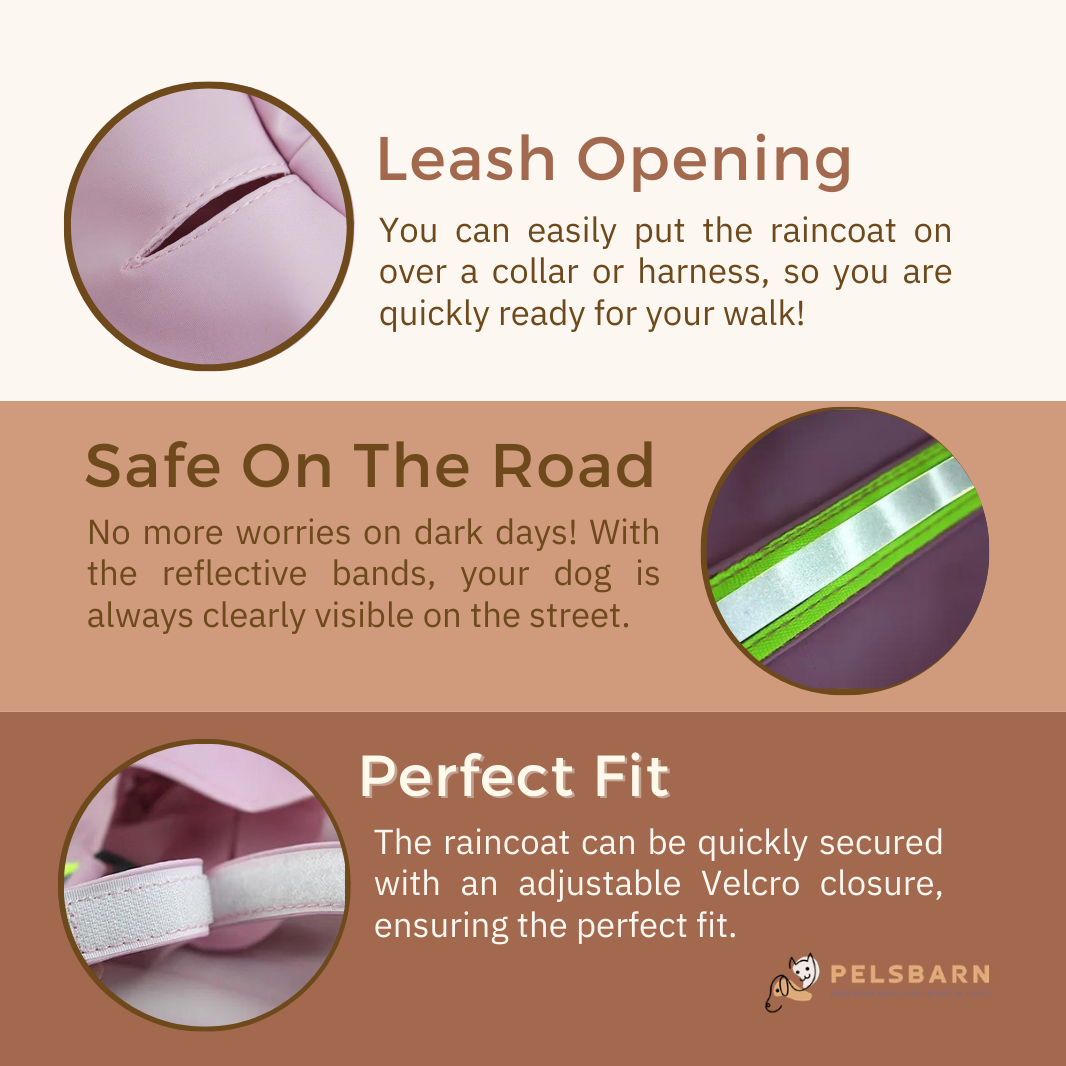 Create a Create a Calming, Rainy Day Adventure
Watching your furry friend cope with anxiety or stress during rainy walks can be disheartening.

Create a snug and protected haven for them to unwind and enjoy the stroll. Crafted to provide comfort and assurance, it's the ideal solution for keeping even the most uneasy pups at ease in the rain.
Exceptional Waterproofing

Our raincoat's advanced material repels water effectively, providing unparalleled protection against rain, ensuring your furry friend remains dry and comfortable.

Comfort and Adjustability

The adjustable chest strap and hood straps of the Pelsbarn Dog Raincoat guarantee a snug fit for any pet size, while the soft layer adds extra comfort.

Safety First!

The reflective strip enhances visibility during low-light conditions, making it safer for both you and your furry friend during nighttime walks or rainy evenings.
"Don't let your furry friend miss out on the comfort and protection with this amazing raincoat!'' - Julia R.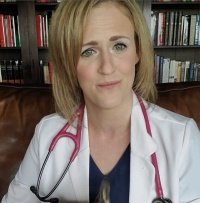 "Pelsbarn provides a product that I trust and my patients love to use!"
DR. LISA HUSTON, DVM, VET CONSULTANT
Frequently Asked Questions
Is the raincoat machine washable?

Gently rinse with fresh water. If the area is soiled, you can use a mild detergent for cleaning. Avoid machine washing.
How much does shipping cost and when will I receive it?

Enjoy free shipping on orders over $50 (US only). It takes about 24-48 hours for processing your order. Delivery times may vary based on your location, but typically, if you choose for DHL shipping it takes 4-7 business days. Rest assured that your order will arrive promptly and safely to your doorstep!
Do you offer any guarantee?

At Pelsbarn, we stand firmly behind the quality of our products. That's why we offer you peace of mind with our comprehensive warranty terms.

30-Day Money-Back Guarantee: We're confident that you'll fall in love with our Pelsbarn products. But we also understand that individual preferences can vary. That's why we offer a 30-day money-back guarantee on all non-sale items. If, for any reason, you're not entirely satisfied with your purchase, you can return the product within 30 days from the date of purchase. We'll refund you the full purchase amount with no cumbersome questions or hassle.

We want you to shop at Pelsbarn with confidence, knowing that we stand by our products and strive for your complete satisfaction. If you have any questions, please feel free to contact our customer service.

Your satisfaction is our priority!