This One's For The Dog Moms Who Want the Best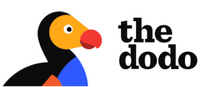 Relieve your dog's anxiety and stimulate their mind with our Soothing Lick Mat. It triggers their natural calming mechanism by releasing soothing endorphins.

Reduces Stress & Anxiety
Tires Out Your pup
Multiple Health Benefits

Low Maintenance 
Regular price
$24
Sale price
$19
Unit price
per
Save $5 21% OFF
Sold out
This sale ends on Thursday, 09.28.2023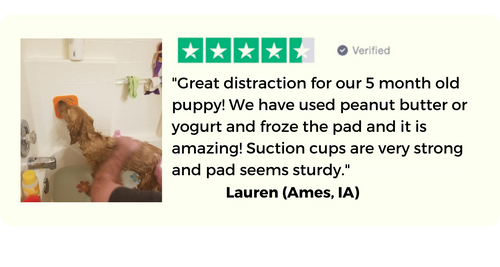 WHAT'S INCLUDED - you'll love it!

+

-

Order today, and you'll receive everything you need to help your dog feel happy, healthy, and comfortable - all at a price you can afford.

Original Pelsbarn Soothing Lick Mat designed with your dog's comfort and happiness in mind.
BONUS #1: A free Dog tooth brush to help keep your furry friend's teeth clean and healthy
BONUS #2: Our Exclusive ebook ''12 Signs Your Dog is Happy'', to help you better understand your dog's behavior and promote their overall health and wellbeing
BONUS #3: Our Informative Book ''How to Easily Learn Your Dog Everything'', filled with tips and advice for training your dog and building a stronger bond with your furry friend
BONUS #4: Free access to our 'Dog Mom Community', where you can ask all your questions and connect with like-minded dog moms!
BONUS #4: Free Soothing Lick Mat Recipe E-Book packed with ideas and recipes that will keep your dogs tail wagging in delight!
FREE 2 YEAR WARRANTY - only from pelsbarn.org

+

-

Guaranteed Tail-Wagging Comfort: Our Pelsbarn Soothing Lick Mat with a 2 year warranty.

We're confident that your furry friend will LOVE the original Pelsbarn Soothing Lick Mat. That's why we're offering a 2 (!) year money-back guarantee, so your dog can try it out and wag their tail in comfort. If for any reason you or your furry friend aren't satisfied, we'll give you a full refund - no questions asked.
FREE SHIPPING AND RETURNS 🇺🇸

+

-

At Pelsbarn, we get it - when your dog needs a new lick mat, they need it now! That's why we offer fast shipping with DHL, so your furry friend can start dreaming of chasing squirrels in comfort in no time. And when you spend over $50, we'll even cover the shipping within the US for free!

And if your dog's not completely satisfied, our easy returns will make it a walk in the park. Shop with confidence and give your furry friend the ultimate sleeping experience they deserve today!

* all sale, discounted, and promotional items are excluded.
View full details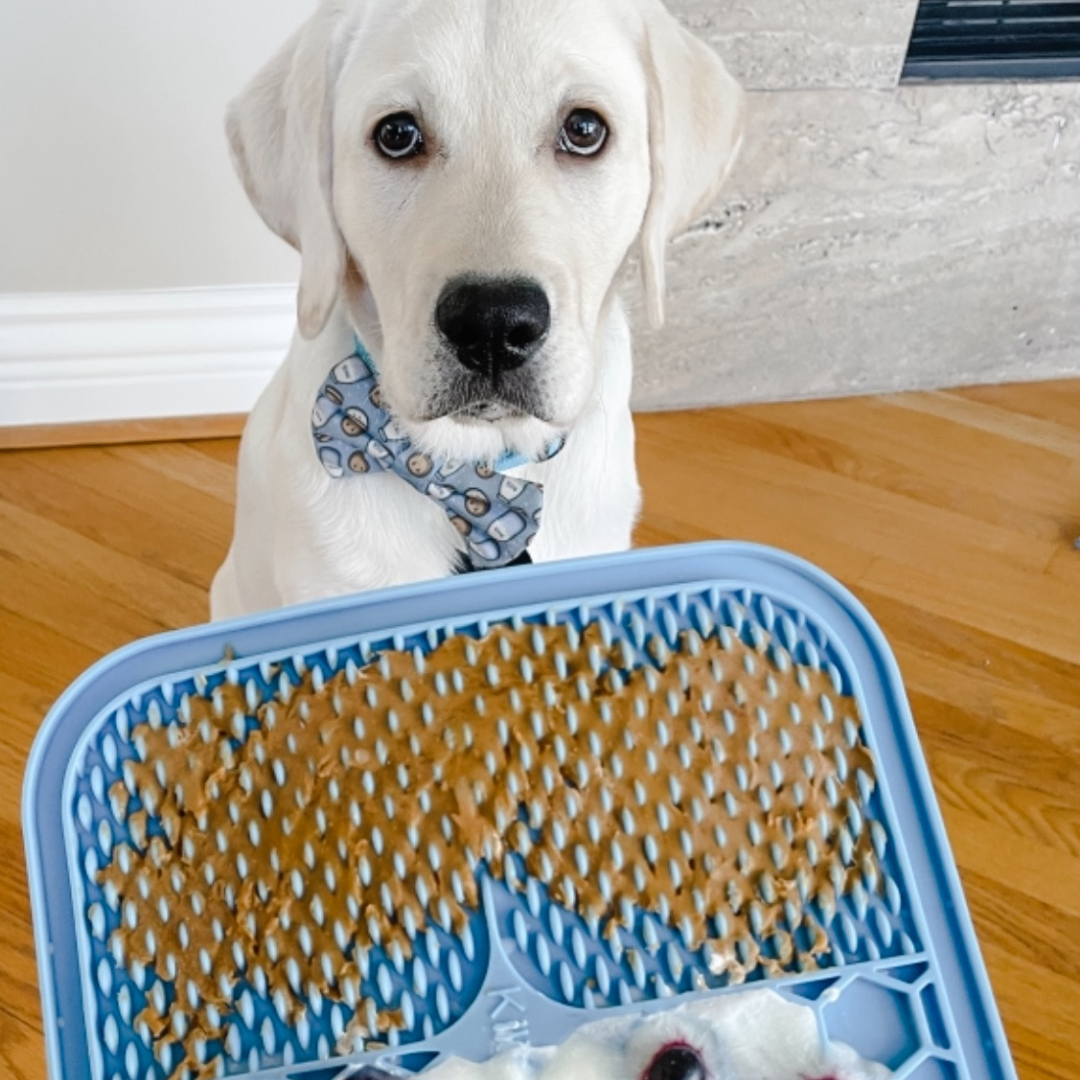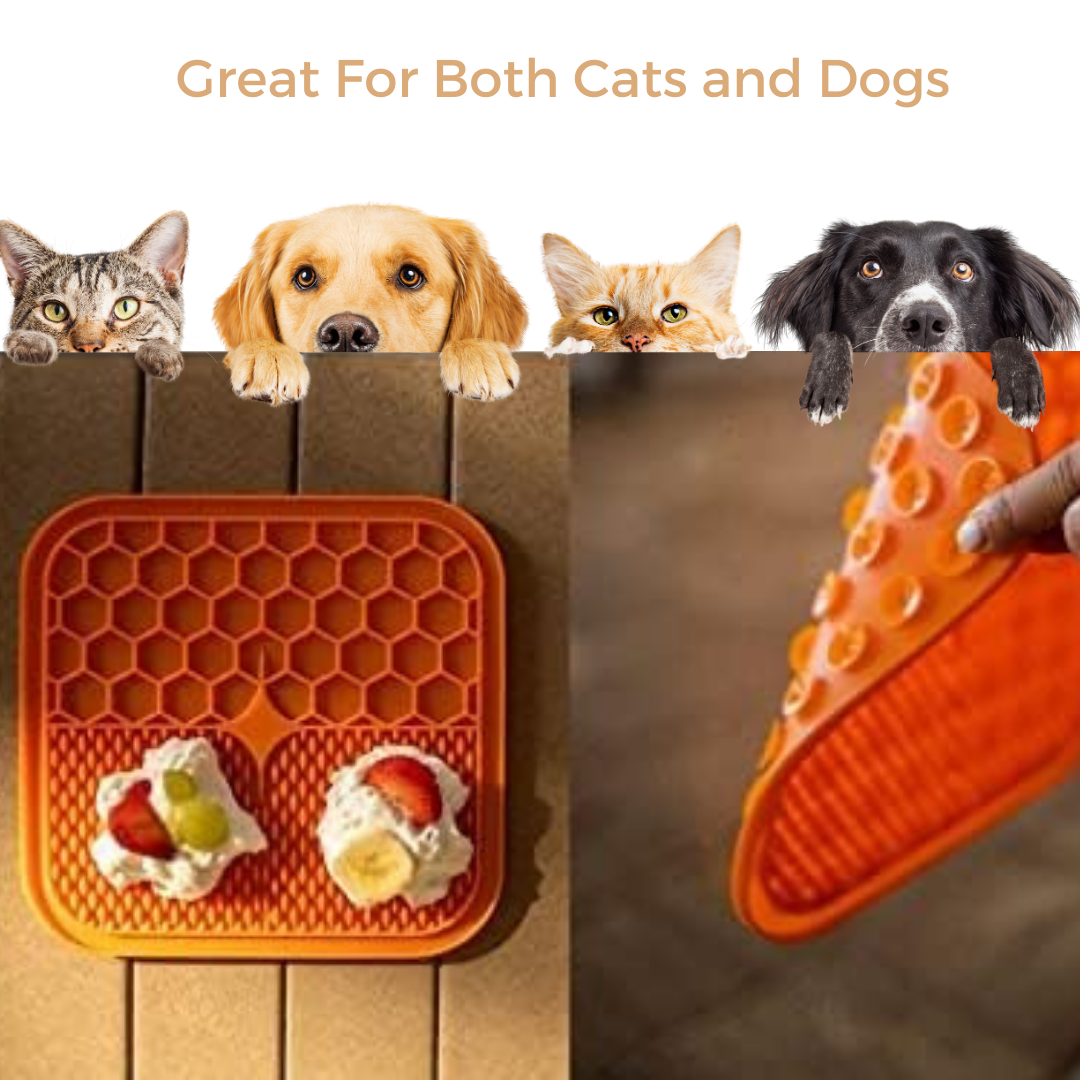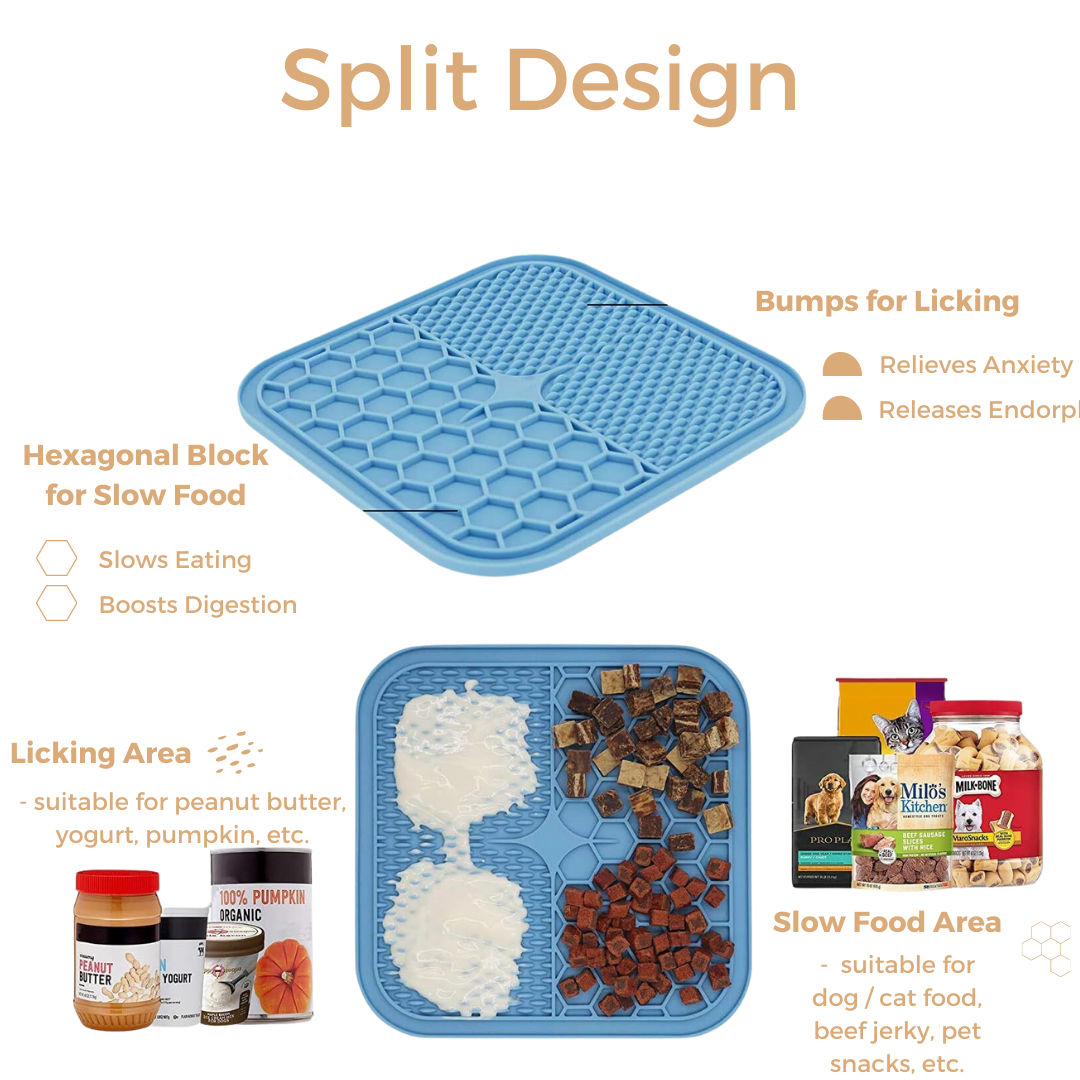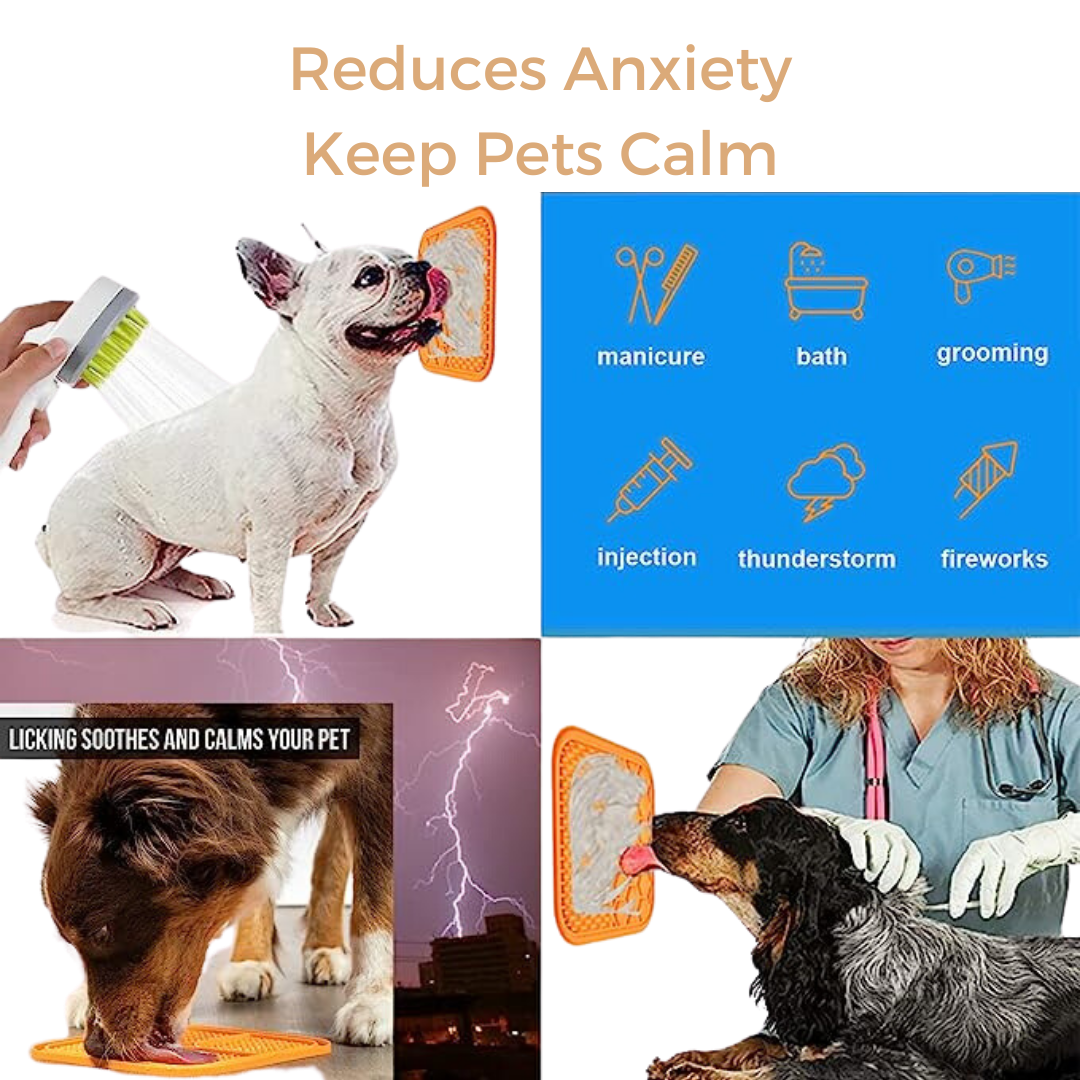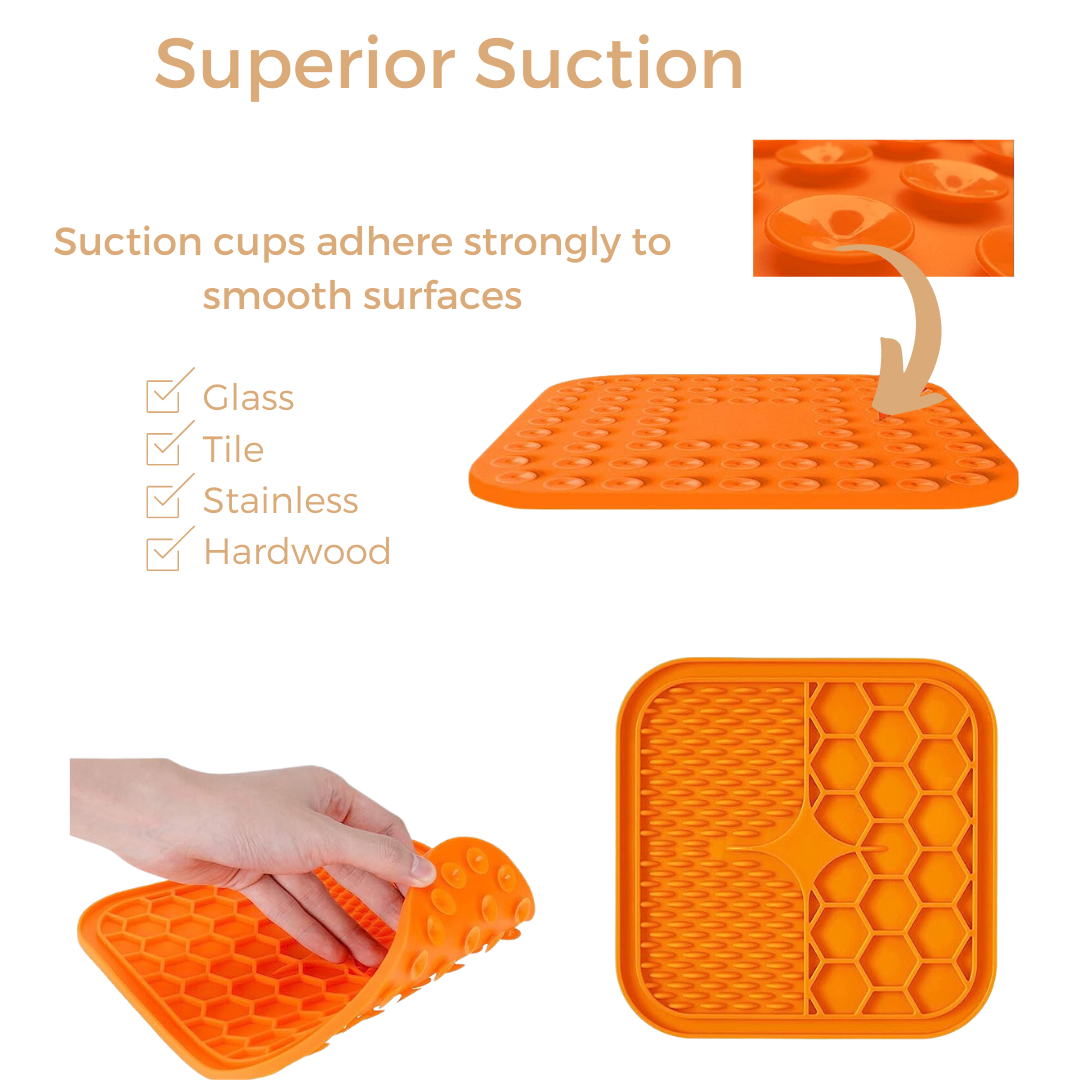 More Than a Lick Mat: The Secret Benefits
Give your furry friend the best with our soothing lick mat, designed to provide oral hygiene benefits, reduced anxiety, and convenience.

✓ Reduces Stress & Anxiety: Licking releases serotonin, the "happy hormone"

✓ Multiple Health Benefits: Encourage slow eating which improves digestion

✓ Multi-benefit: Reduces anxiety & licking is hard work

✓ Hassle Free: Top rack dishwasher and freezer safe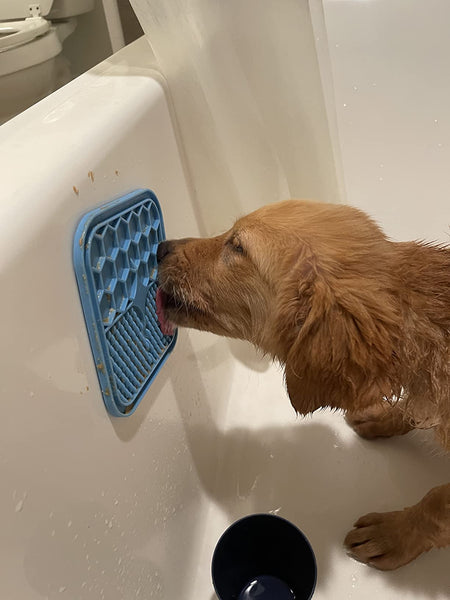 See What Our Customers Are Barking About
"Real sticking power"
"As you see this is holding up to a hungry boy. They love their food! The suction cups grip well to the floor and is easily cleaned. I've used it vertically on the side of the bathtub during Joey's baths. He enjoys the treat and Mommy gets less splashes!"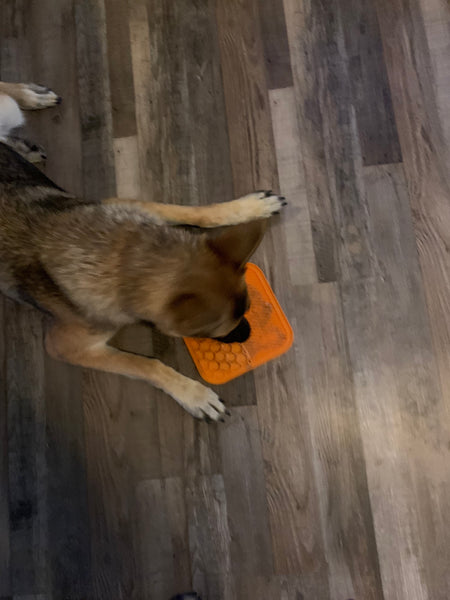 Dogs and their owners have spoken:
"Great for Enrichment"
"These are great as an enrichment item. I usually do peanut butter and Greek yogurt and then freeze it so it lasts longer. It's also really easy to clean. It's gone through the dishwasher loads of times and is perfect. He also hasn't damaged it like the ones from another brand. "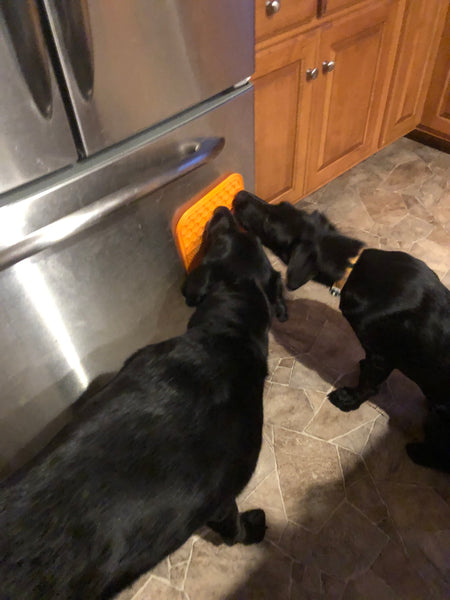 Dogs and their owners have spoken:
"Great Buy!"
"Bought this for my handsome boy and as a gift for my MIL's dog. They both have absolutely loved it!! From spreading the treat of choice i.e. (Greek yogurt, pumpkin, peanut butter, fruits, etc.), to cleaning it up is super easy and convenient."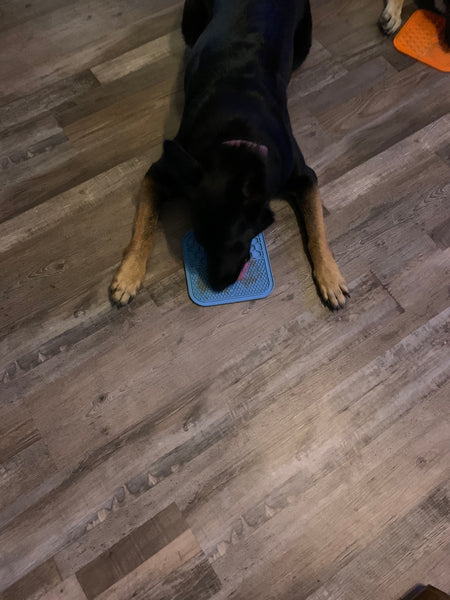 Dogs and their owners have spoken:
"Love it!"
"I was afraid it was going to be too small but the size is perfect!! They absolutely love it too! It's easy to spread stuff on with just a normal spatula, easy to clean, and I love the suction cups."
Sooth your furry friends anxiety
Lick Mats can be used to build positive association and provide distraction during anxiety-inducing situations.

Give the gift of calm, relaxation with our new popular Pelsbarn Soothing Lick Mat.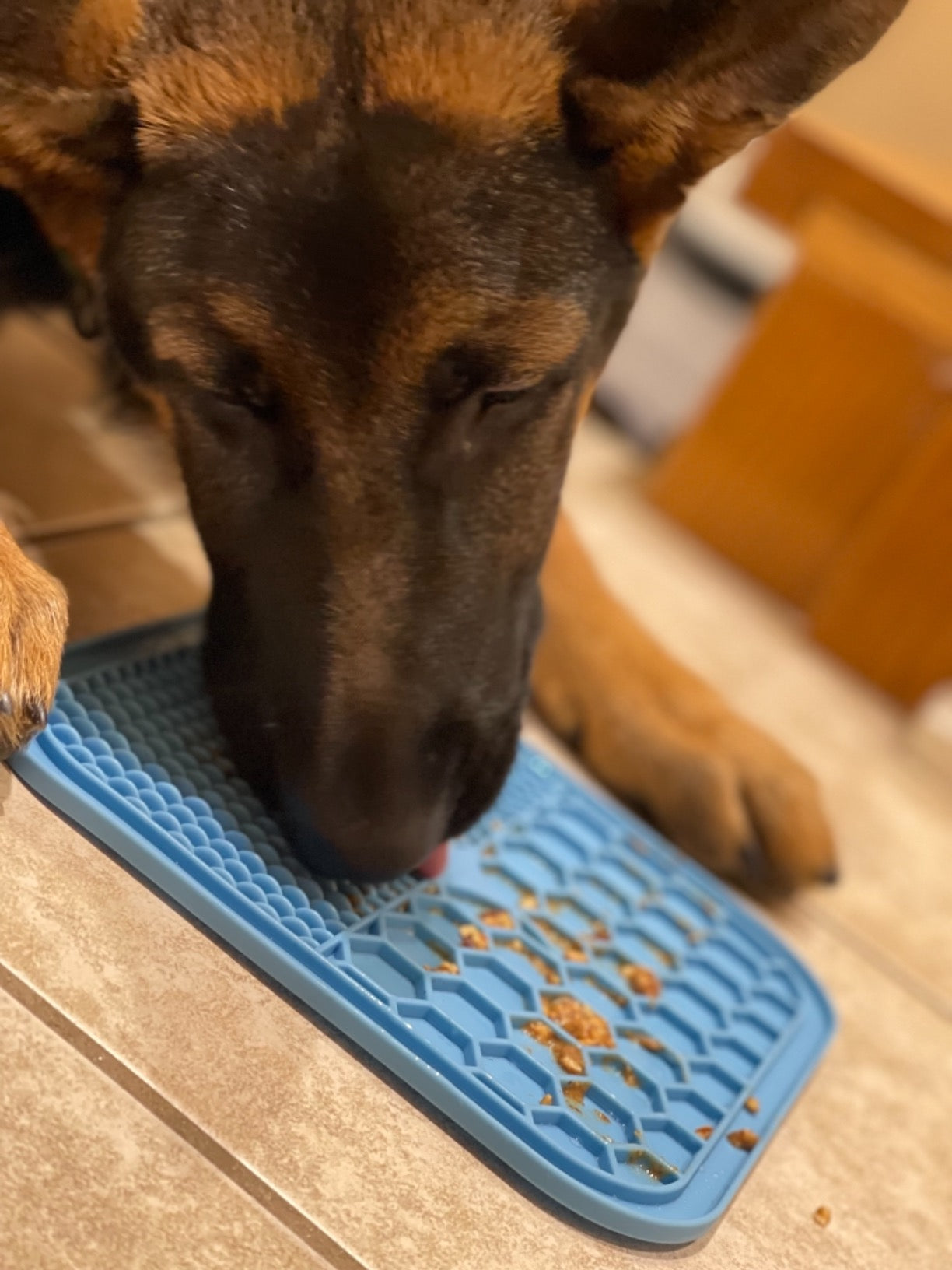 Keep your pet occupied & mentally engaged
When you dog lacks mental stimulation, it can disrupt your daily life significantly.

Say goodbye to behavioral issues and promote their overall well-being with the Pelsbarn Soothing Lick Mat.
Highly Beneficial

Lick mats engage your pet's senses and provide mental stimulation with their textured surface and interactive treat challenge.

Promote Better Digestion

Requiring your pet to lick and work for their meal helps prevent rapid eating and reduces the risk of digestive problems such as bloating or vomiting.

Convenient and Efficient

Easily apply, spread, or coat soft, dog-safe treats or foods onto the mat and serve! Alternatively, you can prepare in advance and freeze for later enjoyment.
"The Pelsbarn Soothing Lick Mat is a must have for any pet parent." - Jessie L.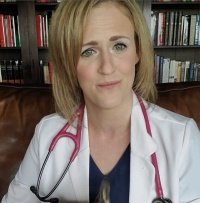 "Pelsbarn provides a lick mat that I trust and my patients love to use!"
DR. LISA HUSTON, DVM, VET CONSULTANT
Frequently Asked Questions
How much does shipping cost and when will I receive it?

Enjoy free shipping on orders over $50 (US only). It takes about 24-48 hours for processing your order. Delivery times may vary based on your location, but typically, if you choose for DHL shipping it takes 4-7 business days. Rest assured that your order will arrive promptly and safely to your doorstep!
What is the size of the Pelsbarn Soothing Lick Mat?

Our Pelsbarn Soothing Lick Mat measures 6" x 6"
Do you offer any guarantee?

At Pelsbarn, we stand behind the quality and comfort of our products, which is why we offer a 2 year money-back guarantee. If for any reason, you or your furry friend are not completely satisfied with your purchase, simply return it for a full refund - no questions asked. We're confident that our Soothing Lick Mat will meet your expectations and exceed your pup's wildest dreams!

*all sale, discounted, and promotional items are excluded.